[useful_banner_manager_banner_rotation banners=72 interval=5 width=120- height=600 orderby=rand]
PRESS RELEASE – Barrigada, Guam (September 2, 2015) – Members from the Guam Men's Basketball team have been training in preparation for the Gold Coast Broadwater 3X3 Classic in Australia in conjunction with FIBA on September 12 and 13, 2015.
From there, they will head to Auckland, New Zealand, and travel to different cities to work out with professional teams from the National Basketball League (NBL) of New Zealand. The team consists of Joe Blas, Willie Stinnett, Seve Susuico, and Mekeli Wesley.
"After winning gold at the 2015 Pacific Games, we want to continue to provide opportunities for our players gain experience and compete at a higher level," says Team Guam Coach, E.J. Calvo.
"We are now the top men's national team in the Pacific, and one of the top teams in Oceania, and we must stay focused on climbing the international rankings leading up to World Cup Qualifying games in 2017. We have a ways to go before we can compete with New Zealand & Australia, so we need to take every opportunity possible to learn from those programs and potentially compete in their professional leagues."
The media is invited to attend a press conference on Thursday, September 3, 2015, at 1:30pm at I-Fit Gym in Tamuning near Pizza Hut to learn more and interview the players and Team Guam Head Coach, E.J. Calvo.
About Team Guam:
Joe Blas (Piti) – Joe is coming off an epic performance at the 2015 Pacific Games where he played strong at both ends of the floor, and led Guam in scoring with clutch play down the stretch to win the Gold medal. Joe is one of the best all-around scorers in Guam Basketball history, able to drive strong among bigger players as well as shoot from the outside. At about 6'1″, Joe is often undersized at Shooting Guard, but has no problem defending bigger players and getting to the rim on offense.
Willie Stinnett (Mongmong) – Probably the best all-around player for Team Guam, Willie often fills up the stats sheet with points, rebounds, steals, assists, and usually defends the best guard on opposing teams, using his 6'2″ frame to disrupt ball handling and shooting anywhere on the court. Willie started at Point Guard for the Gold Medal Team at the Pacific Games, and is one of the most experienced players on island, representing Guam since 2005.
Seve Susuico (Chalan Pago) – Seve has provided rebounds, blocked shots, and scoring inside and out for Team Guam since his Senior year in High School. At 6'4″ and strong jumping ability, Seve is always a threat around the basket on offense as well as defense. He has also been demonstrating his much improved outside shot and 3-point range in recent competitions.
Mekeli Wesley (Yona/Utah) – Mekeli made a name for himself as a standout at Agueda Johnson Middle School, and Father Duenas High School before moving to Utah, when he eventually a star at BYU in the late '90s. He went on to enjoy a long professional career in Europe and Mexico before finally returning to represent Team Guam at the FIBA-Oceania Championships in 2013, where Mekeli was selected to the All-Tournament Team.
He joins Team Guam once again in 3×3 action, where his 6'9″ frame and dominant post play will anchor the team. Mekeli's younger brother, Tai Wesley (6'8″), was outstanding at the 2015 Pacific Games for Team Guam's Gold Medal run, and both brothers hope to play together in upcoming FIBA competition.

QUICK HITS
Guam MTB National Championship: Edward Oingerang and Jennifer Camacho are your 2023 MTB national champions. Oingerang finished the course in 1:13:24 while Camacho won her second straight title in 54:08.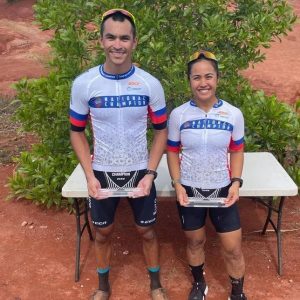 ——————————————
Kobe Miyashita, with St. John's coach Arvin Flores, was named the 2023 IIAAG Middle School Boys Volleyball MVP!