[useful_banner_manager_banner_rotation banners=72,74 interval=10 width=120- height=600 orderby=rand]
By Robert Balajadia
The ND Royals girls volleyball team refuses to lose at home.
Academy's best efforts to capture momentum were quickly thwarted by Royal middle blocker Sheri 'The Shield' Stanley, as she turned away a combined five shots at the net to lead the Royals to a 25-20, 25-17 win.
Each of Stanley's negations came at the expense of a Cougar run, giving the Royal crowd even more reasons to raise the decibel level.
"I feel like my blocks do raise our girls spirits so I'm really happy that I was able to do just what I was supposed to do," said Stanley on her big blocks.
The first set was a close contest with outside hitter Demie Brennan leading the way with four kills. Stanley turned away Cougars Cassandra Chang to take a 7-5 lead, followed by Brennan's second kill of the contest to keep ND ahead 9-8.
Cougar Amara Borja managed to get a pair of aces to trim ND's lead 18-17, but Brennan took off scoring two kills of the Royals final five points, including the set winning point off a set from setter Paris 'Mames' Blas 25-20. Brennan finished with six kills for the game.
The second set, amidst the load shedding power outage, was all ND.
The Royals jumped out to a 15-4 lead after another thunderous block from Stanley with Brennan serving seven straight points.
Academy managed to shave off six quick points to get as close as 19-14, but another block by Stanley closed the last ditch effort by the Cougars to leave the score 22-16.
Outside hitter Destiny Castro was held to just three kills after cashing in a 19-kill performance against the Geckos, but Castro did have the last say getting the Royals final kill 25-17.
Brennan and Stanley were primed for a big season of volleyball having traveled with the Women's National Volleyball team over summer during the Pacific Games competitions. The pair gained a lot of experience, but most importantly the confidence to perform at a high level.
"The offseason really helped me gain knowledge from both international and high school levels, it really prepared me to take on this season," said Brennan.
"Nationals really helped us speed up our play, especially since those girls out there play at such a high caliber," added Stanley.
The Royals played without pressure during the game and were in high spirits even when the power went out. From group dancing to personal handshakes, the Royals were never not enjoying their time together.
"That's just how we usually are, happy and confident. We try and be as positive as possible so we can all come out strong," said Stanley.
Academy suffered just their second loss of this season after only dropping their season opener against the GW Geckos and fall to (7-2), ending their seven-game streak. ND improves to (8-1) on the season after suffering their only loss against the Harvest Eagles.
"We didn't want to lose this one, especially after dropping that game to Harvest. We knew GW and Academy were going to be really tough games and we just wanted to finish strong," added Brennan.
PHOTO GALLERY BROUGHT TO YOU BY:

QUICK HITS
Guam MTB National Championship: Edward Oingerang and Jennifer Camacho are your 2023 MTB national champions. Oingerang finished the course in 1:13:24 while Camacho won her second straight title in 54:08.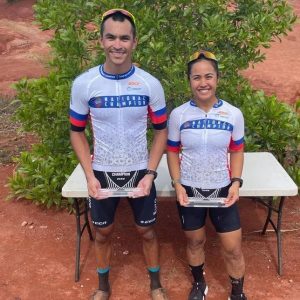 ——————————————
Kobe Miyashita, with St. John's coach Arvin Flores, was named the 2023 IIAAG Middle School Boys Volleyball MVP!