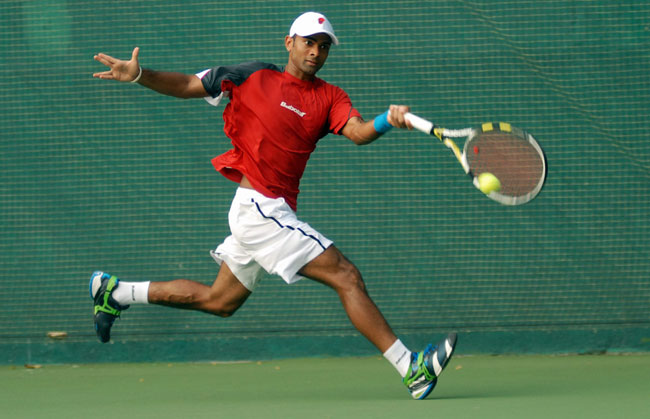 [useful_banner_manager_banner_rotation banners=74,79,72 interval=10 width=120- height=600 orderby=rand]
The Tennis Academy of Guam will be offering some opportunity for improving your game in the next couple weeks at the Hilton and Hyatt hotels.
TAG will offer a series of training sessions for small groups of player designed to improve your game and give you a nice cardio workout.
Training sessions- 1.5 hour session 4-6 players per session
Training will include: basket drills, live ball drills, speed and agility, mental training, & conditioning advise.
Coaches will work on :
Technical aspects of the game – mechanics of strokes, court movement, tactical positioning, shot selection, point construction.
Mental aspects of the game – strategy, "focus", match preparation.
Conditioning – Players will be given conditioning exercises to do on their own time daily.
Jeevan Nedunchezhiyan – Current ATP ranking Singles 431 (293 high Aug 14) Double 174 (159 high Oct 2015) will be coming to Guam in between his professional tour events to do some training in Guam's heat. Jeevan will help TAG/GNTF get our national junior program going for the next 3 weeks while he is here visiting. Perhaps some of you will remember Jeevan as the top seed for Guam Futures 2014 & 2015. He was finalist for 2014 and the winner of the double in 2015.He is a member of India's Davis Cup team since 2014. Jeevan played #1 for University of Washington for 4 years. He trains with fellow professionals at the Schuttler-Waske Tennis university in Germany. Jeevan will be on site to provide his experience and expertise to TAG with these training programs.
Check out Jeevan's Gatorade Challenge on Youtube at the Aircel Chennai Open (ATP250) Jeevan lost a close on in Double semi final to Benoit Paire (FRA) and Austin Krajicek (USA) 5-7, 6-7(4) http://tennisconnect.org/clk/clk.cfm?aid=10000&mid=87411&cid=120415&flag=2016 January Hilton Training&rd04=http://tennisconnect.org/clk/clk.cfm?aid=10000&mid=87406&cid=120415&flag=test&rd04=http://tennisconnect.org/clk/clk.cfm?aid=10000&mid=87411&cid=120415&flag=2016 January Hilton Training&rd04=https://www.youtube.com/watch?v=Bgx_0OPBHcw
Training schedule Jan. 15th – 29th :
Men's advanced training (4.0-5.0) – Monday 7:00–8:30 Wed. 5:30-700
Men's intermediate training (below 4.0) Monday 5:30–7:00 Wed.7-830
Ladies advanced training (4.0-5.0) Tues7:00-8:30 Thurs 5:30-700
Ladies intermediate training (below 4.0) Tues 5:30-700 Thursday7:00-8:30
Note – Juniors are welcome to join men's and ladies groups.
We can customize or add program times for programs if there is demand
Cost: Groups of 4 $30.00 each, Groups of 6 $25.00 each
If you would like to form a group to book one of these sessions or if you would like to join a group, or if you have any questions, call text or email Torgun at 687-5483 [email protected]