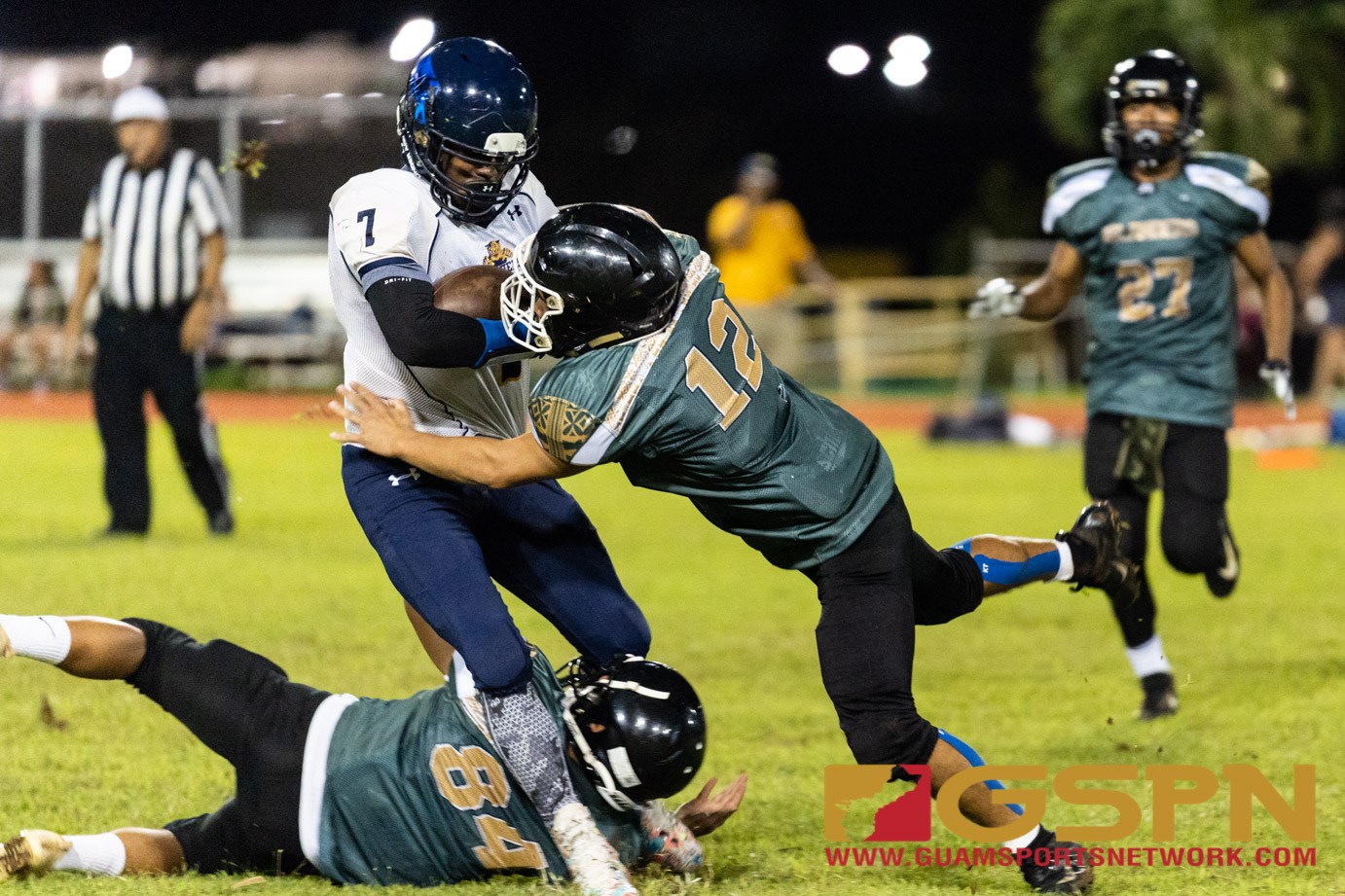 By Michael Cruz
Four high school football stars have committed to playing collegiate football for the upcoming 2019 season. FD Friar Brian Anderson, a pair of Guam High Panthers Evan Cavenall and Sincere Powell and all-purpose talent Chase Spotanski of the JFK Islanders will all be tackling the next level.
Brian Anderson
The Father Duenas graduate earned an academic scholarship valued at $60,000 per year. He will play Division III football at Macalester College. Anderson will join former teammate Kai Akimoto. Anderson was an All-Island 2nd team Wide Receiver. During the playoffs, he was the best receiver in the league scoring touchdowns and making clutch catches in playoff wins over JFK and GW. Anderson started playing football his sophomore year and leaves the program as a three-time champion. Anderson also lettered in rugby and volleyball. He is from the village of Malesso.
https://www.hudl.com/video/3/7808267/5b8253bb5cb3eb06e010778b
Sincere Powell
Powell played two years for the Guam High Panthers. Sincere will play his college football at NAIA program Mayville State University. Powell played both sides of the ball at running back and strong safety. He was part of two track and field championships. Powell ran the 100m, 200m, 400m, 4x100m, and 4x400m at the All Island Championships.
https://www.hudl.com/video/3/7817517/5be57a07688ef5157ca3c2b6
Chase Spotanski
Chase is a graduate of Notre Dame High School. Spotanski was a two time all island defensive MVP for the JFK Islanders. He also lettered in volleyball at Notre Dame. He will pursue his goal of playing college football at Moorpark Junior College in California. He is from the village of Dededo.  
https://www.hudl.com/video/3/5525453/5c0f2306ff03340530ce37ce
Evan Cavenall
The Guam High graduate will play his college football at Division II program Wayne State College. Cavenall played his senior year with the Panthers. Cavenall played nose guard and middle linebacker on defense. Evan was chosen for Team USA and played in the Tomodachi Bowl. He is originally from Lufkin, Texas.
https://www.hudl.com/video/3/11324439/5c0bdd3d5b3d6e10a04abca8