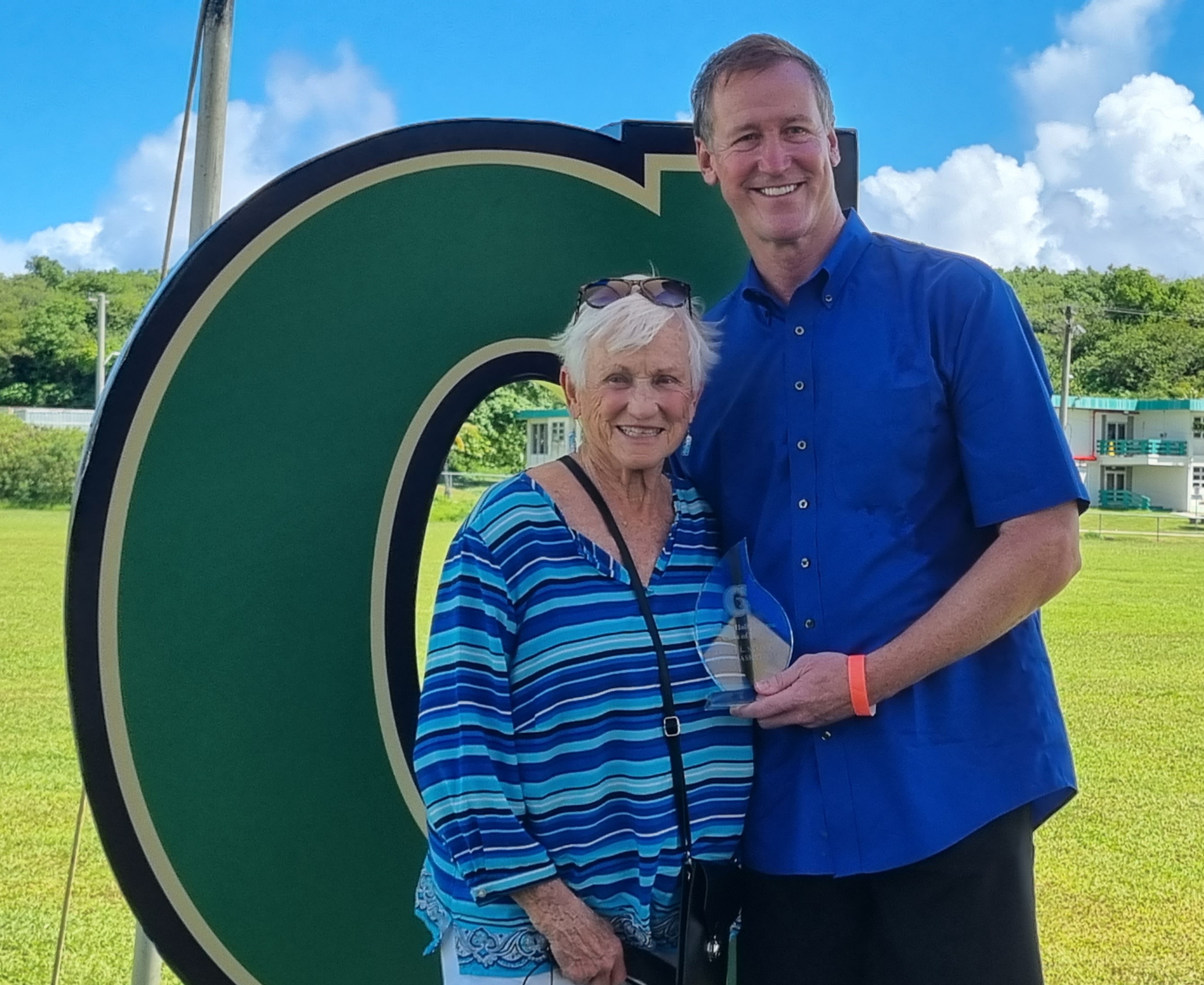 Fifteen individuals who have made a significant impact on varsity and recreational sports at the University of Guam were inducted today into the Triton Athletics Hall of Fame. The Hall of Fame Classes of 2020 and 2021 were honored at a ceremony at the Calvo Field House followed by a special ceremony for inductee Terry L. Stotts, a former Tritons basketball player and now an NBA head coach who made a special trip back to Guam for the event.
"It's been 38 years since I came back to Guam, but Guam never left me," Stotts said. "It's always been a part of who I am. I'm very proud to tell people that I lived on Guam […] and how important my time on Guam was to me." 
As the son of former UOG basketball coach and Triton Athletics Hall of Fame member Frank Stotts, Terry L. Stotts played for the Tritons from 1973-1974 at the young age of 16 during a time when Triton athletes didn't have to be UOG students. In the one season that he played, he was named MVP of the Guam Basketball League and led the Tritons to an undefeated season.
Stotts went on to play and coach at the professional level in Spain, Italy, and France and nationally in the Continental Basketball Association and the National Basketball Association, recently ending a nine-year stint as head coach of the Portland Trail Blazers. Since 1992, he has also been head coach for the Atlanta Hawks and the Milwaukee Bucks and assistant coach for several teams, including the Dallas Mavericks when the team won the NBA title in 2011.
"Basketball has given me a chance to travel around the world, get a good education, make a good living, meet some unbelievable people, but the truth is, it started here on Guam. I wouldn't have been able to do those things if I hadn't had the opportunity to grow as a person and as a player here in Guam," Stotts said.
He gained a foundation in basketball playing at Dededo Junior High and then at John F. Kennedy High School. He eventually played college basketball at the University of Oklahoma.
Another highlight of the ceremony was the induction of the person who first brought athletics to the University of Guam: the late Antonio C. Yamashita, the first president of the University of Guam when it was the Territorial College of Guam. He was represented at the ceremony by several family members, including his grandson, Ryan Arriola, who delivered remarks.
"My granddad believed that a huge component of any successful endeavor is community engagement," Arriola said. "He knew that an athletics program would motivate players, students, family, and the community to identify with UOG. He knew that a sense of pride would emanate from competitive sports. He knew that athletics adds a vibrant energy to academia."
Yamashita, an athlete himself, initiated the varsity sports program at the college in 1962 that grew to include football, baseball, basketball, and volleyball throughout the 1960s and 1970s.
Also inducted into the Hall of Fame were:
Class of 2020
Rob Call – Head football coach who led the team to its first championships in 1975 and 1977
Swingly Dismas – Recreation supervisor for the past 18 years who kept the athletics spirit alive with club and intramural sports when there were no varsity sports
Rick Manibusan – Baseball pitcher from 1973–1978 selected for the Guam Major League All-Star Team and football player from 1973–1974
Richard Martinez – Baseball catcher in the early 1980s, known as the "Son of Slam" and considered the best power hitter of his time
Art Merlan – Football quarterback of the 1975 championship team
Cecile C. Olandez – Current coach and former player of the women's basketball team who led the team to the championship game in her first year coaching
Antonio C. Yamashita, Ed.D. – First president of the Territorial College of Guam who also started the athletics programs in 1962

Class of 2021
Vic April – Baseball center fielder and leadoff hitter who played in two championships
Robert Borden – Team captain of the first men's volleyball team to play with a sponsor in the early 2000s
Vicente "Ben" Diaz – Football defensive back on the championship 1975 team and a two-time All-League Defensive Back
Bruce A. Haines – The first athletics director and basketball coach for the Territorial College of Guam in 1963
Gage Johnson – Basketball player in 1968 who was the first Triton to score 40 points in a game
Noriekka Lekka – A star recreational and intramural student-athlete through 2018
Uchel Sechewas – Right-handed baseball pitcher and first baseman for two championship teams
Terry L. Stotts – Basketball player for the Tritons as a 16-year-old who was named MVP of the Guam Basketball League
These two classes join three others bringing the Triton Athletics Hall of Fame, which was initially established by Athletics Director Doug Palmer in 2017, to five classes and 37 members.  
"We now have five classes in the Hall of Fame, and it's been a great journey, digging through UOG's athletics history. I've been proud to do it," Palmer said. "We hope this tradition will continue for many years to come."
The induction ceremony is viewable on the Triton Athletics YouTube channel. The Hall of Fame members and Triton Athletics history can be viewed on the Wall of Fame entering the Calvo Field House and on the Athletics Hall of Fame Conference Room in the Triton Fitness Center at the Field House.
If anyone in the community has memories of exceptional athletes or coaches in Triton Athletics history, contact Doug Palmer at (671) 735-2862 or [email protected].

QUICK HITS
The Figo Islanders 40s women's softball team took gold in the Senior Softball World Championship in Las Vegas. Figo came out of the loser's bracket and beat the Arizona Belles 17-3 in the AA division championship game Sunday afternoon.
Other Guam teams that played in the 40s tournament were: Team SOTTA (women's) and Bud Light Guam, Friars 671 and Sindalun Guahan (men's).
Sindalu finished a respectable 4th out of 24 AAA division teams.