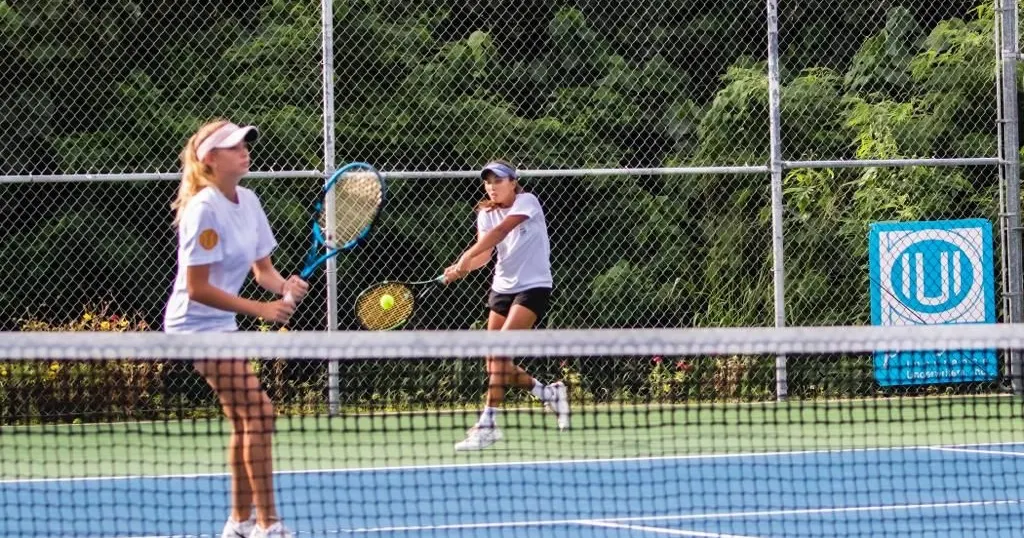 By Jay Leon Guerrero
Father's Day at the Pacific Mini Games was quiet for all sports with the exemption of Tennis. As other sports prepare to start their games on Monday and baseball having a bye day, Tennis was the lone sport in the participation department for Team Guam.
It was a busy day for coaches and parents of the young tennis team and it turned out to be a good Sunday for the squad. "We had great wins today!," said coach Michelle Pang. "Both girls (Monti Gibson and Sydney Packbier) advanced to make it through the first round. Dakota Gibson won his singles and later his doubles match with Aidan Schembari."
"Aarman Sachdev played his heart out but lost a close match against Tahiti," added Pang. Guam's only player with a day off, Camden Camacho, had a bye round as an 11th seed and will play Monday.
Women's team
Monti Gibson started her singles first round off against Solomon Island's Chrisma Jendy Au. Monti Gibson cruised through the match in straight sets (6-0, 6-1) to advance to the round of 16 with Packbier.
Packbier had a difficult first round draw and went against the tournaments eighth seed Ana Taminika from Tonga. The match did not look good to start for Packbier who suffered a first set loss, 1-6. Packbier stormed back and won the second set 6-1. Momentum and youth was on her side as she won the third set to advance to the next round.
Men's Team
Aarman Sachdev suffered a defeat in his single event draw against French Polynesian player Robert Chonvant. Teammate Dakota Gibson advanced with a straight set (6-2, 6-3) victory against Junior Michael Miki from the Solomon Islands.
Aidan Schembari and Dakota Gibson went against Solomon Islands Junior Benjamin and Popai Leong in a doubles event matchup that went to a decisive third set. The comeback kids from Guam were down but came from behind to win a thrilling victory in three set, 6-2, 4-6, 7-5.
"It's been a tough week, competition is through the roof but I love competing with the best of the Pacific," said Dakota Gibson.
Monday will be a busy day for all players with the singles event round of 32 starting in the morning at the AMP courts. Packbier will start her day at 9 am to go against Mehetua Boosie from French Polynesia in the singles event round of 16. Monti Gibson will also play at 9am, against women's fifth seeded player Eleanor Schuster from Samoa.
Dakota Gibson will take on 10th seed and hometown player Robert Henrey Schorr from the CNMI at 9am. Camden Camacho will go against Jason Pierre from the Cook Islands at 10:30 am.
The girls will play again at noon in the women's doubles against the CNMI team composed of Hyejin Irene Elliott and Serin Chung. After this match, the girls will play again in the mixed doubles event.
Mixed Doubles
Camacho and Monti Gibson will play at 3:30 pm in the mixed doubles against the French Polynesian team composed of Jennifer Ly and Heimanarii Laisan. Packbier and Sachdev will also play at 3:30 pm in mixed doubles against CNMI team Serin Chung and Bobby James Cruz.

QUICK HITS
The Figo Islanders 40s women's softball team took gold in the Senior Softball World Championship in Las Vegas. Figo came out of the loser's bracket and beat the Arizona Belles 17-3 in the AA division championship game Sunday afternoon.
Other Guam teams that played in the 40s tournament were: Team SOTTA (women's) and Bud Light Guam, Friars 671 and Sindalun Guahan (men's).
Sindalu finished a respectable 4th out of 24 AAA division teams.