PRESS RELEASE – Bud Light Golden Hoops Classic (GHC) 2012 Fall Tournament completed its seventh week of games on Sunday at Tamuning Gym and now begins its double elimination playoffs.
In the 30 plus competitive division seed 4 Bank of Guam upset seed 1 Inarajan Hawks in a win 70-63. A short handed Hawks team did not give up after when Anthony Taijeron and JoeSteven Duenas fouled out of the game leaving Brandon Cruz, Ronnel Rivera and Felipe Candaso to finish the game.
Bank of Guam's Charles Reyes and Jay Casimiro took advantage against the three man defense scoring on layups and at the free throw line to seal the win. Reyes scored 28 points and Casimiro scored 26 points in the win.
Hawks Candaso scored 20 points and Duenas scored 11 points in the loss. The Hawks drop down to the loser's bracket while Bank of Guam advances in the winner's bracket.
In the other 30 plus playoff game seed 3 Tamuning Typhoons advance in the winner's bracket after beating seed 2 Andersen Defenders 53-35. Typhoons Allan Chang scored 12 points followed by Larry Packard Jr. with 11 points. Defenders Fayth Thompson scored 14 points and Michael Watson scored 12 points.
40 plus men's competitive division
Seed 2-Tamuning Typhoons 63, Seed 4-Ada's Trust Club 60:  Typhoons Leo Payumo scored 14 points followed by Danny Payumo with 12 points. Ada's Trust Boyet Valerio scored a game high 22 points in the loss. The Typhoons advance in the winner's bracket and take on seed 1 Team Fire.
18 plus men's varsity division
GWC 53, Team IX Club 51: GWC Rey Sablan scored 21 points and Mark Taijeron scored 16 points. Team IX's Ken Romeo scored 15 points and Justin Garcia scored 12 points.
Tamuning Typhoons 72, Malesso Rebels 45: Typhoons Derrick Royster scored a game high 30 points and Jude Martinez chipped in 14 points. Rebels Joedee Reyes scored 23 points.
Inarajan Hawks 56, Sixers Club 50: Hawks Gerald Paulino scored 16 points and C.J. Taitague scored 12 points. Sixers Stefan Whitehurst scored 18 points and Dezdin Fikes scored 12 points.
Legacy Club 54, SPPC 76 Club 49: Legacy's John Queno scored 15 points and Rodrigo Grande Jr. scored 13 points. SPPC's Aris Santiago scored 27 points in the loss.
Bank of Guam Club took the win by forfeit against the Andersen Defenders.
For official game schedule, results, stats and photo gallery visit www.guambasketball.com  or like us on facebook under guambasketball.com to receive live news feeds.

Foody's 5 Fun Facts
Harvest Eagle Trinity Terlaje
DID U KNOW?
FD senior Matt Fegurgur first dunked a basketball in his freshman year when he was 6'4″. The now 6'9″ center looks to dominate high school hoops.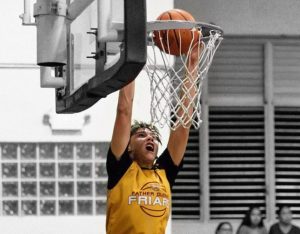 COMING SOON …
– FIBA Asia Cup: Guam vs. New Zealand, Feb 23
– Rizin 21: Aguon and Martinez
– Zach and Larry Return to Guam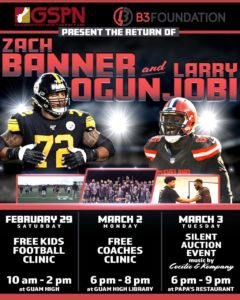 Brawl MMA March 13
QUICK HITS
190 runners took part in the 48th Hafa Marathon (half marathon).
Here are the top 5 finishers:
Ryan Matienzzo 1:13:17
Kris Lawrence 1:24:12
Taiga Sato 1:25:05
Chris Rasmussen 1:26:48
Carlos Leon Guerrero 1:28:46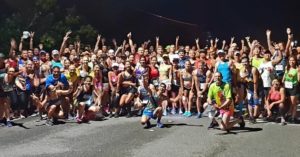 —————————————————-
Guam flags were waving in Clearwater, Florida in support of Bubba Nickles and Team USA in their Pre Olympics Softball Tour.