ABOUT US
TEAM GSPN
Patrick Lujan, Executive Manager: Patrick grew up in a football family and would read the daily paper starting from the back page. He got his first taste in sports journalism in 1989 when he shadowed then-sports writer Eddie Siguenza to some All-District Basketball League games. Watching Joey 'Pretzel' Gogue go off for 60+ points for the Toto Blazers got him hooked!
Patrick went on to write for the Pacific Daily News while still in high school and later became the Sports Director for KUAM when he was only 21-years-old. Eventually, he would create and format both sports programs for Pacific News Center and the defunct Guam Newswatch.
He has met and/or interviewed pro legends and athletes such as Royce Gracie, Muggsy Bogues, Dick Butkus, Larry Fitzgerald, Tom Rathman, Wanderlei Silva, B.J. Penn, Chuck Liddell, Enson Inoue, Brandon Vera, Mark Munoz, Tyson Griffin, Vida Blue, A.J. Burnett, Bengie Molina, Spud Webb, Ron Harper,  Bobby Jones, Jalen Rose, George Gervin, Channing Frye and Lenda Murray (8-time Ms. Olympia)…even Carlos Santana, though he doesn't play a sport, but certainly a legend.
It is Patrick's passion for sports that has led him to create Guam Sports Network. Hope you enjoy!
---
Robert Balajadia, Sports Director: Sports has been a huge part of Robert's life influencing many decisions including wanting to pursue a career in sports journalism. He's a 2008 grad from Father Duenas and a Communications major from UOG. Robert is arguably the biggest San Diego Chargers fan, but he'd have to compete with Omar Damian and Mike Willess for that honor.
Kobe Bryant is his idol/hero. He is a dedicated national sports fan and turned a long time hobby into a lasting profession. A bit of a shoe addict, his boss and colleagues never forget to tell him how ugly his new pair of Kobe's are. Yet, he wears them anyway.
Robert got a taste of the local sports scene as a sports reporter for Guam Sports Watch. He says he would love to meet any superstar athlete.
---
Jay Leon Guerrero, Writer: Jay jumped on board the GSPN team in 2014 and brings 3 years of experience in sports journalism. He is the ultimate sports fanatic who went as far as traveling abroad to watch sporting events which include basketball games, baseball games, and 9 UFC's fights.
A "silver and black" fan of the Oakland Raiders and the San Antonio Spurs, Leon Guerrero also plays basketball.
Jay is also a member of the Guam National Bowling team and has five gold medals and 13 perfect games under his resume. Jay, who is class of 95 FD alumnus, continues to represent Guam in international tournaments throughout the year.
He started writing because he has a passion for sports and continues to support local athletes. "I believe the media plays a big role in the development of athletes. When young athletes see their name(s) in my articles, it gives them a drive to continue playing/practicing sports which in turn keeps them away from trouble".
---
Michael Cruz , Writer: Michael's family has roots in Merizo and Anigua. Raised as a Military Brat, he lived on Guam from 1993-1995. He relocated to Texas in 1995 and now resides in Allen, TX. Michael enjoys watching sports, powerlifting, and eating at various restaurants (Lives within 10 minutes of the only L&L Hawaiian BBQ in Texas). His Goals for 2014 is to start on a graduate degree in Sports Management and see the Guam National Olympic Committee recognize a National Amercian Football Team.
---

2022 GSPN I MÅS METGOT COMPETITION
2022 GSPN I Mås Metgot Competition Recap
2022 GSPN I MÅS METGOT COMPETITION
2022 GSPN I Mås Metgot Competition Recap
2022 GSPN I MÅS METGOT COMPETITION
2022 GSPN I Mås Metgot Competition Recap
COMING SOON …
Sat: Origin Power Lifting Meet 
ISA Girls Volleyball/Boys Soccer Finals
QUICK HITS
Guam runners complete London Marathon. Former Guam top runners Charlie Epperson and Aysha Perez Epperson along with Cameron ONeal completed the 42nd London Marathon.
Charlie 2:47:56
Cameron 2:59:49
Aysha 3:51:04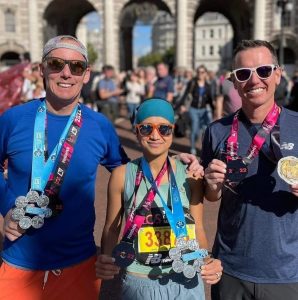 ———————————————–
Trevin Jones drops a unanimous decision 30-25, 30-27, 30-27 to Raoni Barcelos in UFC Fight Night 211 in Las Vegas.