[sixcol_five_last]
Running history: 23 years
• Ran for JFK 1989-1993 (Team Championship for 4 years)
o All-Island Cross-Champion – 1992 and 1993
o 3000m- Gold (1991, 1992, 1993)
o 1500m- Gold (1991, 1993) Silver (1992) Bronze (1990)
o 800m- Gold (1991, 1993)
o 4×400- Gold (1992, 1993)
o Cross- Country Most Valuable & Most Inspirational (1991, 1992, 1993)
o Track Most Valuable & Most Inspirational (1991, 1992, 1993)
• Guam National Team
o Micronesian Games (1990, Saipan)
o World Cross-Country Championship (1991, Belgium)
o South Pacific Games (1992, Papua New Guinea)
o Mini Games (1993, Vanuatu)
o Micronesian Games (1994)
• Ran for Marshall University, 1995-1997
• Teaching history including years: 15 years
o 13 years GW
o 2 years JFK
GSPN: The JFK Family fought hard to not only keep the location of the school but rebuild it. How fulfilling is that as a former student and current athletic director?
JA: As an alumnus, it feels great and I feel at home here at JFK. I also have a lot of pride for our school and feel obligated to help our athletic program. As an athletic director, I feel grateful and yet pressured. Our athletes have been bounced from one place to another for several years and now I have the chance to instill a sense of belonging and pride by teaching them discipline.
GSPN:  Was being the AD for JFK always a dream of yours?
JA: It never crossed my mind. I dreamt of coaching for JFK before I retired but never an AD.
GSPN: The Islanders are a historic powerhouse in running dating back to what the Taitano's built (Joe, Christine and Jimmy). You are a part of that successful history as the top runner in 1992-93. How important is it for you to keep that tradition alive?
JA: Very important! I feel extremely obligated to keep the tradition because being a runner for JFK opened up so many portals for me in life. I was able to go to college because of what I learned from JFK and I was able to apply that as a coach during my years at GW. What Coach Joe Taitano taught me stayed engraved in my brain till now. Because of the successful history of JFK, I don't aim for anything but for success.
GSPN: As the AD, you have oversight over all the sports. What's your favorite sport outside of running and why?
JA: Tough question because I don't want any of our athletes now to think that I favor any sports. But if I have to pick, it will be soccer and volleyball because I never had the chance to get better at it. Once I started getting better with running, I became busy with all the opportunities that was opening up for me.
GSPN: How can you as the AD improve other sports at JFK that are struggling?
JA: I think one of the things to improve our sport is to increase the discipline amongst our athletes. Our athletes need to realize that they are role models for the rest of the student population. We can't really blame our athletes right now because we had no facilities for several years but one thing I can tell you is that our athletes are slowly getting there. Give us more time and JFK will be back on top with the help of our coaches and administration. As the AD, I think we have to also increase our expectation with our student athletes both academically and athletically.
GSPN: During the rebuilding of the school, how much of the upgrades addressed athletics?
JA: I can't really tell you that because I wasn't involved with the planning. All I know is that our track and main field was never touched or renovated. The tennis court and baseball/softball was updated along with our gym. We have several issues with our current athletic structures but we can't really complain because it's so much better than what we had. What we have now is better than what we had when I was at JFK.
GSPN: The old JFK gym. No one wanted to play there and it was probably the ultimate home court advantage in so many ways. Did the school keep anything in it for historic purposes?
JA: Not that I know of. I think no one wanted to play at JFK because our student crowd for our sports back then was extremely strong. We're trying to slowly increase our fan base so we can get that home court advantage back!
[fbshare url="http://www.gspnlive.com/runningtrack/qa-jfk-ad-jay-antonio/" type="button"][fblike url="http://www.gspnlive.com/runningtrack/qa-jfk-ad-jay-antonio/" style="standard" showfaces="false" width="450″ verb="like" font="arial"]
[/sixcol_five_last][useful_banner_manager_banner_rotation banners=38, 44, 51, 14 interval=8 width=120 height=600 orderby=rand]

QUICK HITS
Guam MTB National Championship: Edward Oingerang and Jennifer Camacho are your 2023 MTB national champions. Oingerang finished the course in 1:13:24 while Camacho won her second straight title in 54:08.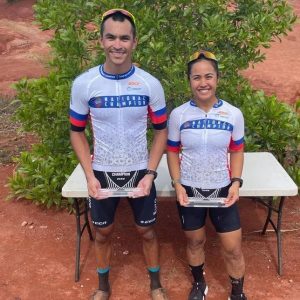 ——————————————
Kobe Miyashita, with St. John's coach Arvin Flores, was named the 2023 IIAAG Middle School Boys Volleyball MVP!