PRESS RELEASE – Bud Light Golden Hoops Classic (GHC) 2013 Spring Tournament completed its fifth week of round robin games on Wednesday and Sunday at Tamuning Gym as they prepare for the playoffs next week.
"Teams are preparing for their double elimination playoffs which means intense games as they battle it out on the court to avoid elimination," stated tournament coordinator Elsa Ulloa.
In the 30 plus competitive division the Tamuning Typhoons II (3-3) made a come from behind win 63-58 against Bank of Guam Club (1-6). Tyhoons II top scorers were Joel Balbaestro with 22 points followed by Francis Sunga with 21 points and Aaron Bonto with 12 points.
Bank of Guam's Ryan Camacho scored 18 points while teammates Alvin Alavarez scored 13 points and Jerico Ofeciar scored 10 points.
18 plus competitive division
R&J Royalty 56, Team Bullets 44; Bank of Guam Club 71, Tamuning Typhoons II 69; Tooth Fairies 86, NOVA 46; R&J Royalty 51 in double overtime, Tamuning Typhoons II 49; NOVA 99, Mr. Rubbishman 64; Team Defenders 67 in overtime, R&J Royalty 65; Team Justice 73, Four Stars 49; Tamuning Typhoons I 90, NOVA 57; Tooth Fairies 96, Agat MO 63
30 plus competitive division
Team Defenders 86, Bank of Guam Club 68
Coed recreation division
Tamuning Typhoons 72, Tango INC 58; Ada's Trust Club 52, Thunder Cats 37
Games continue on Sunday starting at 12pm with the final game scheduled for 7pm. Visit www.guambasketball.com for game schedule, results, stats and updates or like us on facebook under guambasketball.com for live newsfeeds.


2022 GSPN I MÅS METGOT COMPETITION
I Mås Metgot Athlete Spotlight: April Flores
2022 GSPN I MÅS METGOT COMPETITION
I Mås Metgot Athlete Spotlight: April Flores
2022 GSPN I MÅS METGOT COMPETITION
I Mås Metgot Athlete Spotlight: April Flores
QUICK HITS
Guam boys Kekoa Toves and Matias Calvo went head-to-head on the rugby pitch as American International College took on Dartmouth College, both top-ranked men's rugby programs in the country.
Calvo (FD) is the captain of Dartmouth and scored, but Toves (Sanchez) and his AIC squad came away with the win in Springfield, Mass.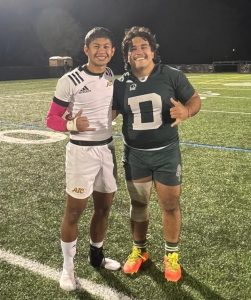 ———————————————–
1LT Belizabeth Nicole V. Rengiil is known to be the first female from Guam and Palau to make the All-Army Women's Rugby Team. She is an active duty Signal Officer with the US Army and is stationed at Joint Base Lewis-McChord in Washington.
Her team won the Armed Forces Women's Rugby Championship with a 4-0 record.
Belizabeth is the daughter of Edwin and Juliana Rengiil with siblings Johanna and Edwin-Isaiah Rengiil from Mangilao.