Foody's Fun Facts
Foody's Fun Facts with Makayla Atoigue
ND Royals Rugby Player Makayla Atoigue lays down her Foody's Fun Facts and shares her dream vacation spot
Foody's Fun Facts
Foody's Fun Facts with Makayla Atoigue
ND Royals Rugby Player Makayla Atoigue lays down her Foody's Fun Facts and shares her dream vacation spot
Foody's Fun Facts
Foody's Fun Facts with Makayla Atoigue
ND Royals Rugby Player Makayla Atoigue lays down her Foody's Fun Facts and shares her dream vacation spot
COMING SOON …
YOUTH FOOTBALL LEAGUE KICKOFF June 4
Todd Gurley Football Camp on Andersen
GSPN Boys Volleyball All-Star Game
Pacific Mini-Games in Saipan
QUICK HITS
Pro rugby player Zach Pangelinan was featured in this Rugby Network photo after his Houston SaberCats qualified for the MLR playoffs for the first time ever.
The former Team USA player and 2013 GSPN Athlete of the Year wrote 'MOM' on his wristband for his mother Tina Pangelinan who passed away in 2014.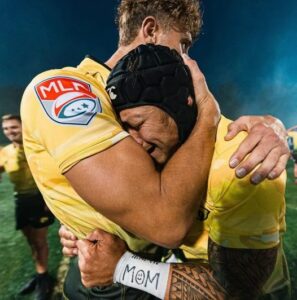 ———————————————–
Sisters CiMara-Lei (10th) and CiHara-Lei (9th) Wessling both made the Academic All-District Team playing for Veterans Memorial High softball team in Converse, TX.
They are the daughters of former star quarterback and pitcher Chris 'Cool Breeze' Wessling and wife Missy.
CiMara-Lei was also named the league's Newcomer of the Year after the family moved from Dallas to San Antonio.