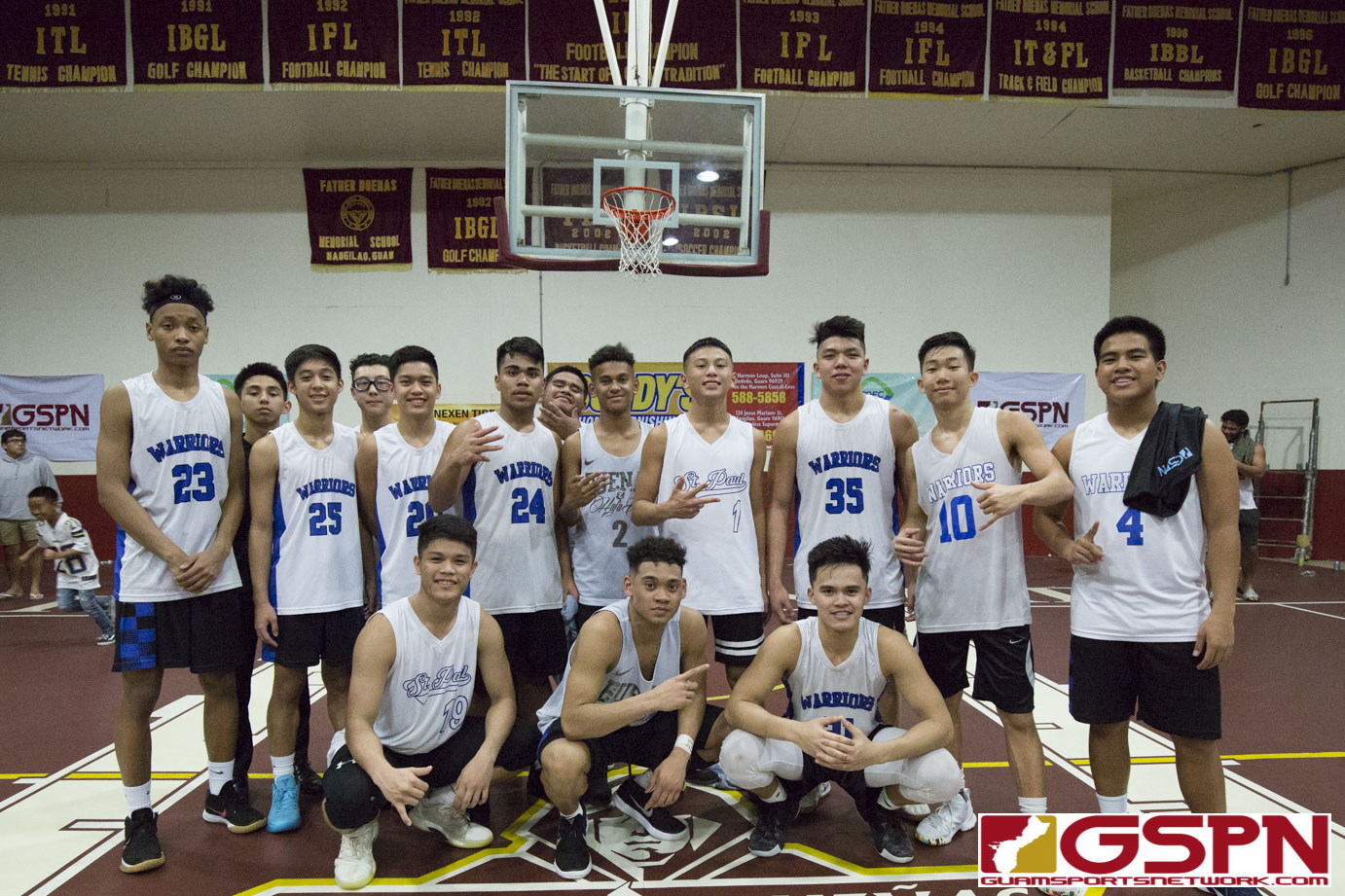 By Brandon Kinsella
In a preseason championship matchup between two of Guam's most storied basketball franchises, the St. Paul Warriors came out victorious against the FD Friars. It was a full house in FD's Jungle, which is expected whenever these rival teams compete. St. Paul's Jamar White played a phenomenal game, finishing with 34 points, securing the tournament high this preseason and leading his team to a 60-56 victory.
The Warriors began to pull away in the third quarter, where they would gain their largest lead at 14. They gained their lead behind high pressure defense and layups in transition. FD needed a spark to get momentum back on their side, and found it after a flagrant foul by St. Paul, which sent sharpshooter Tony Quinene to the line. Quinene drained both free throws which cut the lead to just nine at 53-44. A few plays later, Quinene drove baseline and hit a tough floater, which shrunk the lead to seven at 53-46.
St. Paul's Reo Aiken went down in the 3rdQuarter, after being fouled on a shot attempt, which sidelined him for the rest of the game.
FD's center Kyle Camacho scored the first points of the 4th Quarter off of a put back shot. Camacho was a presence in the paint and had key defensive plays in the interior.
St. Paul lead would eventually be cut to two at 54-52. The score would remain the same for nearly two minutes as both teams struggled to find an offensive rhythm.
With 17.7 left to play, Christian Taitano was sent to the line, draining both buckets to cut the deficit to two at 58-56. Then, White was fouled and sent to the line, hitting 1-2 free throws to make the score 59-56.
FD's student body, who are commonly referred to as "Friar Nation," played a big role in shifting the game's momentum and contributed to FD's rally.
With 14.2 seconds left, FD gained possession and called a timeout, but could not find a good look at the basket which resulted in a turnover. The Warriors proved to be resilient in the final moments, and FD came short of the victory.
White talked about the final minutes, and the mindset he needed to have to come out with the victory.
"I was just trying to stay composed. Towards the end we started losing players to fouls and injuries, and people were getting tired. So, our bench needed to step up and stay ready."
In the first quarter, FD drew first blood, after Quinene hit a difficult three-pointer from the left corner despite a foul, giving his team a four-point opportunity. Quinene drained the and-one at the charity stripe and continued to put on an offensive display. The score was close after the first quarter, as FD hung onto a one-point lead at 20-19.
With just two seconds left in the first half, Jamar White closed the half with a difficult 3-point buzzer beater, despite a foul. He drained the and-one as well, which put momentum on his team's side heading into the second half, giving his team a 40-32 lead.
FD's Tony Quinene lead his team in scoring, finishing with 21 points on 7/14 attempts.
St. Paul's Jamar White finished with 31 points and shot 13/22 from the field.
White expressed the importance of this preseason tournament,
"This preseason gave us a little inside scoop of what's to come. Coach always says that each team is going to have their best game against us. We just got to be able to come in there and hold our ground. This preseason also taught me that no one is going to back down from you. It doesn't matter if you're the number one player on island, no one is going to back down."
Quinene also elaborated on what the preseason has taught him and his team,
"The preseason is great. It helps our team see what we really need to work on going into the regular season. So, these games teach us where we need work, and our coaches help us fix those things in practice. It's also taught us to come out prepared every game. If we aren't prepared, we could definitely drop a game or two, so we got to stay focused and ready."
3rd place Game
The JFK Islanders defeated the Okkodo Bulldogs 62-47. Chris Morikami led the Islanders with 15 points.
PHOTO GALLERY BROUGHT TO YOU BY: