POLL QUESTIONS
Which football player has the coolest nickname?
Ryan 'Chairman of the Board' Rios 44%
Mike 'Malojloj Madness' Meno 22%
Roland 'Wild Thing' Duenas 11%
'Dynamite' Dino Lizama 9%
Chris 'Cool Breeze' Wessling 5%
Gerard 'Kaboom' Cabana 4%
Which closer would you call upon to close out a game on Guam?
Joey Santos (Cougars/Tigers/Miller/Islanders/Giants) 53%
Cliff Rafael (Jets/Braves) 32%
John Leon Guerrero (Cougars) 15%
What adult league are you tracking the most?
Miller Football League 45%
Budweiser Baseball League 45%
Guam Women's Tackle Football League 7%
Women's Football League 3%
Which 4th quarter sport are you most looking forward to?
Track & Field 38%
Boys Volleyball 32%
Girls Soccer 19%
Paddling 10%
What is going to be the outcome of the boys high school basketball finals?
FD Friars finally snap the cold streak! 45%
Okkodo Bulldogs repeat champs of course! 32%
Don't really care, my team lost… 23%
Will the undefeated Southern Dolphins girls softball team win their fourth straight title this year?
Of course they will 60%
I don't think so! 40%
Will MMA's Frank "The Crank" Camacho bounce back from missing weight in PXC 41 with a dominant performance in PXC 42 against Keita Nakamura?
Yes 51%
No 49%
Which boys basketball team has the best chance at winning the 2014 title? 179
JFK Islanders 30%
Other 26%
Okkodo Bulldogs 23%
St. Paul Warriors 16%
Guam High Panthers 6%
Which sport requires the most physical conditioning?
MMA 43%
Triathlon 41%
Football 7%
Basketball 5%
Soccer 4%
What sport delivers the hardest hits?
Rugby 54%
Football 46%
Will the ND Royals girls basketball team go unbeaten and repeat as champions?
Nah! 56%
Heck, yeah! 44%
The new BFL starts this weekend. The MFL starts right after in February. What do you think?
More football is better! 37%
Backt-to-back leagues? That's too much! 33%
There's a BFL? 22%
I'll wait for MFL 9%
Who would you vote for MVP of girls high school basketball?
Kara Duenas, G (AOLG) 44%
Crystal Aguon, G (GW) 32%
Joni Tedpahogo, G (ND) 17%
Samantha Frias, C (ND) 6%
Kara Guerrero, F (GH) 0
Kristine Redelozo, G (SS) 0
What's more exciting?
H.S. Boys Soccer Playoffs 52%
H.S. Girls Basketball Playoffs 47%
H.S. Baseball Playoffs 1%
Which championship finalist has the best chance at a title?
Academy basketball 66%
St. John's soccer 17%
Notre Dame basketball 16%
Southern soccer 2%
Which is the bigger upset in a championship game?
AOLG Cougars ('11 girls basketball) 60%
NY Giants ('08 Super Bowl) 40%
'Tis the Season! What would you rather do?
Defer to the second half (give gifts) 85%
Elect to receive (get gifts) 15%
What are you most excited about this holiday season?
NFL playoffs 54%
Start of NBA season 33%
College bowl games 13%
What sport should be added to interscholastic sports?
jiu-jitsu 67%
swimming 23%
boxing 10%
Which game interests you the most?
Giants at 49ers 82%
Ravens at Patriots 18%
Who you got? 57
Giants 30%
Patriots 26%
Don't Care 44%
Who has the best boys basketball team so far?
GW (5-1) 59%
St. John's (6-1) 33%
FD (5-1) 4%
Okkodo (6-1) 4%
Was implementing tackle the right move for high school girls rugby?
Yes, it's exciting! 83%
No, too many injuries… 17%
Who is the high school basketball MVP so far?
Argie Flores (SJ) 59%
Maks Kepwe (OK) 20%
Valiant Borja (GW) 20%
Tito Canovas (SP) 1%
Who's the top PXC champ in the lighter weight classes?
Ale Cali (125) 6%
Justin Cruz (135) 41%
Baby Joe Taimanglo (145) 49%
Harris Sarmiento (155) 4%
Will Guam ever win another Far East Basketball championship?
Yup, within 1-5 years 76%
Maybe within 6-10 years 7%
Gosh, I don't think so 17%
Which historic 'call up' is bigger?
Jon Tuck to the UFC 53%
J.R. Hattig to the Major Leagues 47%
Which semifinal matchup will produce the eventual champion?
Okkodo vs. FD 75%
GW vs. St. Paul 25%
Is JROTC drill a sport?
Mmmm, don't think so 63%
Certainly is a sport 57%
Which BBL team will pull away from the pack?
AK Islanders 29%
BOG Athletics 33%
Moylan's Braves 29%
76 Cardinals 7%
Which MFL team is taking the title this season?
Warriors 45%
Angels 33%
Rams 19%
Spartans 2%
Which team has the best chance of repeating as champs?
GW boys volleyball 88%
Guam High girls soccer 12%
Who's winning the MFL Championship this weekend?
Warriors 63%
Rams 38%
GSPN was not allowed to cover the GNOC regularly scheduled meeting and was told to leave. What do you think?
Where's the transparency? 97%
GNOC doesn't need the media 3%
Smokin' Wheels, the biggest off-road event on Guam, is set for this weekend. Are you planning to go?
Nah, too hot/dusty 40%
O ya, I'm there! 35%
I would if I could 25%
Which GW boys team has the best chance of repeating as champions?
volleyball team 76%
paddling team 24%
Who's the most feared slugger in Guam baseball history?
Rico Castro 78%
John Farnum 13%
John Hattig, Sr. 5%
Richard Martinez 4%
How do you usually get your cardio fix in?
running 65%
cross training 29%
swimming 6%
what's cardio? 0
What do you think of the first ever women's tackle football league?
Love it! 71%
Whare are they thinking? 29%
Who's going to win the first ever women's football championship?
Steel Blazers 61%
Island Stunnerz 39%
Who's going to win the girls high school soccer championship?
Southern Dolphins 52
ND Royals 48
Who will win the BBL Championship Series?
Moyaln's Braves 76%
AK Islanders 24%
What summer league are you most interested in?
youth football 35%
little league baseball 33%
other 32%
With the BBL Championship Series tied at 2-2, who will win it all?
AK Islanders 82%
Moylan's Braves  18%
Guam sports fans. Who you got for the NBA Finals?
OKC Thunder 57%
Miami Heat  43%
Will the Moylan's Braves win their 5th straight BBL title next year?
Nah, that's impossible 51%
Oh Ya! 49%
How much of the London Games will you be watching?
Most of it 38%
All of it 33%
Some of it 27%
None of it 3%
How big is Jiu-Jitsu on Guam?
It's Huge 68%
Not my thing 19%
Pretty Big 12%
Who's winning the girls basketball title?
Academy Cougars 72%
St. John's Knights 28%
Who is the bigger MMA legend to visit Guam?
Wanderlei Silva (2012) 53%
B.J. Penn (2006) 40%
Kazushi Sakuraba (numerous) 7%
Which repeat champion do you like the most?
Sanchez Sharks baseball 53%
Academy Cougars basketball 47%
Who you got for the Super Bowl?
49ers 53%
Ravens 47%
What team has the best chance of repeating as champs?
FD boys rugby 52%
Southern softball 18%
GW boys basketball 15%
GW girls rugby 14%
Will a Guam team ever win a Far East basketball title again?
Both boys and girls 33%
Can't be done again 33%
Only the boys 28%
Only the girls 7%
How will Jon Tuck finish his next UFC fight against Norman Parke?
submission 59%
decision 25%
TKO 15%
How disappointed are you that Jon Tuck's UFC fight was cancelled due to injury?
very disappointed 59%
slightly disappointed 32%
not disappointed 10%
What form of football is more popular on Guam?
Women's 51%
Youth 36%
Men's 13%
Who is the best starting pitcher in Guam baseball history?
Eddie Aguon 43%
Tommy Duenas 25%
Randy Kakigi 14%
Roke Alcantara, Jr. 11%
Daryl Haun 7%
Who has been the brightest star in the IIAAG 4th quarter?
John Aquino, JFK track 49%
Devin Maluwelmeng, GW volleyball 3%
Paige Surber, Southern soccer 47%
Aaron Whitaker, Guam High track 1%
Guam fans, who do you have winning the 2013 NBA Finals?
San Antonio Spurs 66%
Miami Heat 44%
With the FD Alumni Basketball Tournament underway, will the Class of 2006 three-peat?
Oh no! 59%
Heck yeah! 41%
Who do you think will take the BBL Championship Series?
Braves 54%
Phillies 46%
Which fighter are you most interested to see fight in PXC 38?
Frank Camacho 51%
Josh Calvo 36%
Kyle Aguon 13%
What first quarter high school sport are you looking forward to the most?
football 92
cross country 72
girls volleyball 34
golf 3
What defending championship teams have the best chance of repeating?
Southern Dolphins girls volleyball 36%
Sanchez Sharks football 36%
Guam High Panthers cross country 15%
St. Thomas Aquinas golf 13%
How will Baby Joe Taimanglo finish his next fight in Bellator 99?
Submission 55%
Knockout 23%
Decision 22%
Which high school quarterback would you prefer to guide your offense?
Guam High's LJ Aguon 78%
FD's Tyler Okiyama 22%
How much of a difference has 'consultant coach' Tony Posadas made on the FD Friars football team so far?
no difference 45%
huge difference 40%
subtle difference 15%
It's anyone's championship. Which team will win the girls volleyball title?
GW Geckos 29%
Academy Cougars 27%
St. John's Knights 26%
Southern Dolphins 12%
Sanchez Sharks 6%
Who's going to win the IIAAG Football Championship?
Sanchez Sharks 61%
GW Geckos 25%
What 2nd quarter sport are you looking forward to the most?
Wrestling 35%
Girls Basketball 33%
Boys Soccer 19%
Baseball 14%
Which Guam team is poised to finish the highest in this week's Girls Volleyball Far East Tournament on Guam?
Academy 74%
Southern 20%
Sanchez 0%
GW 1%
Which top wrestling team will take the IIAAG championship?
Sanchez 42%
Father Duenas 40%
Guam High 12%
JFK 6%
Will the Academy Cougars go the entire girls basketball season undefeated?
Yes 66%
No 34%
With Jon Delos Reyes heading to the UFC, will another Guam fighter get the call to the UFC in 2014?
Yes, Definitely! 53%
No, not by a long shot. 47%
Which Southern championship team had the toughest path over their defending champion opponent?
Girls Basketball over Academy 54%
Baseball over Sanchez 46%

Foody's 5 Fun Facts
FD Friar Raymond Castro
DID U KNOW?
FD senior Matt Fegurgur first dunked a basketball in his freshman year when he was 6'4″. The now 6'9″ center looks to dominate high school hoops.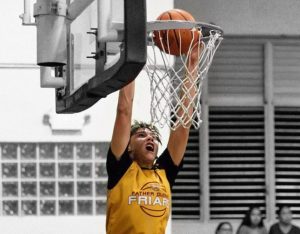 COMING SOON …
– GSPN Super Monday Party at Cowboy Ninja
– FIBA Asia Cup: Team Guam!
– Zach and Larry Return to Guam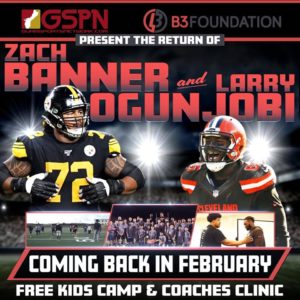 QUICK HITS
Still pumping iron: Pito Cruz, Ed Perez and Joe Duenas are some of the godfathers of bodybuilding and fitness on Guam. They're still at it with another workout together at Pito's gym.
—————————————————-