By Patrick Lujan
Mount Rushmore in South Dakota has been a symbol of presidental greatness since the carving completion in 1941.
The symbolic site has been used in sports circles to relate to and identify greatness in respective sports. Kobe Bryant, LeBron James and many other NBA superstars shared their "Mount Rushmore" of NBA legends recently, provoking us to come up with our GSPN Mount Rushmore for Guam's basketball legends.
Those of us who've been around the game for a while put in their own list of legends and accumulatively we present the Mount Rushmore of Guam Basketball.
 TONY SUSUICO (1960's-1970's)
Nicknamed 'The Helicopter' because he 'floated higher and longer than most', Tony Susuico was the first name that popped out from most voters – whether they actually watched him play or not. It could be the legendary 113-point game in 1973. Some may relate Susuico with Wilt Chamberlain for the interior dominance and hitting the century mark, but local hoops historians compare his game to Dominique Wilkins and George 'Iceman' Gervin – two human highlight reels in the NBA.
Susuico was the rock of the 1975 and 1979 Gold medal teams that didn't lose a game in the South Pacific Games – the last time Guam has struck gold in men's basketball. He was the leading scorer and rebounder in those two teams. He was also named the GNOC Athlete of the Millenium in 2000. Now how awesome is that!
Susuico's Higlights
– First one from Guam to go to Oceania training in Narabi, Australia (1967)
– Only Chamorro to make the all-military all-star team (1965-1970)
– Averaged 47 points per game in the All-District League (1970)
– Led first Guam team (UOG) to beat a strong Andersen Bombers team (1971)
– First Chamorro from Guam to play college basketball at Seattle Community College (1968-70)
– Never lost a game in 10 years in village leagues playing for Agat (1962-1972)
– Led Guam to Gold Medals in 1975 and 1979 SPGs without losing a game
"It's a great honor to be recognized for being one of the greats in Guam basketball history. It has been an honor to be one of the founding fathers of Guam basketball and I look forward to the progress being made by the Guam National Basketball Program." — Tony Susuico
 JOE TAITANO (1970's-1990's)
Arguably the best athlete ever from Guam, Joe Taitano made his mark on the hardcourts before his running and coaching legacies began.
Taitano's name usually followed Susuico's with voters, in part because he was the point guard in those two golden teams in '75 and '79.
He was the starting point guard and co-captain for FIVE consecutive SPG teams from 1971-1987. His speed and relentless, fearless approach to the game – and to the basket – resembled the likes of Pistol Pete Maravich and Isaiah Thomas.
Like his running style, his motor never stopped and cardio was never a problem. As the floor general, he led the Guam offense and drove the lane with ease while quickly turning to defense in the era that established Guam basketball as a defensive powerhouse still known today.
Generations of recent time know him as the most successful high school basketball and cross country/track coach with over 30 championships combined – mostly with the JFK Islanders.
Add all his running accomplishments and you have a true Guam sports legend!
Taitano's Higlights
–  JV basketball for Plattsmouth High School in Nebraska (starting guard) 1967-68
– JV basketball for JFK (starting point guard) 1968-69
– Varsity for JFK (starting point guard-leading scorer) 1969-70
– Adams State College/University in Colorado; starting point guard; graduated in the Spring of 1979 (1975-1978)
– Basketball Tour to the Far East (Taiwan, Hong Kong, Okinawa, Philippines, Japan) with Coach Frank Stotts, father of Terry Stotts, coach for the Portland Trail Blazers; Team Captain, starting point guard and leading scorer for the tour. (1973-74)
– Won All-District Basketball League for six consecutive years with the Yigo Jokers (leading scorer and team captain), numerous MVP awards (1977-82)
-Played, coached and won the Friendship Basketball Tournament (first ever for Guam) against the best collegiate teams from the Philippines (1984-85)
– 1971 SPG in Tahiti (4th place); starting point guard and Co-Captain
– 1975 SPG in Guam (GOLD MEDAL); starting point guard and Co-Captain
– 1979 SPG in Fiji (GOLD MEDAL); starting point guard and Co-Captain
– 1983 SPG in Western Samoa (SILVER MEDAL); starting point guard and Co-Captain
– 1987 SPG in New Caledonia (BRONZE MEDAL); starting point guard and Co-Captain
"I'm ecstatic, flabbergasted and appreciative (of this honor).  This is above and beyond my expectation. Si Yuus Ma'ase." — Joe Taitano
 JOEY GOGUE (1980's-2000's)
He is the Michael Jordan of Guam. Like MJ, Gogue had the killer instinct at both sides of the floor. He always wanted  the ball in his hands and when he was hot, he was sizzling hot. His range from outside was like no other and was a 90%-plus free throw shooter and as he aged, he transformed his game just like His Airness with a post-up game. 'The Pretzel' made the GCC Tradesmen relevant in the mid 1980's, even winning the Far East MVP award from the 4th-placed GCC team in 1983.
On the defensive side, Gogue always wanted the best player to defend on the other team and his high intensity usually put fear into his opponent. His work ethic and desire was contagious amongst his teammates, even during practice. He practiced hard and played hard.
He is one of only a few players who can single-handedly win games. Outside of 'The Helicopter', 'The Pretzel' lit up the scoreboard like no other.
Unfortunately, injury prohibited him to make a mark in the 1987 SPG during his peak years. A late coaching change in the 1991 SPG affected the team that still managed a silver. Back spasms affected his game once again in 1995 and a lingering injury prohibited what was his last attempt at SPG Gold in 1999.
Gogue's Highlights
– Toto Green Spiders- Youth Center Elementary
– Toto Nets- Youth Center Jr. High
– L.P. Untalan Jr. High Wildcats- A team
– Toto Blazers- Youth Center Open Division
– 1981-1983 GCC Tradesmen – High School league champs
– 1982 in Yokota, Japan – 5th place, all-tournament selection
– 1983 Far East in Yokota – 4th place: Tournament MVP, unanimous selection all-tournament, 30.5 game average
– 1987 SPG at New Caledonia – badly sprained ankle from a tournament against Andersen a week before the Games, Bronze
– 1990 SPG at Papua New Guinea, Silver
– 1990 First Micronesian Games in Saipan, Gold (average victory by 60 points)
– 1995 SPG at Tahiti – played with back spasms, 4th
– 1st Friendship tournament at UOG – defeated Santo Tomas University, PI in championship game. Joe Taitano was the head coach. (1984)
– Miller Blazers- competed in open & military sponsored tournaments.
– Public Defender (numerous GovGuam League championships)
"I am truly humbled and grateful to be mentioned with these other legends in this sport…I thank God for the gift to play and be an instrument to others." – Joey Gogue
 CHRIS FERNANDEZ (1990's-2000's)
Chris Fernandez is the youngest player on the Mountain, and the least offensive-minded of the Big Four. The thing is, he didn't need to score for his team to win.
Considered tall for a Guam point guard, the quiet floor director had a basketball IQ so evident he can envision a play before it even happens. He's Guam's version of Magic Johnson.
There was a sense of calm when Fernandez had the ball in his hands. Sure he could score when he wanted, but he'd prefer to get his teammates in a rhythm with crisp passes. And like his predecessors, he was a lock-down defender on the opposing point guard.
Like Magic, Fernandez wasn't afraid to bang with the big boys to get the rebound, only to start a well-sensored fast break that was fun to watch.
The 1996 high school MVP out of Father Duenas led Guam to three silver medals in the South Pacific Games.
Fernandez's Highlights
–  1994 All –Island, 2nd Team, Interscholastic Boys Basketball, Guam
–  1995 4A West Conference Champions, Fayetteville High School, Fayetteville, Arkansas
– 1996 All-Island MVP Interscholastic High School Boys Basketball (Father Duenas)
– 1996 Interscholastic Boys Basketball High School Champions
– Guam National Men's Basketball Team 1997-2007, point guard
– 1997 Mini SPG – American Samoa, American Samoa, Silver
– 1999 South Pacific Games, Guam, Silver
– 2003 South Pacific Games, Fiji, Silver
–  2007 South Pacific Games, Samoa, Silver 
 " I am not sure if I truly deserve being put on this list but I am thankful to those who appreciate my game.  I have to say that I was blessed playing with really good teammates and under excellent coaches.  If you look at all the teams that I was on, I am not sure if my game could have flourished the way it did because I was a pass-first point guard. That is really how I feel and why I feel like many of my peers could have filled this fourth spot." – Chris Fernandez
HOW THEY VOTED
Tony Susuico, Joe Taitano, Joey Gogue, Steve Nygard
– E.J. Calvo, former National player and current men's National head coach
Tony Susuico, Joe Taitano, Joey Gogue, Chris Fernandez
– Eddie Pelkey, former National player and current coach for FD Friars/Academy Cougars
Tony Susuico, Joe Taitano, Joey Gogue, Bill Reyes
– Rey Serafico, former National player and current JFK Islanders boys head coach
Tony Susuico, Terry Stotts, Joe Taitano, Jesse Perez
– Larry Fejeran, former National player and long-time referee
Joey Gogue, Tony Susuico, Joe Taitano, Chris Fernandez
– Patrick Lujan, long-time sports journalist and former referee
Tony Susuico, Peter Sanchez, Joey Gogue, Bob Lizama
– Joe Taitano, SPG basketball gold medalist and coaching legend
Tony Susuico, Joe Taitano, Joey Gogue, Frank Meno
– Bob Pelkey, former National team head coach and long-time GBC President
Tony Susuico, Joe Taitano, Jesse Perez, Chris Fernandez
– Joey Gogue, former National team player and long-time referee
 John Kinsella, Webb Smith, Frank Chargualaf, Ronnie Tavares
– Tony Susuico, 'The Helicopter', going old-school with his picks
Joe Taitano, Tony Susuico, Joey Gogue, Vince Estella
– John Halloran, long-time basketball referee
Joey Gogue, Joe Taitano, Jesse Pinaula, Danny Cepeda
– Chris Fernandez, former National team point guard
Tony Susuico, Joey Gogue, Ernest Chargualaf, Joey Cepeda
– Felipe Candaso, only coach to win Boys Far East Basketball Championship with Oceanview in 1993
PHOTO GALLERY

National Guard Athletes
Scott Eclavea
Scott Eclavea is a jiu-jitsu black belt and an accomplished MMA fighter. The Guard has given him an outlet in combatives to display his martial art skills, where he's become a head instructor for that program. Eclavea has served since coming out of high school and the Guard has only changed his life for the better.
COMING SOON …
LIVE FOOTBALL ON GSPN
FD vs. JFK (Saturday 7 pm)
GSPN Preseason Basketball Tournament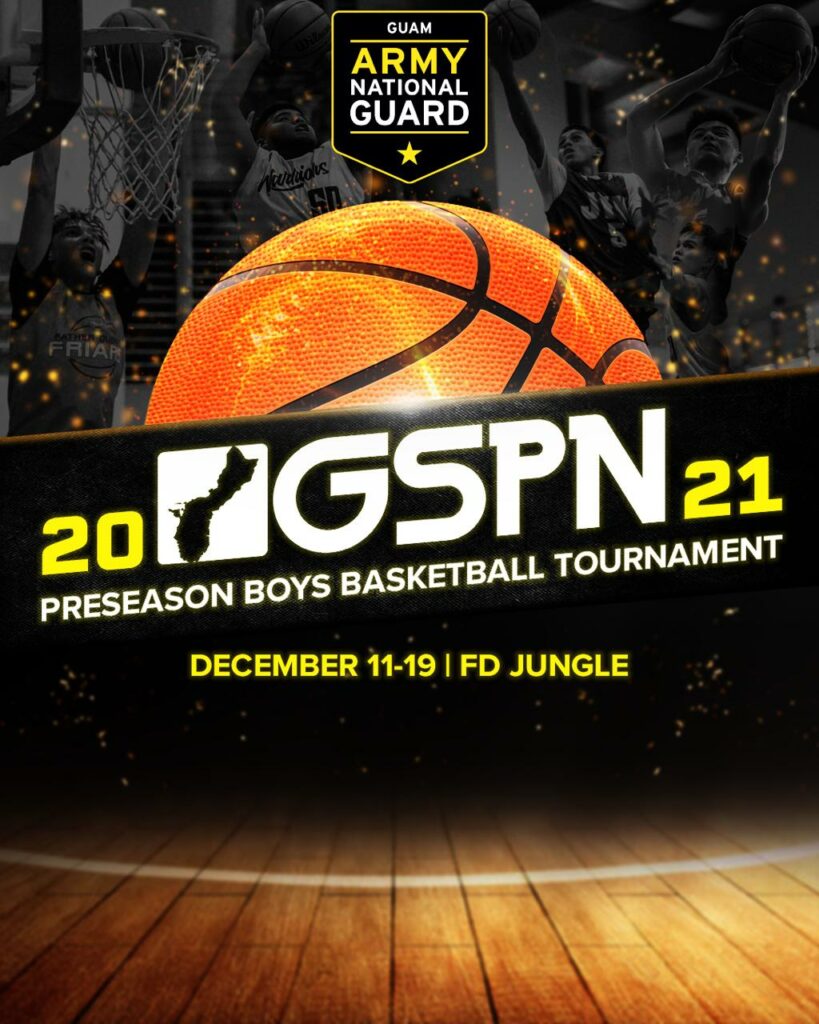 QUICK HITS
Pat Taitano and Rich Abiador, teammates on the 1995 SPG volleyball team, have led their high school girls volleyball teams to the Washington State Championships in Yakima, Wa.
Taitano coaches Mt. Rainier High while Abiador leads North Creek High.
There for support is Dr. Mark Perez, a health professor at Central Washington University and a former UOG volleyball player.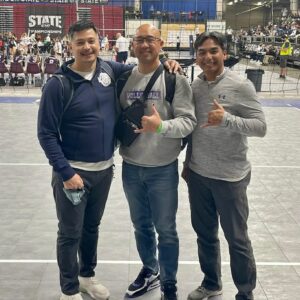 ——————————————–
Guam has recently lost two former star athletes.
– former national volleyball player Larry Gamboa
– former GW Geckos running back Joe 'Pit Bull' Leon Guerrero
May they both rest in peace.