[sixcol_five_last]
By Regina Shiroma
The Metgot divison of the LMS Hal's Angels ran away with a 34-19 win over the Hawaiian Rock Eagles at Eagle field Sunday afternoon.
Though the Angels stayed in the lead the entire game, that fact did not discourage the Eagles as they continued to fight back and put points on the board in the second half. According to GNYFF regulations, if a team is up by more than four touchdowns, the refs will implement running clock and the winning team must change up their starters. So even with time running against them, the Eagles still never gave up.
Coming off their first touchdown of the game in the second half, Eagles' DarenDean De Jesus recovered a fumble deep in their territory to gain possession of the ball again. In the ensuing play, Tatum Aflague rushed to the right for a huge 98-yard touchdown run that shocked all spectators. And according to league official Fred Tupaz, Aflague's run may be the longest rushing touchdown in GNYFF history. The Eagles fans burst into cheers as Aflague received pats on the shoulder and hugs from his teammates on the field. Aflague, and Garry Wells, Jr. who ran in for the extra point, added to their teams total making the score 27-13 with five minutes, 39 seconds left in the game.
Quickly answering back, Angels quarterback, Cole Palomo, and receiver, Tyler Pangelinan, connected for their second touchdown reception of the game and Palomo's third overall passing touchdown, pulling further away from Eagles with a 21-point lead.
"It was fun, this team never gave up even though the score [was lopsided], which I really like about this team," said Pangelinan.
That would not be the last touchdown from the Eagles, however. Phillips and Aflague would work the hand-off once more, and again it proved successful as Aflague carried it for another huge play, a 53-yard touchdown run, in the closing seconds of the game.
In first half action, the Angels dominated on both sides of the field, after they scored four touchdowns and kept the Eagles out of the red zone.
Palomo had a clutch performance, going three for four in passing, with his three completions being touchdowns. Palomo also led his offense in rushing, gaining 87 yards on three carries.
"He's a really good quarterback, I like how he plays. He's a humble kid. I like how he reads his blocks and how he trusts in his teammates," said Pangelinan, who ended the game 2/2 on 84 yards receiving.
Palomo handed the ball off to Lawrence Castro who ran in for a 66-yard touchdown early in the game. Palomo ran in for the extra point putting the Angels up 7-0.
With four minutes and nine seconds left in the first quarter, Palomo connected with Pangelinan for their first connection of the game, tallying a 49-yard touchdown reception. Kobe Cox ran into the end zone for the extra point.
Palomo completed his third touchdown reception in the second quarter after connecting with Makoa Bamba for a five-yard touchdown. For the extra point, Palomo ran it in himself making the score 21-0
A few minutes later, Palomo met up with Tyler Talai, who ran five yards for paydirt making the score at halftime, 27-0.
The Eagles first touchdown came from a Phillips-to-Wells hand-off marking an 11-yard touchdown in the third quarter.
In the losing effort, Eagles' Aflague ended the game with 105 total rushing yards on four attempts while teammate Wells, Jr. had 50 total rushing yards on seven attempts.
The Angels now improve to 6-0-1, while the Eagles drop to 2-4.
In other divisions:
Mandikiki Angels def. Saints 20-0
Manha Angels def. Saints 26-6
Matua Angels def. Saints 32-12
[/sixcol_five_last][ubm_premium_banner_rotation banners=46, 44, 14 interval=9 width=120 height=600 orderby=rand]
[fbshare url=" http://www.gspnlive.com/?p=16282″ type="button"][fblike url=" http://www.gspnlive.com/?p=16282″ style="standard" showfaces="false" width="450″ verb="like" font="arial"]

Athletes Birthdays by W5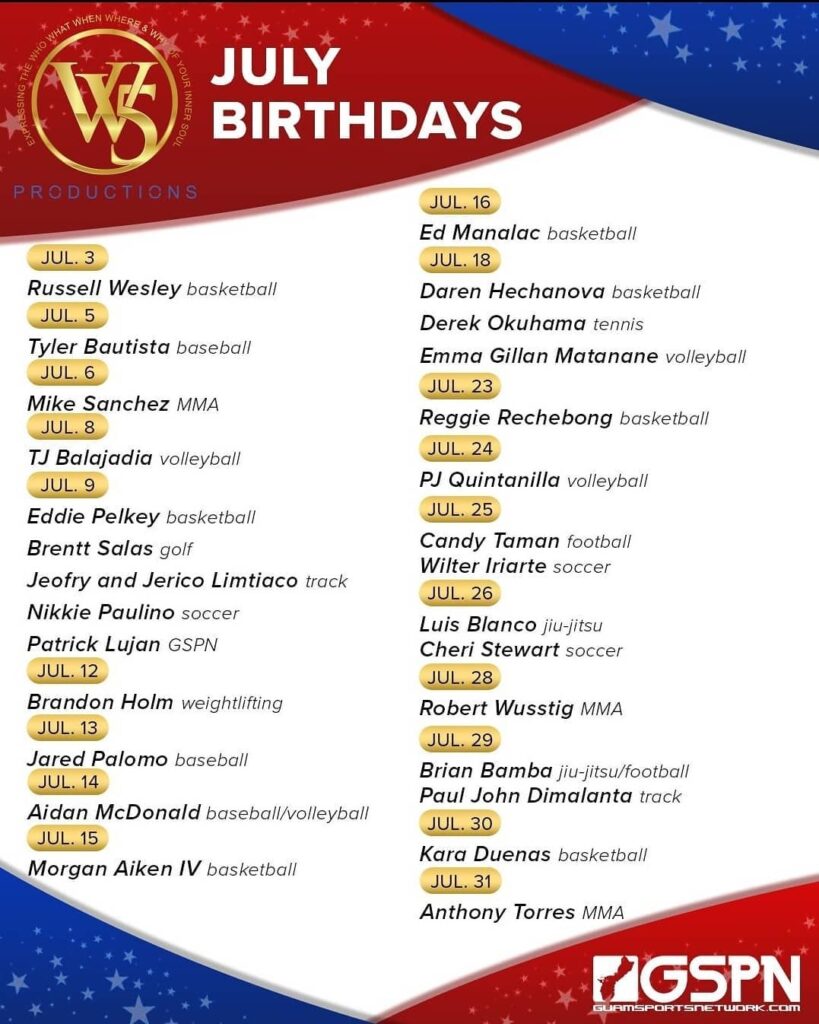 Foody's Fun Facts
Favorites From Year 2
COMING SOON …
2020 Tokyo Olympics
UFC Fight
Aug 1: Trevin Jones vs. Tony Kelley
QUICK HITS
Nicole Cruz had a chance to take a photo with USA gymnast and GOAT Simone Biles on her way to the Tokyo Olympics. How cool!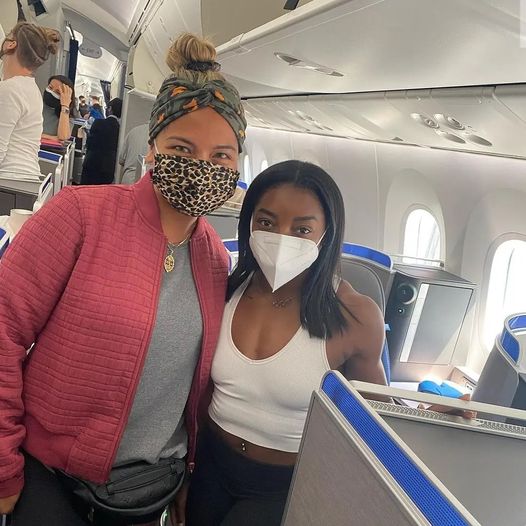 ————————————–
Guam's Joey Miranda met up with Chamorrita Softball Star Bubba Nickles and Olympic Teammates Dejah Mulipola and Aubree Munro out in Tokyo!
Photo credit: GNOC