By Regina Shiroma
The Inarajan Hawks outhustled Malesso Club to take home a 45-40 win in their second game of the Summer Jams Basketball Tournament. The battle between the two southern teams put on an exciting game of aggression for basketball fans at the Tamuning Gym Sunday night.
The Hawks performed well defensively, recording numerous steals and stripping the ball from the Malesso team. Inarajan displayed their conditioning as they continually forced turnovers on Malesso and were able to hold them scoreless for the first four minutes of the game.
Offensively, Inarajan's Cory Lorenzo led his team with 17 points, racking up points off quick steals and executing unchallenged layups. The Hawks gained their biggest lead behind Lorenzo's four layups in a span of two minutes in the first half to make the score 29-10.
"We played good defense; we all contributed. We just played good overall," said Lorenzo.
Malesso's Dominic Sablan led his team with 17 points as well. Sablan tried to rally his team to comeback late in the second half. Down by eight point with just fifty seconds left, Sablan landed a three pointer and split the defense for a layup thereafter. Though Sablan was able to cut away at the lead, time was not on his side as the buzzer went off to end the game.
The Hawks now have two wins and zero losses while Malesso Club drops to 0-2.

QUICK HITS
The Guam Smokin' Hot women's softball team captured first place in the Asia Cup Softball Championships 2023 in Bangkok, Thailand.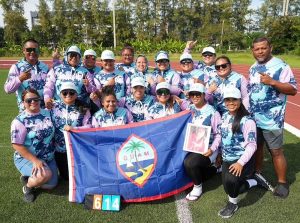 ——————————————————-
Roque Martinez gets the unanimous decision win Saturday night in his debut fight in South Korea's Black Combat promotions.
The 37-year-old controlled the tempo all three rounds and bloodied his opponent with some 3rd round ground and pound.