[sixcol_five_last]
By Robert Balajadia
Many believed that the winner of the GW Geckos vs. GH Panthers would produce this years IFL champion, which the Geckos won. Someone forgot to tell the Sanchez Sharks.
With a defensive resume of allowing only three touchdowns in the regular season it was easy to believe that if the Sanchez Sharks were going to defeat the GW Geckos, it was going to be their defense that got it done. The Geckos offense has been consistent of late and they can put up points if needed.  The two teams, however, combined for an explosive 71 points in a very entertaining championship game filled with offense with the Sharks getting the 39-32 over the defending champion Geckos.
Sharks All-Island first team RB Dondre Barnes had a masterful performance carrying the ball, running for a total of 228 yards and three touchdowns. The Geckos knew that they were going to have to rely on their passing game to put up points and All-Island second team QB Joe Carreon cashed in an outstanding game with 361 yards passing and five touchdowns finding TE Rashaun Blas for nine catches, 207 yards and four touchdowns.
Head coach Jimmy Naholowa celebrated his 20th season with his 7th championship since taking over the Sharks head coaching job back in 1992. Geckos head coach Ryan Rios has made a living in championship games with GW making it nine of the last 10 times, winning six titles in that span.
The regular season meeting between the Sharks and Geckos resulted in a thrilling 17-14 overtime win for the Geckos.  The Sharks came in as the number two seed with the Geckos right under them at the third spot but it still seemed that the Sharks were the underdogs heading into the game.
RUN DONDRE, RUN
Barnes is capable of scoring from anywhere on the field and he made that clear ever since the very first play of the season for the Sharks scoring on a 96-yard TD run against the Okkodo Bulldogs. All ready being honored as the IFL's number one RB selection, Barnes cashed in the biggest game of his life on the biggest stage.
He stated, "It feels great to win the championship! Me and my team have worked so hard and everyone pulled through. There were minor mistakes but we got back to playing our ball. Our offense was great today, our coaches have been pushing us and yelling at us because he wanted us to win because he knew what we were capable of and we knew we could do it."
The second-half belonged to Barnes where he scored all three of his touchdowns: An 18-yarder in the third and two scores in the fourth – 14 and three yards out.
Barnes muffed a punt early in the fourth quarter with the Sharks leading 31-20 near their own 10-yard line which allowed Carreon and Blas to hook up for an 11-yard TD, the pairs third to pull them within a single possession trailing only 31-26 after a failed 2-point conversion. Barnes quickly recovered from that fumble by gashing the GW defense for a 33-yard run that put him over 200 yards in the game. He punched in the three-yard TD a couple of plays later for his third of the game.
"All the credit goes the boys. The Geckos were a heck of a team and I couldn't be any prouder of our boys. Dondre had a great game, we've been pushing him hard all season and he really came through for us," stated assistant Sharks coach Paul Unger.
COME BACK KIDS
The Geckos put together unbelievable comebacks to defeat the FD Friars and Guam High Panthers in their first two playoff games and were facing a 39-26 deficit with 1:40 left in the game, facing yet another large deficit. Carreon connected with Blas for a 40-yard bomb for the duo's fourth TD connection with 21 seconds still to play in the game. Still down by seven, the Geckos needed to recover an onside kick, drive half the field and convert the PAT to send the game into overtime.
Kicker Dylan Naputi let the kick sail into a lone Shark receiver who could not firmly secure the catch resulting in a fumble which the Geckos recovered. The Geckos were attempting a come back for the third straight playoff game in a row with only 16 seconds left, no timeouts and 40 yards to go.
Carreon was looking for Blas on the first play which was slightly overthrown sailing over his reach and near the Sharks secondary which ultimately was incomplete. The next play Carreon tried to go to Blas again but the Sharks pressure got to him fast enough to disrupt the pass having it hit the ground for another incomplete. The final play was a 17-yard pass to Naputi who was well short of the touchdown and looking to turn and run but the Sharks defense managed to keep him in bounds while running out the clock to secure their championship win.
Leading the defense for the Sharks was All-Island first team defensive tackle and offensive tackle Pele Smau who played his final game for Sanchez. Smau was in charge of the Shark defense in trying to prevent Carreon and Blas from scoring and no one was more relieved when the Shark defense prevailed. Smau received a bounty of chants and cheers from teammates, family and friends during the trophy presentation which he embraced emotionally in it being his first.
"Our coach prepared us to adjust all year long. Even though they kept putting up points we never put our heads down and we came out with the win. We told each other we had each others backs on that last drive and we told each other we can't afford to make any mistakes. Our defense had an 'okay' game, it was enough! This win is really big for me, I've been here all four years and this year I was named captain, this is whole thing has been surreal," stated Smau.
WIRE-TO-WIRE
Though fans did not predict an offensive explosion, it was clear that this game was going to be close. The Geckos scored on their very first playof the game as Carreon connected with Daryl Mariano for a 56-yard TD. The Geckos were creeping in on a two possession lead after a Sharks three-and-out but Carreon fumbled near the goal line which turned into a Larry Saralu TD for Sanchez 11 plays later.
Sharks CB Matt Sojo came away with a highlight reel interception playing the speedy WR Naputi stride for stride before stealing from the outstretched hands of the GW receiver which set up a Wes Shiroma field goal.
Blas only played the last few games for GW in the regular season but managed to haul in a near unstoppable performance grabbing a touchdown in the first half and three in the second. It was all offense in the second half between the Geckos Carreon and Blas vs Sharks Barnes and fellow back-mate Johnny Cruz-Aguon for majority of the game.  Mariano was the only other receiver to score for GW with five catches for a 107-yard performance.
Sharks QB Shawn Dumanal had an efficient game completing all but one of his five attempts while managing to score on two 2-point conversions which ultimately gave them the seven point lead as his team rhode the RB's for majority of the game.  Dumanal did pick off Carreon in the fourth quarter that allowed the Sharks to run significant time off the clock.
The Gecko defensive was led by defensive MVP Michael "Boise" Hocog who had a commanding 17 tackles. Aiding him was All-Island first team LB Frank Troy who had seven tackles while teammate Kelvin Hocog had seven as well.
Referees are known to take a lot of heat in any games but none more than in championship games. Surprisingly enough, the refs were not under the fans microscope and neither coaches were attacking the refs verbally making for a generally clean game.
SCORING BREAKDOWN
1st quarter (kickoff time 7:10 p.m.)
1st play of the game: J.C. Carreon to Daryl Mariano 56 touchdown yard pass (kick blocked) 11:50
GW 6, Sanchez 0
Sanchez: 3 runs and punt
GW: 10-play drive; Carreon fumbled into the end zone, recovered by Sanchez, returned to 15-yrd line
SS: 11-play drive; second and goal at the 6 (end of first quarter)
2nd quarter
SS: Larry Saralu 6 yrd run (kick failed)
GW 6, Sanchez 6
GW: 4-play drive; fake punt failed
SS: Cruz-Aguon fumbled on second play of drive
GW: 2-play drive. Mariano fumbled, recovered by Sharks
SS: 8-play drive; Oyardo 6-yard touchdown (kick failed)
Sanchez 12, GW 6 4:14
GW: 3-play drive…Carreron intercepted by Matt Sojo
SS: 4-play drive; Wes Shiroma 25 FG
Sanchez 15, GW 6 2:51
GW: 5-play drive; Rashaun Blas 17 pass from Carreon (Carreon run)
 Sanchez 15, GW 14
SS: 2-play drive
3rd quarter
SS: 10-drive play; three first downs; turnover on downs at GW 22
GW: Blas 78 pass from Carreon (pass failed)
Geckos 20, Sharks 15
SS: 9-play drive; so far, Dondre Barnes 20 carries, 123 yards….Barnes 18 yard touchdown (Dumanal run) :28
Sharks 23, Geckos 20
GW: 3-play drive (end of third quarter)
4th quarter
SS: Cruz-Aguon 60 yard punt return. 1st&10 at GW 30; 3-play drive. Barnes 14 yard touchdown (Dumanal run) 10:50
Sharks 31, Geckos 20
GW: 3-play drive punting; Barnes fumbles punt, recovered by GW at Sanchez 11
Blas 11 pass from Carreon (pass failed) 8:00
Sharks 31, Geckos 26
SS: 6-play drive, Barnes over 200 yards rushing; Barnes 3 yard touchdown (Cruz-Aguon run) 4:32
Sharks 39, Geckos 26
GW: 6-play drive; lost on downs 3:06
SS: 2-play drive 1:45 punt
GW: Blas 40 pass from Carreon (pass failed) :21
Sharks 39, Geckos 32
GW onside kick attempt recovered by Geckos; 1st and 10 @ SS 40
time runs out….Sanchez are champions
[/sixcol_five_last][useful_banner_manager_banner_rotation banners=53, 51, 44, 16, 38 interval=8 width=120 height=600 orderby=rand]
[fbshare url="http://www.gspnlive.com/football/live-updates-geckos-vs-sharks/"][fblike url="http://www.gspnlive.com/football/live-updates-geckos-vs-sharks/" style="button_count" showfaces="false" width="450″ verb="like" font="arial"]

Foody's Fun Facts
Foody's Fun Facts with Arren Yatar
UOG Tritons Pitcher Arren Yatar shares some of his fun facts and tells us about his favorite YouTube channel!
Foody's Fun Facts
Foody's Fun Facts with Arren Yatar
UOG Tritons Pitcher Arren Yatar shares some of his fun facts and tells us about his favorite YouTube channel!
Foody's Fun Facts
Foody's Fun Facts with Arren Yatar
UOG Tritons Pitcher Arren Yatar shares some of his fun facts and tells us about his favorite YouTube channel!
COMING SOON …
Asia Pacific Little League
National Triathlon Championships
GML Makeup Games
FD Alumni Basketball Tournament (ongoing)
QUICK HITS
UOG hired Tatiana Sablan as the new volleyball coach. Sablan served as the original volleyball coach for UOG back in 2016 and she has been rehired to lead the more "beach" oriented program in 2022-23.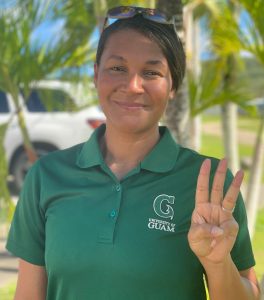 ———————————————–
Palau history: Outfielder Bligh Madris was called up by the Pittsburgh Pirates today to become the first Palauan to make it to the major leagues. The lefty Madris was batting .304 with five home runs and 20 RBI at Triple A before getting the Call Up!