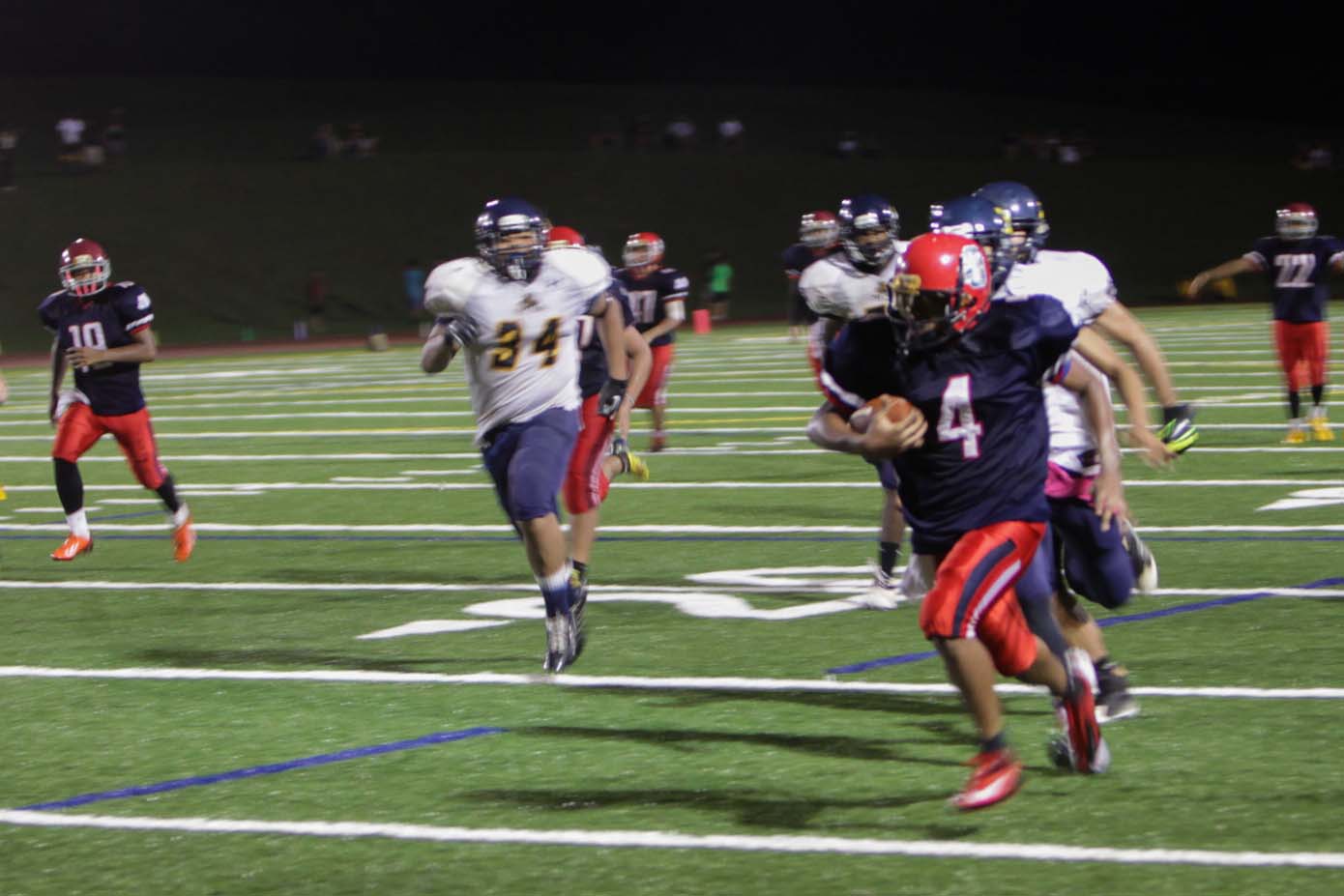 By Jesse Pinkston Santos
On a cloudless evening at Guam High Field, head coach Jacob Dowdell looked to earn his first win for the Panthers; however, Okkodo had plans of their own.  The Bulldogs, who only have seven seniors, were all over the place on offense and defense.  They were running, passing, forcing turnovers, you name it; and captured a 14-7 win over the Panthers.
"We still have a lot of things to actually correct," stated Okkodo head coach Ken Cruz.  "We made a lot of mistakes though we capitalized on certain plays and it was good for us.  It was a close game.  I'd like to thank the Panthers for a good game.  It was incredible playing on their field with this turf."
Guam High put points on the board first with 5:49 remaining in the first quarter as they marched down the field 55 yards and quarterback Kaimana Bamba ran it in on a keeper for a 2-yard touchdown.  A good point after kick from Nick Anderson gave them the 7-0 lead.
After starting at their own 3-yard line, the Bulldogs marched downfield to Guam High's 40 after some big plays Dylan Aguon and Angel Chiguina; including a 30 and 9-yard run by Chiguina.  However, the Panthers defense caused a fumble which they recovered on their own 30.  Bamba zipped a pass in the middle to Avery Fernandez for a 15-yard completion then a lateral pass right back to Fernandez for a 16-yard gain which put them on the Bulldog 38 to end the first quarter.
Bamba stepped back to chuck the ball high up the middle but was intercepted by Jaythaniel Cruz only to have Okkodo fumble and the Panthers took over.  Bamba was once again intercepted but this time by senior captain Leeray Zapatos, who ended the game with three interceptions.  "With my D line, they pressured that quarterback, and without them I wouldn't have been able to get those interceptions," said Zapatos.
Guam High forced another fumble and took over on their 35-yard line.  Bamba under threw his pass, bounced off two Bulldogs and Zapatos was right there, grabbed the ball and ran down the field for an 18-yard gain.  Zapatos commented, "I just had to react fast.  When I saw that ball up in the air I just grabbed it and took off."
Panthers rushed the offense and lefty quarterback Joseph Deleon Guerrero was sacked by Travis Aguon and Dashaun Russell for a loss of five. The Bulldogs fumbled again putting the Panthers on their 45 with 3:38 left in the half but they could not convert and were forced to punt.  With 43 seconds in the second quarter, Deleon Guerrero completed a 29-yard pass to Aidan Ferrara but the Bulldogs remained scoreless going into halftime.
Okkodo took control in the second half of football, keeping the ball for the first seven minutes of the third quarter, marching down the field play after play.  It was evident that the Panthers defense was tiring, giving Okkodo the advantage as Zapatos dominated his offense along with teammates Dylan Aguon, Chiguina and D'Andre Pizarro.  "Without my line opening up the holes for me to run, I wouldn't be able to run so I give thanks to my line," said Zapatos.
With 4:59 left in the third and 91 yards later, Ryan Palacios ran it in for a 1-yard quarterback keep, tying the game at 7 with a good point after kick.  Bulldogs rushed strong throughout the rest of the quarter, forcing Bamba to throw the ball away and eventually had to punt on a 4th and 13 with 1:24 in third.
Bulldogs began the fourth quarter on their own 32.  Guam High's Dante Banes hammered Deleon Guerrero for a loss of 11 however from 3rd and 16, Zapatos scrambled from the 28, spun and dodged defenders left and right, bringing the ball to the 49 for a 24-yard run.
Coach Cruz commented on Zapatos, "[Zapatos] actually was our quarterback since three years ago when I was the offensive coach.  He is one of our key players, an incredible leader."
With just under six minutes left in the game, on 3rd and 8, Zapatos handed off to Pizarro up the middle, the defense collapsed but Pizarro took off down the sideline to the endzone for a 35-yard run.  The point after kick was good; bumping the Bulldogs ahead 14-0.
Panthers Travis Aguon found Keith Chauret for a 23-yard completion putting them in Bulldog territory and after Romeo Nicdao was called for pass interference the Panthers were now on the 25.  Aguon back to pass on 2nd and 10 with 2:49 in the game, was picked off by Zapatos.  He would have had an 85-yard touchdown but was called back due to a block in the back.
When asked what he has done to improve his abilities, Zapatos said, "To be honest, I worked my way up because I played since I was a sophomore and ever since then I just started getting the knowledge of the game which made me a better football player.  To improve I always go to practice, give 110%, I watch some videos to see what I can do to improve and just listen to my coach."
The Panthers had the perfect opportunity to score as the Bulldogs fumbled on the very next play, which was recovered by Chauret but Aguon was once again intercepted.  This time it was on a lofty pass to the left side, picked off by Mark Lao.  The Panthers saw their chance to tie the game and possibly go into overtime slowly diminish after that interception and time quickly expired.
The Panthers take on the undefeated Geckos on Friday at 7 pm and Okkodo will play FD on Saturday at GW field at 7 pm.
Other Game
PHOTO GALLERY BROUGHT TO YOU BY:

COMING SOON …
High School Football starts Sept. 29
Brawl 3: Oct 13
Guam's Strongest Man and Woman Competition October 29
QUICK HITS
The Figo Islanders 40s women's softball team took gold in the Senior Softball World Championship in Las Vegas. Figo came out of the loser's bracket and beat the Arizona Belles 17-3 in the AA division championship game Sunday afternoon.
Other Guam teams that played in the 40s tournament were: Team SOTTA (women's) and Bud Light Guam, Friars 671 and Sindalun Guahan (men's).
Sindalu finished a respectable 4th out of 24 AAA division teams.