By Will Escobar and Charlie Epperson
As Tropical Cyclone Hagupit spun just south of Guam, another fury circled to the north.
The 8th Annual Hell of the Marianas (HoM), a brutal 100-kilometer road cycling event, offered riders the opportunity to survey the entire island of Saipan on Saturday. For most cyclists, it was not necessarily the distance, but those legendary climbs that were feared most.  With a total elevation gain nearing 5,000 ft, even experienced riders were pushed to their limits.
A partnership between the Marianas Visitor Bureau and the Northern Mariana Island Cycling Federation has ensured local and international cyclists enjoy a world class cycling event on Saipan each year. In addition to the warm welcome and hospitality, riders would be competing for a share of the $5000 prize purse.  The stage was set for a two-wheeled suffer fest on the roads of Saipan.  Each year more and more professional and amateur riders travel to the Marianas from as far as mainland USA, Russia, Japan, Korea, and Australia to do battle with the best local cyclists.
In the men's field, four out of the top five finishers returned from the 2013 race, including runner-up Aleksandr Dorovskikh of Russia, Guam Olympic Cyclists Derek Horton, Kaon Cho of South Korea, and Guam's Peter Lombard.  It was evident many would be in peak form with two riders (Lombard and Cho) hot off a head-to-head battle at the Tour de Guam.
Before sun-up over 150 cyclists rolled out of the Mariana Resort & Spa ready for a long day in the saddle.  It didn't take long for the Russia Rocket Dorovskikh and first year HoM racer and fellow Russian Konstantine Fast to make a move.  According to Peter Lombard, as the main field closed in on the first major climb, "The pros dropped the hammer on the first climb up to Suicide Cliff.  I debated for a second to try to go with them and Cho tried but fell off after five minutes."
The move immediately broke the race into a three-man race with only the Japanese professional cyclist, Ryuatro Nakamura, able to match their acceleration.
The chase pack included as many as eleven riders most from Guam and CNMI.  But, with Dorovshikh and Fast working together it was uphill fight for Nakamura. In the final kilometers, Fast's power and speed were too much as he crossed the line in 2:49:22 (unofficially) and Dorovshish finishing second two years running at 2:51:41. Nakamura held strong to finish third at 2:56:13.
Rounding out the Men's top ten: Peter Lombard at 4th, Patrick Camacho in 5th, Kaon Cho in 6th, Jonathan Martin in 7th, Justin Nieves at 8th, Jake Jones in 9th, and Nap Dizon in the 10th spot.
In the women's race, Mieko Carey a two-time HoM winner (2009 and 2011) returned to her former home after notching a stellar performance at Tour de Guam this past November.  In the 2013 race, Carey finished second to Australian professional cyclist Jodie Willett, but with Willett out Carey was clearly the race favorite.
Carey would not disappoint and settled into her routine of racing alongside the best male riders.  Carey easily won the women's title with a 3:30:36 effort to become the only three-time winner of the Hell of the Marianas. By all accounts, it was an epic day of cycling in the Northern Mariana Island of Saipan.

QUICK HITS
Guam MTB National Championship: Edward Oingerang and Jennifer Camacho are your 2023 MTB national champions. Oingerang finished the course in 1:13:24 while Camacho won her second straight title in 54:08.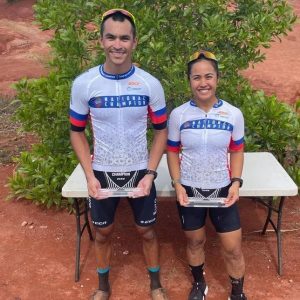 ——————————————
Kobe Miyashita, with St. John's coach Arvin Flores, was named the 2023 IIAAG Middle School Boys Volleyball MVP!