He will forever go down in Guam sports history as the first baseball player to ever play in the big leagues.
13 games: 8-for-24 (.333), 5 BB, 8 K, 3 RBI for the Toronto Blue Jays in 2006.
Eight years after his historic major league appearance, JR Hattig is still Guam's lone professional pioneer when it comes to the major sports.
Now 34-years-old, he's settled back home but still playing the game he so loves. GSPN catches up with JR to see what's he up to these days.
GSPN: The average Guam sports fan is probably wondering what is JR Hattig up to these days. What have you been up to?
– Just working. I recently got into the Government of Guam at Homeland Security. On my free time I umpire for the Cal Ripken/Babe Ruth League. I'm also playing with the AMI Orioles BBL and Crusaders in the Budweiser Amateur League.  I've also surprisingly found a new love for running and eating right. I started at Homeland Security weighing 250 lbs and through the Governor's Fitness Program I've taken advantage of it and started working out. I'm now down to 218 lbs.
GSPN: You were with the Smokies last year and played all kinds of positions. What made you switch to a brand new, yet very talented team in the Orioles?
– I enjoyed playing with the Smokies, very young talented team. I'm friends with a lot of players on the Orioles so that was a big reason why I switched. I also believe in the coaching staff.
GSPN: The O's are still undefeated. Not bad for a new team. What is the biggest contributing factor to the team's success?
– Me of course! (laughing) I'm kidding. We owe our success to our coaching staff. Also, we jive as a team. We are friends off the field and it shows when we play together.
GSPN: What would the Toronto Blue Jays think about you playing for a team named Orioles (AL East rivals)?
– (laughing) No comment.
GSPN: Looking back on those 13 games you played in the big leagues in 2006, what do you remember most about that experience? 
– I would say it was the perks. When I was in the minors it wasn't as glamorous as people may think. The long bus rides, crappy hotels…then when I got to the majors it was a whole different life. It wasn't so much the money…it was being able to see the fruits of my labor. All the hard work and sacrifice paid off and it was a beautiful experience (despite it not being very long).
GSPN: What would you have done differently in order to sustain your presence in the majors?
– You know, a lot of people knock my success because I didn't stay in MLB very long. I try not to make it bother me, but at times it's almost sad because people are so quick to judge but forget that I'm the only person from Guam to ever make it that far. Many people have their own theories of why I didn't make it long…be it a girl, being homesick, me not putting in the work but that's really not the case. There are millions of ball players that would love of at least one day and I was fortunate to get a few months. Back to the question, I don't really know what I would have done differently. I had a very good run during my time in MLB, I guess I just wasn't what they were looking for (position wise).
GSPN: What advise would you give aspiring ball players like Trae Santos or Pete Perez who are currently in the minors?
– Just enjoy it! Work hard everyday and don't take anything for granted because it can all go away in a blink of an eye. AND that Guam is behind you 110%.
GSPN: Do you still keep in contact with some of your former teammates? If so, who?
– I've jumped on the bandwagon and joined social media. At first I was hesitant but it reunited me with a lot of my former teammates like Adam Lind, Chad Mottola, Brandon League, AJ Burnett, Mike Snyder. And I always check up on the friends I've made in MLB by visiting MLB.com to see how they are doing with their career.
GSPN: Let's get back to Guam baseball. What's it like now in today's BBL as compared to your dad and uncles' GML? 
It's night and day. BBL use to be the highest level of baseball on Guam. Just come to a game and watch and you can see the difference. Baseball used to be the biggest sport to watch on Guam. Unfortunately, baseball is suffering on Guam. Now, there's just too much politics – on all levels, from little league to the top. It's sad but true. I feel like the league is so disorganized now. I look around and baseball isn't what it used to be. Baseball was ONCE a ticket to get off this island. Now I look around and you see kids going to different sports like soccer and rugby because there's a lot more opportunity and support. I give a lot of credit to the soccer and rugby organization.
GSPN: Is there anything the baseball community can do to liven it up again?
They need to revamp the board. Let's follow what IS working on Guam. Let's be a little more organized. Instead of having a thousand baseball leagues, lets have one league and work on building our kids up. Have everyone involved on the board. There's a lot of talent on this island and it's being wasted because the proper resources aren't being tapped in to. Our facility (Paseo Stadium) is also suffering. It's embarrassing having pro teams come to our island and have to use Leo Palace instead of using our locally-owned facility because it's not up to par. See: Where is the Love for Baseball?
GSPN: Do the O's have what it takes to stop the Braves five-year reign?
– We'll find out at the end of the season.

Athletes Birthdays by W5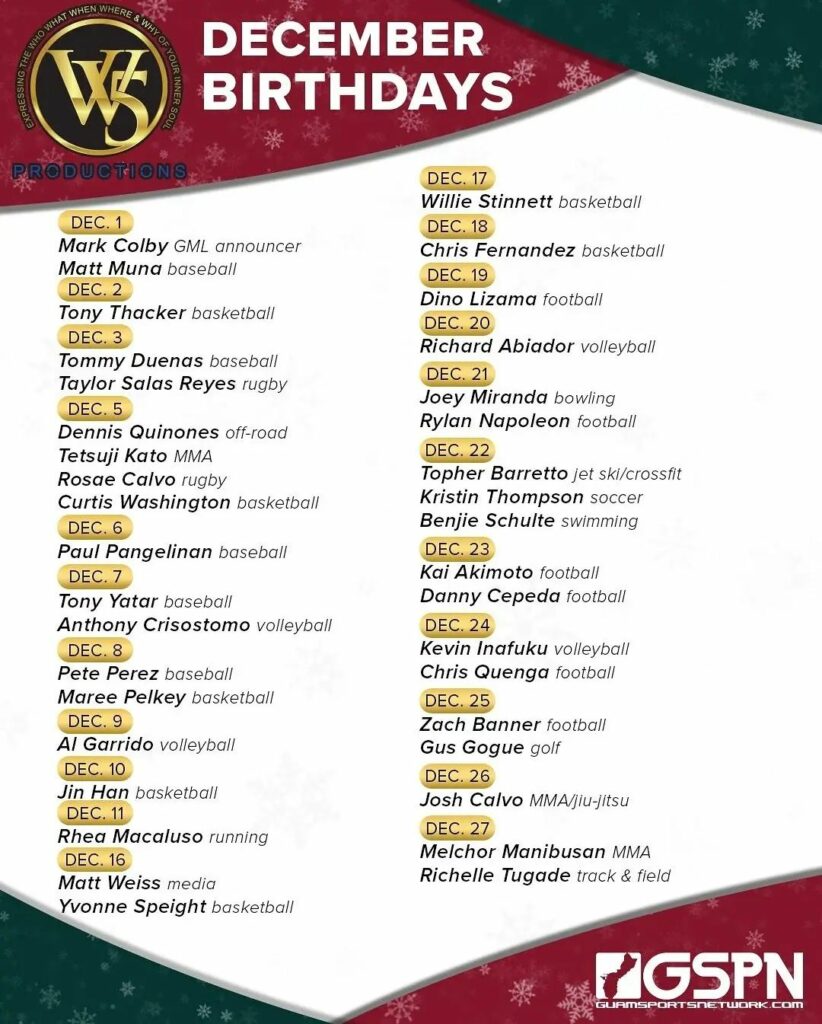 GPS Sports Calendar
SU

MO

TU

WE

TH

FR

SA
Events for December
5th
No Events
Events for December
6th
Events for December
7th
Events for December
8th
No Events
Events for December
9th
Events for December
10th
Events for December
11th
06:00 AM - 08:00 AM
Umatac
Events for December
12th
No Events
Events for December
13th
No Events
Events for December
14th
No Events
Events for December
15th
No Events
Events for December
16th
Events for December
17th
Events for December
18th
19

20

21

22

23

24

25
Events for December
19th
No Events
Events for December
20th
No Events
Events for December
21st
No Events
Events for December
22nd
No Events
Events for December
23rd
No Events
Events for December
24th
No Events
Events for December
25th
No Events
26

27

28

29

30

31

1
Events for December
26th
No Events
Events for December
27th
No Events
Events for December
28th
No Events
Events for December
29th
No Events
Events for December
30th
No Events
Events for December
31st
No Events
National Guard Athletes
Scott Eclavea
Scott Eclavea is a jiu-jitsu black belt and an accomplished MMA fighter. The Guard has given him an outlet in combatives to display his martial art skills, where he's become a head instructor for that program. Eclavea has served since coming out of high school and the Guard has only changed his life for the better.
COMING SOON …
LIVE FOOTBALL ON GSPN
Championship Game – FD vs Guam High @ 7 pm
GSPN Preseason Basketball Tournament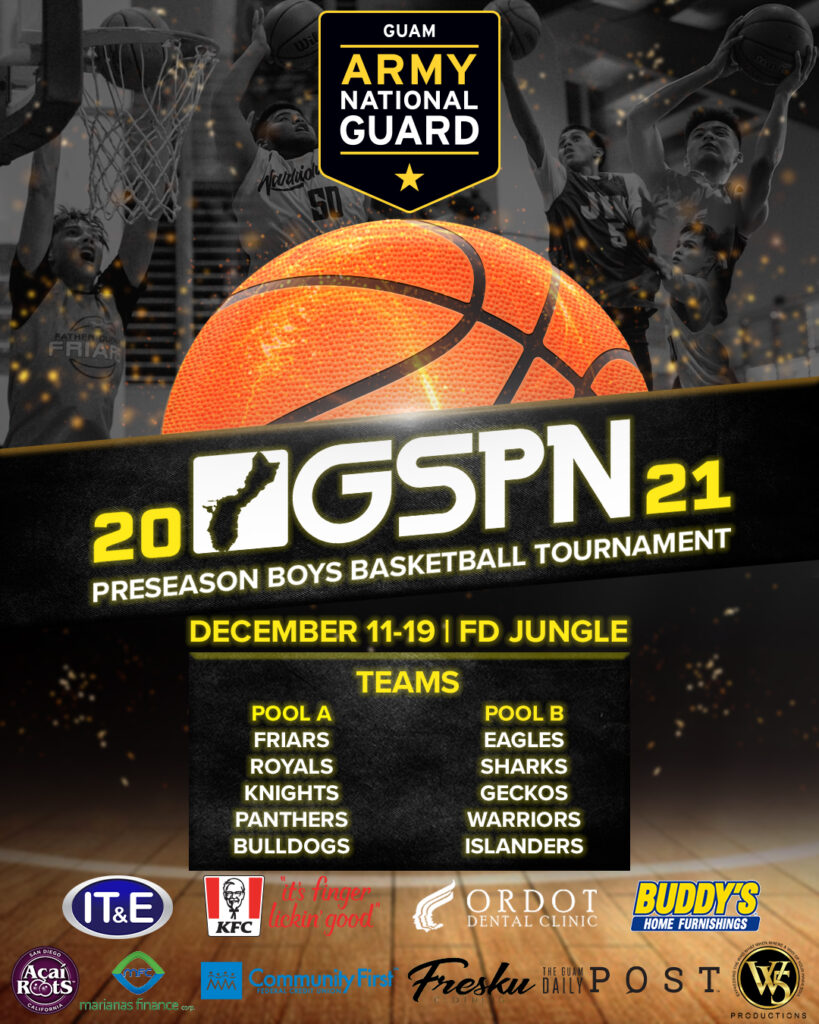 QUICK HITS
Robert Artero Maley recently captured the 182-lb. division of the Costa Mesa Classic, winning via pin in 4 out of 5 matches. Robert is a 4-year varsity wrestler at San Clemente HS (Tritons) and is currently ranked 15th in California's high school scene. He is the son of Jacque Artero Maley (AOLG 1991).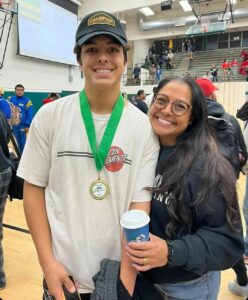 ——————————————–
Pat Taitano and Rich Abiador, teammates on the 1995 SPG volleyball team, have led their high school girls volleyball teams to the Washington State Championships in Yakima, Wa.
Taitano coaches Mt. Rainier High while Abiador leads North Creek High.
There for support is Dr. Mark Perez, a health professor at Central Washington University and a former UOG volleyball player.