By Patrick Lujan
When you have AT LEAST four nicknames, you have to be entertaining…or better yet, an entertainer.
For Candido Taman – also known as Candy, Candy Man, Candy Crush or Slamin Taman – there's never a dull moment. Being 6-foot-1 and 325 pounds, it's hard to miss the big dude.
Alright, maybe he's a bigger name in the local music scene as the lead singer of the popular band High Rise, but Candy loves his sports and loves playing it.
The son of former SPG boxer Tana Meafou, Candy Man brings the heritable physical genes to the football field while his musical genes stems from his Saipan family on his mother's side.
"I started my musical journey in 4th grade when I auditioned for the GATE choir under Oliver Skanse. To my surprise I was selected for the All-Island choir that same year. That was pretty much the fuel to my fire for music, besides the fact that my grand uncle (whom I was named after) was and still is a local Chamoru music icon," Candy Crush said.
His dabbling in sports didn't start until his freshman year in high school because he was "always overweight as a youth". Attending Nanakuli High in Hawaii that year, Slamin Tamin found himself in a not-so-big situation.
"Surprisingly in Hawaii, they said I was too small to play on the line so my very first position was quarterback. I had no idea what I was doing. The coaches decided to try me out as a defensive end that first year. That's where I earned my playing time." Candy played for three high school teams while attending four schools, eventually graduating from Southern High in 2006. He was named to the All-Island team as an offensive tackle in 2005.
The Candy Man would enlist with the U.S. Army shortly thereafter. It was while he was stationed at Ft. Hood, Texas where he played three seasons with the semi-pro team Killeen Knights as an offensive/defensive lineman.
"That was quite the experience for me because it was the most competitive football I had ever played. I was actually matched with players that were of either equal or greater size than I was. It was an amazing feeling that increased my love for football. After my enlistment was u, I came back home and made my first appearance in the MFL in 2012 where I've been playing since."
Slamin Taman was also a part of the Guam team that took down the much-improved Saipan team up in Saipan in November.
Though football is in the blood, music is in his soul.
A multi-winner with various marching bands stateside, Candy Crush is locally known as the front man of the popular internet band High Rise (check them out on youtube and enjoy!).
And just like the physical grind on football field, making a living as a local musician could be just as grinding since most local musicians are paid way under industry standards.
"It's a struggle. 
There's a lot that goes on than what happens on stage and is not accounted for when it's time to cash out. It's a push and pull between venues and bands; extremely delicate balance to up keep."
'Chronicles of Candy'
As for the 'Chronicles of Candy', it's been his daily trademark. Fifteen seconds of video on his instagram account – from jamming songs to playing Santa Claus to giving tours – The Chronicles has been his trademark.
"One day my friend Kenny Francisco gave me the idea to give it the name #chroniclesofcandy. I just went with it just to be silly and make people laugh and it is what it is today."
So whether he's on the football field or behind the microphone or posting on instagram, it's never a dull moment with Candy/Candy Man/Candy Crush/Slamin Taman.

Foody's Fun Facts
Favorites From Year 2
COMING SOON …
SATURDAY
Boys Volleyball: Champion vs. Champion
Saturday 6 pm: FD vs. Tiyan
UFC Fight
July 25: Trevin Jones vs. Tony Kelley
QUICK HITS
Nadine Del Carmen graduated from Santa Clara University on June 11. She was named captain of the Santa Clara women's tennis team in her senior year and she will be attending Georgetown University in the fall to pursue her masters and will be playing for the Hoyas women's tennis team.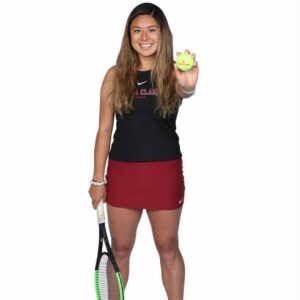 ——————————————————–
After a star-studded collegiate career at UCLA, Bubba Nickles turns her focus on the Tokyo Olympics with Team USA after the Bruins were eliminated in the College World Series. Nickles endured a broken arm on April 7 and worked her way back into the Bruins lineup for the WCWS. She will go down as one of UCLA's best softball players in its storied history.