By Riki Ellison
The agony of outrageous defeat brings forth the exact same intensity of emotions of the thrill of spectacular victory. Without experiencing both of them in chasing the mastery of a life span, one cannot truly experience complete and utter satisfaction of either one of them. For they are forever intertwined and dependent on each other in the passion of life that so inspires us to live.
Appreciation for greatness comes from the abyss of the depths of defeat.
Those depths are clearly apparent on the morning after what took place over three hours in Seattle (on Jan. 20th in the NFC Championship Game) where destiny changed on one single play  that was led up to from all the small victorious battles of domination against all environments, all odds, thrown at this team of not just these three hours but of a dominate playoff run away from home, a peaking December and a season of 53 men, staff and coaches that came together as one unit that started almost a year ago with a defined championship culture emplaced, embedded  and surrounding this group of men of the 2013 San Francisco 49ers.
Could not of wanted anything else but the one play to win the game driving through all the horrendous referee calls, mistakes, crowd noise to take the heart, soul of the opponent in his house and finish the game the victor not by fluke but by the reality of those that played and knew. The drive at the end of the game to win the game came down to the extension of the ball and its trust to the leader of the team, the game changer, play maker and the most confident man on the field of play, the quarterback of the San Francisco 49ers.
A position, a legacy of its own special merit within this franchise and its history.
Poise and making the right  decision at the right time under tremendous pressure separates the legacies of the San Francisco 49er quarterback position and defines Super Bowl Championships and NFC Championships for the 49ers. From the first against Dallas Cowboys in 1981 to the last in 2014. That definition was preached, coached and instilled daily to all positions with the total all-in consumption that the entire team throughout the game was to get and give that ball to that Quarterback so he could do what nobody else on the team could do better, make the right decision, at the right time under the most extreme pressure.
That is Bill Walsh through and through. It is the San Francisco way to win Super Bowl Championships. We were in the perfect situation that the entire team  fought to get in to win this game and we didn't which leaves that if we could not win it like that we have to live with the harsh reality that we are not good enough to be a Super Bowl Champion this year.
As to the ridiculous penalties that were absolutely unjust, unfair and changed the flow of the game, you have to question the integrity of the National Football League and this great game. Why are referees that don't report to the coaches but to the League have such tremendous influence of the outcome of the championship game then letting the players play the game? They were uncalled, yet thrown and overcome by this team to get to where they needed to be to win this game.
After talking to Al Sharpton (the following morning) of all people to run into and deciding not to invoke, making a conscious decision not to take a plane flight to Dublin Ireland to commiserate with distance and drown in the best pint of Guinness in the world at Mulligans on Poolbeg street and become a Irish Rugby Fan,  here I am getting rocked instead of doing the rocking on the same high white back chair in Charlotte, North Carolina  dejected, depressed with a hangover of grief and agony with the rest of the San Francisco 49ers fan base, team, staff and ownership but still so very proud and privileged to be part of the family, support the team and a Niner forever.
It's hard to win Championship Games in the NFL, its even harder to win Super Bowl Championships.
NOTES: Riki, who won three Super Bowls as a linebacker with the 49ers, wrote this the day after the loss to the Seattle Seahawks. He gave GSPN permission to post his thoughts with Guam's 49er fans! You can read about his visit to Guam last summer here.

Athletes Birthdays by W5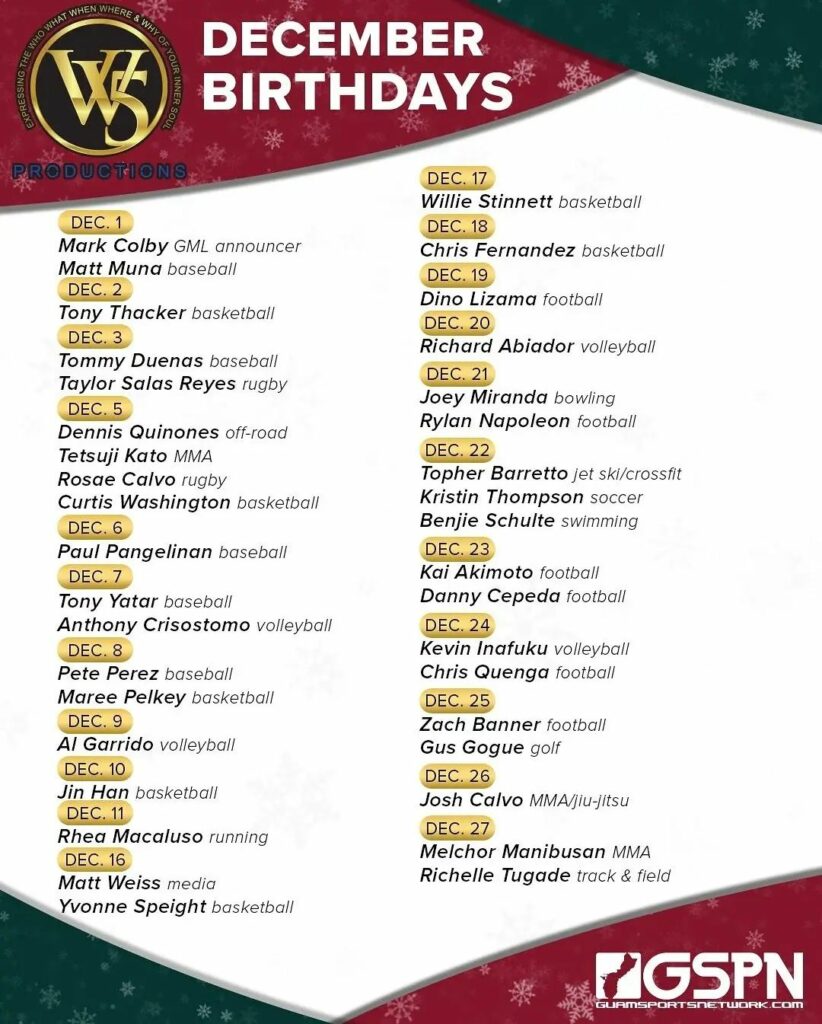 GPS Sports Calendar
SU

MO

TU

WE

TH

FR

SA
Events for December
5th
No Events
Events for December
6th
Events for December
7th
Events for December
8th
No Events
Events for December
9th
Events for December
10th
Events for December
11th
06:00 AM - 08:00 AM
Umatac
Events for December
12th
No Events
Events for December
13th
No Events
Events for December
14th
No Events
Events for December
15th
No Events
Events for December
16th
Events for December
17th
Events for December
18th
19

20

21

22

23

24

25
Events for December
19th
No Events
Events for December
20th
No Events
Events for December
21st
No Events
Events for December
22nd
No Events
Events for December
23rd
No Events
Events for December
24th
No Events
Events for December
25th
No Events
26

27

28

29

30

31

1
Events for December
26th
No Events
Events for December
27th
No Events
Events for December
28th
No Events
Events for December
29th
No Events
Events for December
30th
No Events
Events for December
31st
No Events
National Guard Athletes
Scott Eclavea
Scott Eclavea is a jiu-jitsu black belt and an accomplished MMA fighter. The Guard has given him an outlet in combatives to display his martial art skills, where he's become a head instructor for that program. Eclavea has served since coming out of high school and the Guard has only changed his life for the better.
COMING SOON …
LIVE FOOTBALL ON GSPN
Semifinals: #1 FD vs. #4 Southern (Friday 7 pm)
GSPN Preseason Basketball Tournament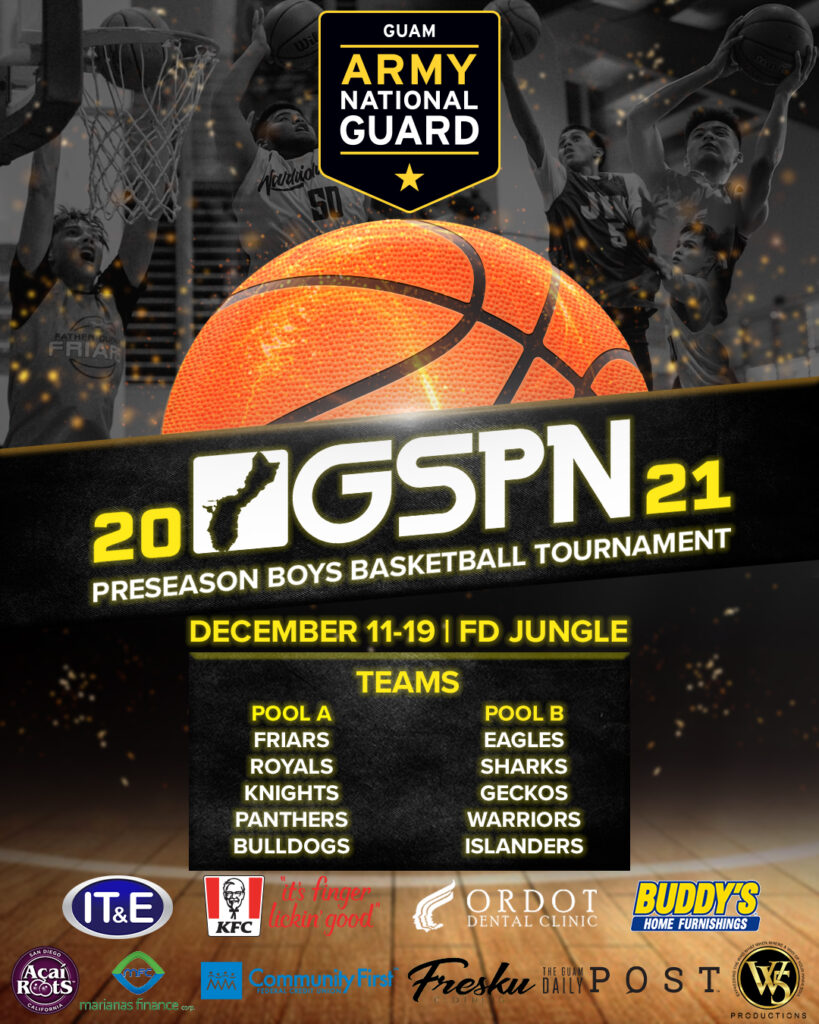 QUICK HITS
Robert Artero Maley recently captured the 182-lb. division of the Costa Mesa Classic, winning via pin in 4 out of 5 matches. Robert is a 4-year varsity wrestler at San Clemente HS (Tritons) and is currently ranked 15th in California's high school scene. He is the son of Jacque Artero Maley (AOLG 1991).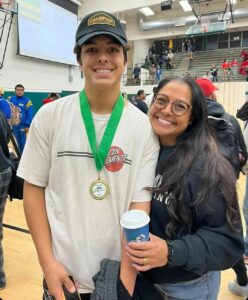 ——————————————–
Pat Taitano and Rich Abiador, teammates on the 1995 SPG volleyball team, have led their high school girls volleyball teams to the Washington State Championships in Yakima, Wa.
Taitano coaches Mt. Rainier High while Abiador leads North Creek High.
There for support is Dr. Mark Perez, a health professor at Central Washington University and a former UOG volleyball player.