[useful_banner_manager_banner_rotation banners=9,17,18 interval=8 width=120 height=600 orderby=rand]
By Patrick Lujan/Robert Balajadia
Guam finally has someone participating in the Super Bowl again.
As soon as Seattle Seahawks cornerback Richard Sherman batted away a game clinching interception in the NFC Conference Championship game on January 20th (Guam time), one Chamorrita cheerleader – Pia Gillan – on the Seahawks sideline celebrated like not many people can.
"It's like a dream to me. I still cannot believe I'm going to be cheering in a Super Bowl game! I'm looking forward to touching down in New York City with the rest of the team because I know that is when it will feel 'real,'" explained Gillan.
Gillan is a part of the Seattle Seahawks cheerleaders known as the Sea Gals. She moved to Seattle in August 2005 and joined the Sea Gal squad just before graduating from college in 2009.
The most talked about sequence from the game was the Sherman deflection. Gillan recalls the moment not by what transpired in the post game interview, but as a proud moment for Seahawks fans everywhere.
"I knew we were going to the Super Bowl with that play, and I just couldn't believe it. It was as if I was dreaming. There was so much happiness, excitement and positive energy throughout the stadium, it was incredible."
A New England Patriots fan growing up before her arrival to Seattle, Gillan always displayed great knowledge of the game with her dad Todd Gillan playing quarterback and coaching in the MFL; football has always played a big part in Gillan's life. Her knowledge of the sport is tested every year and it is a requirement for her to know about the game, team, organization, etc.
A sports team often has a lot of unsung heroes and the cheerleaders are part of that bunch. Despite not getting all the media attention, Gillan and the SeaGals feel as much a part of the team as the infamous "12th Man."
"Each part of the organization contributes to the success and efforts of the team. To be able to quantify each person's contribution to such a great organization would be too difficult for me to answer as we are all striving for the same goal, a Super Bowl win. I personally feel very much a part of team when, after each game, I am congratulated and recognized for a job well done."
Despite being required to "cheer" during the game, Gillan has to control her emotions and excitement level in order to not look like just a spectator. Besides, Gillan spends a lot of the game with her back to the field while performing 10-15 of their 24 different routines a game.
"I usually have to watch the big screen when the plays are on the opposite side of the field from where I am. Sure, you can say we still have the "best seat in the house", but my favorite part about being down on the field is that I get the perfect view of our fans, in every part of the stadium."
Gillan did have special guests in the stadium, her dad and brother. You see, she gets two free tickets every game and her dad and little brother were the lucky pair to the big game.
"Earlier in the season, my dad made a promise to my brother that if we made it to the playoffs and we clinched home field advantage, he would bring my brother to watch his first NFL game. You can say there were taken care of."
She described the rivalry game between the 49ers "a wonderful sight" with the number "12" just around every corner. "'12' flags were waving through the city in all shapes and sizes and gave the city an unparalleled energy driven from the fans, community, etc."
Just like the Seahawks, the SeaGals are vigorously preparing for the Super Bowl.
"We have been in full practice and preparation mode since last Sunday. As I said earlier, it's like a dream to me; it's still very surreal," said Gillan.
The only people that did not enjoy the Seahawks win were the obviously 49ers fans. Guam has a huge number of 49ers fans so it's safe to say majority of the island is rooting for the Broncos by default.
Gillan is more than welcoming any 49ers to start rooting for the Seahawks.
"All I can say is that the Seahawks truly do have the best fans in the NFL. You have to attend a game to really experience the power of our fans, but to me, that will turn any fan into a Seahawks fan. Go Hawks!"
NOTES: Todd is the current manager for the Bank of Guam Athletics in the BBL; her aunties Emma Gillan Gatewood and Mary Gillan have been standout volleyball players and represented Guam in last year's East Asian Games in China; her grandfather James Gillan is the Director of the Department of Public Health & Social Services; Pia grew up in Nimitz Hill and attended Agana Heights Elementary, St. Anthony School and Academy of Our Lady of Guam…Pia's mom –  Lisa Sablan Manibusan – is from Agana Heights and comes from a family of baseball players, including Cougars legend Bert Sablan.

2022 GSPN I MÅS METGOT COMPETITION
2022 GSPN I Mås Metgot Competition Recap
2022 GSPN I MÅS METGOT COMPETITION
2022 GSPN I Mås Metgot Competition Recap
2022 GSPN I MÅS METGOT COMPETITION
2022 GSPN I Mås Metgot Competition Recap
COMING SOON …
Sat: Origin Power Lifting Meet 
ISA Girls Volleyball/Boys Soccer Finals
QUICK HITS
Guam runners complete London Marathon. Former Guam top runners Charlie Epperson and Aysha Perez Epperson along with Cameron ONeal completed the 42nd London Marathon.
Charlie 2:47:56
Cameron 2:59:49
Aysha 3:51:04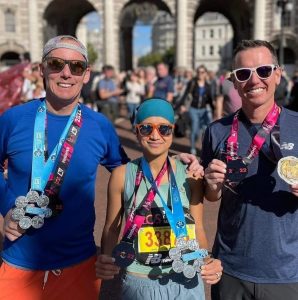 ———————————————–
Trevin Jones drops a unanimous decision 30-25, 30-27, 30-27 to Raoni Barcelos in UFC Fight Night 211 in Las Vegas.