By Michael Cruz
Former college football player Isaiah Cruz has resurfaced in the Polish football league. The well-traveled ballplayer is proud of his Chamorro roots and has provided GSPN an update on his football journey.
Nickname:  Crash or Cruz Missile
Age: 23
Height: 6'2 1/2
Weight: 215
Bench: 315
Squat: 410
40 yd dash: 4.45
Village:  Hagåtña
High School:  Hoboken High in Hoboken, New Jersey and Wakefield High, in Arlington Virginia.
College:  Chowan U.
Professional Team: Sopot Seahawks
Football Position:  RB, KR, PR, LB & FS
Favorite Chamorro Dish: Too many favorites to name one.
GSPN: What is your connection to Guam?
IC:  I was born there but left at age four.
GSPN: What is your football background?
IC: I've been playing football since I was 12. I trained in different high schools and attended football camps with Temple and Rutgers.
[youtube id="Ujj6aLt-rnU" width="620″ height="360″]
[youtube id="jJkf4tJeakU" width="620″ height="360″]
GSPN: How did you end up playing football in Poland?
IC:  I was playing for the National Kuwait team and working. My teammate is from Poland and invited me to try out. I made the team and decided to stay.
GSPN: What is your ultimate goal in the sport?
IC: To get Guam more exposure in football, to be the best, to help others, to live life doing what I love, and teach the game to developing nations in the sport.
GSPN: What has football taught you about life?
IC:  The game has taught me life is hard, but you still have to pick yourself up, to roll with the punches as they say. It turns you into a man without you knowing. I learned perseverance, discipline, respect, teamwork, work ethic, and coaching. Football has taught me a lot about life in general and just how to interact with different people worldwide.
GSPN: Any advice for the Guam Youth?
IC:  I'd love to come back home and see for myself. Keep striving for more not to many or none at all know of Guam, it's like an unknown place to people. So to the youth of this sport, when you're playing, hit harder, run faster, learn technique because it's the key to a great ball player. Learn the tiniest details, and most of all believe in yourselves. Positive attitude is a strong tool the mind can use to push you through physical and mental adversity
GSPN: Anyone you would like to thank or mention for your success?
IC: So far most of all my mom, Irhoda M. Alston, my Rock, and my center, my backbone and lifelong supporter, it's always been positivity when it came to me and my dreams. My defensive coach in Hoboken High School who taught me how to hit and level opposing players.
http://europlayers.com/ViewProfilePlayer.aspx?ProfileId=23749

Foody's Fun Facts
Favorites From Year 2
COMING SOON …
WENDY'S ALL-STAR BASKETBALL
Friday, June 18
FIBA Asia Cup Qualifiers
June 18: Hong Kong vs. Guam
UFC Fights
June 20: Roque Martinez vs. Josh Parisian
July 25: Trevin Jones vs. Tony Kelley
QUICK HITS
Nadine Del Carmen graduated from Santa Clara University on June 11. She was named captain of the Santa Clara women's tennis team in her senior year and she will be attending Georgetown University in the fall to pursue her masters and will be playing for the Hoyas women's tennis team.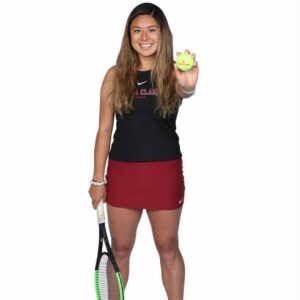 ——————————————————–
After a star-studded collegiate career at UCLA, Bubba Nickles turns her focus on the Tokyo Olympics with Team USA after the Bruins were eliminated in the College World Series. Nickles endured a broken arm on April 7 and worked her way back into the Bruins lineup for the WCWS. She will go down as one of UCLA's best softball players in its storied history.