By Patrick Lujan
Twenty seven years of playing football and there's no end in sight for Guam's greatest football player of all-time.
Ryan Rios – better known as the Chairman of the Board – is still clogging the holes and stuffing runs for the unbeaten Pepsi Warriors of the Miller Football League.
As the Warriors go for their second straight MFL title, GSPN catches up with the Chairman to see what's up with the legendary linebacker.
GSPN: Why do you keep doing it?
Chairman: I love the game and the friends I have made through the years, football has been rewarding for me!
GSPN: On a scale from 1-10, how would you rate your game speed? What was your game speed 10 years ago?
Chairman: Eight… I was never fast… just quick.  A lot quicker 10 years ago than now. Before I could catch a running back or quarterback at their handoff, now I get them on their cut.
GSPN: What's the difference between today's game on Guam and a generation ago?
Chairman: Today's game is faster, quick strike – but no base. A lot of the guys have no fundamentals. They think fast is everything. Before you have guys that welcome the challenge – smash mouth. Everything was about team now it's about individual achievements. They celebrate if they score a touchdown but down by 20 points.
GSPN: Who impresses you today out of Guam's players and why?
Chairman:  Jojohn Quinata he has all the tools – coverage, blitz and a student of the game (Rios coached Quinata at GW). Justin Andre is another linebacker that is smart, he's not selfish and is willing to do the things linebackers hate, which is coverage. He's also strong and fast – very smart on adapting to plays. Both these players are here and making statements – just like theRyan Rios/Bill Ada combination of the past (UOG) Triton years.
GSPN: How much 'game' do you have left?
Chairman: A lot. The beginning of my career it was about physical ability now on my later years it's about the mental part. It helps being a coach. I know angles, blocking schemes and formations.
GSPN: After many years of coming up short, the Warriors finally won the MFL title last year? Looks like there's no stopping you guys this year. Why is that?
Chairman: Now we have a QB in Danny (Manibusan) which helps and the addition of (receiver) Alex Azarraga and the past GW champion teams all coming together. In the past, we had Tommy (Morrison) and Eric (Fejeran) but no bullets like Hosea (Ware), Alex, Jacob (Torres) and Sandy Fejeran. Also, there was no line in the past.
GSPN: Who has the potential to be the next Ryan Rios?
Chairman: The next Ryan Rios? Jojohn or Justin. The one that can see the game for it's entirety and history – that's important. A lot of guys don't know who's who – Rodney Camacho, Kenny Lujan, Willie Brennan, Loring Cruz, and of course Hal Shiroma.
GSPN: You're a championship coach with the GW Geckos and you were named the #1 player of all-time for Guam. With all the coaching and playing you've done, do you ever get tired of football?
Chairman: Never!!! I love the game! If anything its the politics, officiating and the attitude of players. The game doesn't change, it's the people in it.
GSPN: Finally, can GSPN be the first to know when you finally retire from the game?
Chairman: Of course! Patrick Lujan and GSPN has been a strong supporter of my career !!! Should only be fitting that I announce it to GSPN first!
 TOP 10 FOOTBALL PLAYERS OF ALL-TIME

QUICK HITS
The Guam Smokin' Hot women's softball team captured first place in the Asia Cup Softball Championships 2023 in Bangkok, Thailand.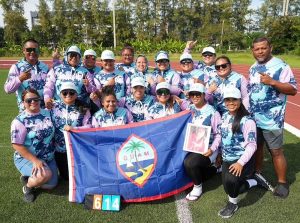 ——————————————————-
Roque Martinez gets the unanimous decision win Saturday night in his debut fight in South Korea's Black Combat promotions.
The 37-year-old controlled the tempo all three rounds and bloodied his opponent with some 3rd round ground and pound.