(This article is posted with permission from the October issue of Citizen Airman, official magazine of the Air Force Reserve. Stanley Iakopo is a former running back and kick returner for the Miller Bears and was a member of Guam's 44th Aerial Port Squadron, US Air Force Reserve)
By TSgt Louis Vega Jr.
Raised in American Samoa by his grandmother in a household of strong women, Master Sgt. Stanley "The Bull" Iakopo, Air Force Reserve Command recruiter with the 944th Fighter Wing at Luke Air Force Base, Ariz., now trains and competes as a professional mixed martial arts fighter.
Iakopo has been an active Guard and Reserve recruiter with the Air Force Reserve Command since 2008 and was a traditional Reservist in the air transportation career field for seven years prior to becoming an AGR. He has been assigned to the 944th FW since 2012.
In 2002, while a member of the all-Air Force Armed Forces rugby team, he was introduced to mixed martial arts. Iakopo's friend invited him and four others to a gym that was looking for some fresh local talent.
"They wanted us to spar," Iakopo said. "We didn't even have mouthpieces. They just threw us in the ring, and we fought. After that, I was the only one in my group of friends who went back."
Throughout his 13-year Air Force career, Iakopo has always been active, both physically and mentally. He played rugby, ran track and played semi-professional football for a while. He is also well educated, with a degree from the University of Hawaii where he majored in speech language pathology with a minor in pre-med.
He also earned a master's degree in education from Framingham State University in Massachusetts. While working toward his bachelor's degree in 2001, Iakopo enlisted in the Reserve and began his career with the 48th Aerial Port Squadron at Joint Base Pearl Harbor-Hickam, Hawaii. He later transferred to the 44 APS in Guam.
"It would cost me around $500 each month for airfare and a rental car to attend the unit training assemblies," Iakopo said. "I did that every month for five years," a costly expense for a senior airman. In 2009, everything was nearly taken away from him after he collapsed during physical training. Shortly after undergoing a heart stress test, he was admitted to the hospital. The diagnosis was mitral valve stenosis, a condition in which the heart's mitral valve is narrowed (stenotic). With mitral valve stenosis, the abnormal valve doesn't open properly, blocking blood flow coming into the left ventricle, the main pumping chamber of the heart. Mitral valve stenosis can cause tiredness and shortness of breath, among other problems.
In Iakopo's case, the condition had slowly developed after he suffered from rheumatic fever as an adolescent. Up until his diagnosis, Iakopo had managed to cope with his fitness tests and any physical exertion.
"After a PT test, the front of my shirt would be covered in blood because of the malfunctioning mitral valve," Iakopo said. "And when I fought, my goal was to finish my opponent in the first round, because I was too gassed if I went into the second round."
Shortly after the diagnosis, Iakopo underwent open heart surgery to clean up the valve. However, after his surgery the problems persisted; his heart would race as high as 200 beats per minute for no reason.
Frequent visits to the hospital emergency room to set his heart to "sinus rhythm," which is the normal regular rhythm of the heart set by the organ's natural pacemaker, were common. At each visit, Iakopo underwent a procedure called cardioversion, which is when a patient is placed under anesthesia and doctors deliver an electrical shock to the chest to reset the heart's rhythm to normal.
In October 2011, Iakopo had his second open heart surgery, this time to replace the calcified valve he had. After careful consideration of which prosthetic valve would best suit him, he chose a cow valve because of the durability for his very active lifestyle. Cow valves are similar to human valves in tissue physiology. His particular valve was from a bull.
"I am in debt to AFRC recruiting for how understanding and supportive they were to me and my family during my medical difficulties," Iakopo said.
Now, the recruiter with the heart of a bull has a perpetual smile on his face and new vigor for life. At 41 years old, Iakopo has no intention of slowing down. When he arrived in Arizona, he began looking for a gym where he could train. He met Cesar Peraza, owner of a boxing and MMA gym. The former professional fighter provides a gym that is family run and a training regimen that is well suited for Iakopo.
"Working with Cesar and the rest of the team has improved my stand-up (fighting) tremendously as well as my jiu jitsu," Iakopo said. "The people are friendly and family oriented."
The Arizona State Boxing Commission does not recognize Iakopo's previous international matches. Therefore, his debut on June 14 in the "Duel for Domination" at the Arizona Event Center in Mesa was his first recognized fight. Although he dominated the stand-up portion of the fight, he was eventually overcome by his opponent's ground game, an area he admits he needs to improve upon.
"Stanley has all the attributes we look for in a fighter," Peraza said. "He is a real competitor, a great athlete, and he pushes himself above and beyond. It makes it that much easier for us to work with somebody like that at this level."
Because of the performance he displayed during his fight, Iakopo is scheduled to fight again Oct. 4, pending the approval of his No. 1 fan and supporter, his wife, Priscilla.
Iakopo approaches everything he does with the same intensity he displays in the ring. Unlike many other fighters in the sport, he has a wide variety of responsibilities. Balancing his duties as a father and husband, serving his country as an Air Force Reserve recruiter, continuing his education, and finding time to train and compete requires a lot of discipline. Currently, Iakopo is a second-year doctoral student at Grand Canyon University and has high hopes for the future.
"My goal is to achieve the rank of chief master sergeant and obtain a doctorate degree in behavioral health analysis," he said. "Fighting is just a sport for me."
Periodically throughout his life, there have been people who have provided the stability and mentorship to enlighten or get him through difficult times. He attributes his success to his wife, grandmother, mother and key military figures he has come in contact with while in the Reserve. His priorities have always been his wife and five children. If training for a fight conflicts with the interests of family obligations, then his urge to engage in physical combat is put on the backburner.
"He is a man of unique character," said Senior Master Sgt. Christian Jorg, Air Force Reserve Command flight chief recruiter with the 944th FW and Iakopo's direct supervisor. "His uncanny ability to be so happy and positive yet demanding makes him a great recruiter."
Iakopo's motto in response to life's adversities is to "get down and fight." Although always positive and upbeat, he confronts every challenge with an intensity and fighter's attitude. He hopes his story helps or inspires others to fight for what they want in life, regardless of the obstacles they may face.
"Whatever you choose to do in life, don't give 100 percent." Iakopo said. "Give it your all; your all can't be measured."
(Vega is assigned to the 944th FW public affairs office at Luke AFB)

QUICK HITS
3rd place: Big ups to the Para Todu Rugby Club for finishing 3rd out of 16 teams in the Manila 10's Rugby Tournament today. Biba Guam Rugby!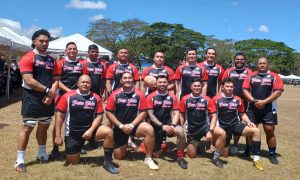 ——————————————
Guam MTB National Championship: Edward Oingerang and Jennifer Camacho are your 2023 MTB national champions. Oingerang finished the course in 1:13:24 while Camacho won her second straight title in 54:08.