By Michael Cruz
I first saw Jared Tajalle play youth football five years ago in San Jose, California and he was the starting QB on the Berryessa Cougar Jr Peewee PAL Champions.
On November 9, Jared Tajalle received a call up to the Allen, Texas Eagles high school varsity team from junior varsity during their playoff run. He suited up for their first playoff game versus Keller Central at Cowboys Stadium. With Allen up 59-21, he finally got in his varsity series. He made it count with a 3 yard catch. Allen eventually rolled to six straight playoff wins and third straight state title. The championship game was played before 52,000 people and was televised live nationwide (It was even shown live on Fox Pacific in Guam).
In the end, the Malesso, Guam native played in Cowboys Stadium twice, was on National TV, and received a state championship medal. He still has one more year, let's go for a 4-peat!
From The Bottom
The Tajalle family moved to McKinney, Texas and Tajalle played his 7th grade year. Next, the family moved to Allen, Texas and have been there ever since. His 8th grade year included middle school ball and his last season of youth football with the McKinney Broncos. One of Jared's youth teammates was Justin Madubuike (one of the top defensive ends in high school). The Broncos were runner-up in their youth league.
Jared focused on playing slot receiver entering his freshman year. Allen's freshman school had 1500 students and fields three football teams during the season. He played on the B team and was used at slot receiver and punt returner. Tajalle battled for playing time and was able to contribute with a few touchdowns on Special Teams.
Tajalle moved up to the Junior Varsity 1 (JV1) team for his sophomore year in 2013. He put in hard work with Allen's strength and conditioning summer program and even attended a few football camps in the local area. His JV1 team again finished with a winning record. Playing time was limited, however he still managed to score touchdowns as a backup QB and slot receiver.
Jared continued to improve and even started putting reps in as a wide receiver with Kevin Murray's Air 14 QB Academy. He would run countless routes and catch from some of the best QBs in the Dallas area, including Kyler Murray (#1 Dual Threat QB in high school). Tajalle started his junior year on the JV1 team. He made the best of it.
Tajalle earned starting slot receiver for the JV1 team and was named team captain. Allen's JV1 team is a powerhouse with 60-70 players from 10th to 11th grade. They could win a state title in places like New Mexico or Wyoming. The team excelled and finished 10-0. Tajalle had his best season starting at slot receiver, punt returner, kick holder, and kickoff returner. He even doubled as backup QB in blowouts which were often.

Foody's 5 Fun Facts
Sanchez QB Jayton Penaflor
DID U KNOW?
Kein Artero has a list of who's who of Artero uncles who've starred in Guam's gridiron: Andre Artero UOG Tritons & Hals Angels OL, Bubba Artero UOG Tritons & Hals Angels OL, Kenny Artero SSHS DB/Baseball Pitcher, Jesse Sablan FD & Hals Angels FB, Roland San Nicolas FD & Hals Angels OL, Chuck Ada SSHS & Hals Angels DB,  Ed "Rock" Artero SSHS & Hals Angels MLB, "Wild" Bill Ada FD & Hals Angels ML, Jared Ada FD & Hals Angels WR/Utility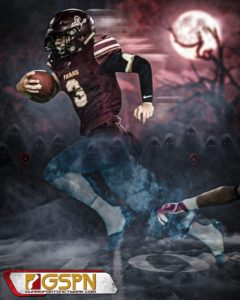 COMING SOON …
– 24th Marianas Fishing Derby
– NFL Week 3: Steelers at 49ers
– Jon Tuck's Bellator debut
QUICK HITS
Pro triathlete Mieko Carey finished third in XTERRA Japan on Sunday in a time of 3:43:02. Her career was on hiatus for a couple of years raising her twin children. It's safe to say the 40-year-old is back in top form. Congratulations Mieko san!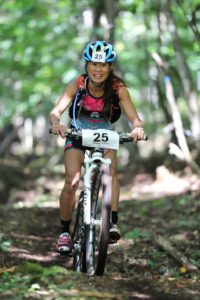 —————————————————-
UOG Athletics announced that head men's basketball coach Brent Tipton has stepped down due to personal reasons. UOG is now seeking for a replacement after Tipton's three years at the helm.