By Michael Cruz
Keith "Trip" Chauret ran a personal best of 10.9 seconds in winning the 100 meter race last Friday at Okkodo High School, or so it seemed. Due to dysfunctional equipment, Charuet's time was not recorded this making his personal record unofficial.
His race would have been a remarkable improvement from running an 11.93 seconds last season. Chauret would have been the first high school athlete since the 1970's to run a sub 11.0 second 100 meter race on Guam. The two sport athlete in football and track has been preparing for track season since football season ended in October.
Footage of Chauret's 100m and 200m race:
http://www.hudl.com/athlete/4538177/highlights/251571380/v2
Chauret moved to Guam last year from Clovis, New Mexico.  The sophomore placed 3rd in the 100m, 2nd in the 200m, 1st in the 4×100 relay, and 7th in the 4X400 relay at the All Island Championships.  This past fall he was named defensive team captain for the Guam High Panthers football team. The team struggled finishing 0-7 and it was a learning experience for Chauret. Despite the struggling season, Trip is still inspired and is pursuing a chance to play college football. He revised his HUDL Highlights and now has footage college recruiters to view.
http://www.hudl.com/athlete/4538177/highlights/185219377/v2
He plays OLB, WR, and Safety both ways. Playing multiple positions will give him more options to play in college. Former teammate Lewis Harris played WR and Safety both ways. Harris's scholarship offer this past season and Guam High's pipeline to mainland college football has served as further inspiration to Chauret pursuing his goals. The next step, Trip made was to sign up for gobigrecruiting.com and get his highlights viewed by coaches. Even though he does not have an official offer, it least colleges are seeing his highlights.
Trip's goals for the track season include winning the 100 m, 200 m, 4×100, and 4×400 at the All Island meet. After the track season, Trip will first make it to the PIAA Maximum Exposure Camp in Hawaii. After, he will travel to the University of Oklahoma football camp (his dad and mom's alma mater). The rest of the summer will involve camps at smaller schools in South Dakota and Oklahoma.
Measureables
6'2" 194 lbs.
4.62 40 yd, 10.3 100 yd, 10.9 100m, 23.1 200m, 4.6 20 yd shuttle, and 13.0 60 yd shuttle.
Bench 225 lbs., Squat 265 lbs., Dead Lift 375 lbs., Power Clean 225 lbs., and 32" Vertical.
Quotes:
Since the end of last football season I have been working out with Baird Stiefel doing CrossFit Football four nights a week at Andersen AFB. I have had to cut back now that Track season is in full swing but will resume workouts this summer in preparation for Football.  Under Baird's CrossFit Football program I have gained 20 lbs of muscle and have improved my strength and explosion.
I am faster and stronger than last year. Baird's training along with Coach Joe Taitano instruction has paid off on the track.  I have been hand timed in the 100m in the 10.8 and 10.9 range in practice by Coach Taitano, and with the Track Meet on 10 Apr 2015, I was blessed to have a great night and officially record and electronic timed 100m of 10.9 seconds.  Norbin Tiru of GW also had a great 100m recording an 11.1 second run.  It will be an exciting year, as we can push each other each week and continue to get better throughout the season.  With a little luck and hard work, Norbin and I may be able to challenge for the 100m record set in 1976.  Only time will tell.
For next year's football season, I hope to weigh in around 205 lbs. or even more as we start the season. I will have to work my tail off this summer but with the gains I made this past off season with CrossFit Football, I should have a good shot at meeting that goal.  Right now recruiting is going well and Coach Jacob Dowdell has been working his tail off talking me up to several collegiate programs, sending video and resumes all over the states, to include Vancouver, Canada.
I don't have any offers yet, but with the camps I will be attending this summer, hopefully we can change that.  I am hoping to perform at my best level during the PIAA Maximum Exposure Camp this summer, Jun 5-7 at the University of Hawaii. I am looking forward to seeing what I can do amongst the best athletes from Hawaii and the rest of the Pacific.  I hope to represent Guam well and help our athletes gain some well-deserved attention for our Island.  We have a lot of talent here on Guam and hopefully I can do my part to show the world we can play football out here too.

QUICK HITS
3rd place: Big ups to the Para Todu Rugby Club for finishing 3rd out of 16 teams in the Manila 10's Rugby Tournament today. Biba Guam Rugby!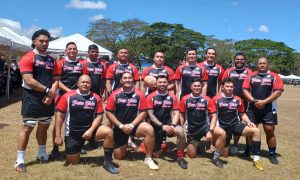 ——————————————
Guam MTB National Championship: Edward Oingerang and Jennifer Camacho are your 2023 MTB national champions. Oingerang finished the course in 1:13:24 while Camacho won her second straight title in 54:08.