[useful_banner_manager_banner_rotation banners=72 interval=5 width=120- height=600 orderby=rand]
By Robert Balajadia
Offense was hard to come by in the first half between the FD Friars and Southern Dolphins, but the second half proved much different for the boys in maroon and gold after blanking the Dolphins 17-0 in their Saturday night showdown at the GW Field.
Friars running back Leon Shimizu pounded away 101 yards on the ground with scores coming from playmaker Devin Sudo and fullback Jake Benito, along with kicker Jerome Artero. Shimizu also caught two balls for 37 yards.
FD's explosive sophomore running back De'Aundre Cruz sat out against the Dolphins due to an injury, but he acknowledged he would be ready for next weekend's game against the Sanchez Sharks.
The Friar defense had not allowed any opposing offense to break 100 yards on them this season and Saturday was no different. The Dolphins tracked 72 yards of rushing offense, the most the Friars have given up all season amidst the shutout.
Friars Jean-Pierre Aflague led the team with 11 tackles on the night and believes that their high level of productivity is all a part of the discipline they learn in practice.
"Our ends were making good plays containing and we in the middle just pushed forward. Coach always stresses that the play starts with our defensive line and we on the line just try to make as many plays as possible," said Aflague his big night.
The Friar front seven were busy all game long with ends Tonu San Nicolas and Kobe Tupaz collecting eight and seven tackles respectively. Friar linebacker Joaquin Mesa had two sacks along with one from San Nicolas.
"We didn't break down today. Every time coach tried to get us fired up, we were reminded why we've been working so hard which is not just for ourselves but for our team," added Alfague on the teams overall effort.
FD kept the Dolphins out of the red zone all game with Southern's closest approach coming from 35 yards out on their opening drive.
Where The Offense Went
Friars kicker Jerome Artero converted on a 30-yard field goal to put FD up 3-0 in the first quarter which was all the action that the (hypothetical) scoreboard saw in the first half.
Then, after both teams opened up the 3rd quarter with punts on their first offensive series, the Friars used a little trickery to get their ground game rolling. Quarterback Daniel Phillips successfully fooled the defense on a double-reverse to Devin Sudo, where Sudo broke free for a 34-yard run to the right side.
"[Devin's] play really turned the tide for our offense and pumped us all up," admitted Shimizu.
The play allowed Shimizu to tack on 15 yards to get the Friars in the red zone where they again ran their end-around to Sudo for the seven-yard score, the first touchdown of the game. An Artero PAT put FD up 10-0 to end the 3rd.
Southern's offense from that point on began to move backwards with the Friar defense catching the Dolphin ball carriers in the backfield on six different attempts totalling a collective loss of 16 yards.
Southern then attempted to punt the ball away at their own 40 until a bad snap ensued, followed by an even worse kick retrieval effort that ended up resulting in a turnover on downs.
The loss of 20 yards on the botched play gave FD the ball at the Dolphins 20 with the Friars intent on putting the game away.
Work-horse Jake Benito only needed three carries to convert on an eight-yard score to give FD the closing 17-0 lead after another successfully Artero PAT.
Friar Michael Lupola blocked the Dolphins final punt attempt which allowed FD to run out the rest of the clock, officially extending their winning streak to five games.
"We have a tendancy to start slow, but the wet field played a factor in our running game. We were slipping a lot and it caused some of us to miss blocking assignments. We're not satisfied with our performance today and I know we can get stronger," added Shimizu.
The Southern defense was anchored by linebacker Dyllan Tenorio who had a stellar performance collecting seven tackles, forcing a fumble, batting a pass, and a sack to round out the night.
FD will face the Sanchez Sharks next Saturday while the Southern Dolphins will host the Tiyan Titans.
Other Score

Foody's Fun Facts
Foody's Fun Facts with Makayla Atoigue
ND Royals Rugby Player Makayla Atoigue lays down her Foody's Fun Facts and shares her dream vacation spot
Foody's Fun Facts
Foody's Fun Facts with Makayla Atoigue
ND Royals Rugby Player Makayla Atoigue lays down her Foody's Fun Facts and shares her dream vacation spot
Foody's Fun Facts
Foody's Fun Facts with Makayla Atoigue
ND Royals Rugby Player Makayla Atoigue lays down her Foody's Fun Facts and shares her dream vacation spot
COMING SOON …
Asia Pacific Little League
National Triathlon Championships
GML Makeup Games
FD Alumni Basketball Tournament (ongoing)
QUICK HITS
UOG hired Tatiana Sablan as the new volleyball coach. Sablan served as the original volleyball coach for UOG back in 2016 and she has been rehired to lead the more "beach" oriented program in 2022-23.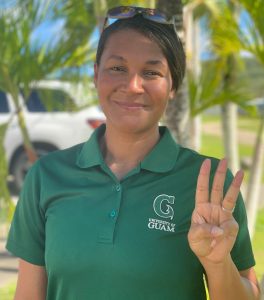 ———————————————–
Palau history: Outfielder Bligh Madris was called up by the Pittsburgh Pirates today to become the first Palauan to make it to the major leagues. The lefty Madris was batting .304 with five home runs and 20 RBI at Triple A before getting the Call Up!