[useful_banner_manager_banner_rotation banners=72,74,77 interval=10 width=120- height=600 orderby=rand]
By Jay Leon Guerrero
A heavily favored GW Geckos squad took care of business and eliminated the Southern High Dolphins 25-0 Saturday night on their home field to advance to the IIAAG Football championship game against the undefeated FD Friars. The Geckos and the Friars are tentatively scheduled to play the championship game on Halloween Night at a location to be determined.
The Geckos were not to be denied of their highly anticipated rematch against the Friars who handed the Geckos their only loss if the season. The All-Island players from the Geckos squad continued their outstanding play to help the purple and yellow earn the chance to defend their championship.
Quarterback Brendan Santos threw for 198 yards including all four touchdowns. Geckos receiver Noah Blas caught four passes for 145 yards and scored two touchdowns on offense. On defense, Jermayne San Nicolas earned the co-Wendy's Player of the Game honors (shared with Noah Blas) after he anchored the defense to hold the Dolphins to a goose egg.
The stingy Gecko defense contained the Dolphin run game and recorded 13 tackles for losses, which included one sack by David Cruz. The Geckos also forced two fumbles and San Nicolas had the lone interception of the game.
The GW victory ended the historic Southern High finish as they settled for their highest finish in school history. The Dolphins' Reno Cannon had a big game sacking Santos twice and recording two tackles for losses. But the undermanned Dolphin offense never got into rhythm and were unable to get that big play to get into the red zone.
Santos had a big game on offense but credits the defense as a major key to victory.
"The defense did a great job today. Gecko football is known for having great defense being under coach Ryan Rios. Our defense and our offensive line works the hardest during practices," said Santos. "For the championship game, they will be doing the same thing and that's continuing to work hard in practice".
First half
The Geckos struck first on their opening drive with Santos connecting with wide receiver Isaiah Macias from one yard out to go ahead 6-0 early. The touchdown was setup by a first down run by Ryan 'Hollywood' Quitugua and a huge 43-yard reception from Blas.
Blas continued to make big plays in the second quarter snatching an 88-yard TD reception to go up 12-0 by halftime. Blas had three receptions for 139 yards in the first half.
The Geckos were unable to put more points on the board with the Dolphin defense forcing two fumbles. Mandy Andrew from the Dolphins forced and recovered a fumble from Macias for their first take away of the game. Southern's Dominick Flores recovered a fumble after a bad snap in the second quarter halting a Gecko drive.
Second half
The Geckos' San Nicolas picked off the Dolphin quarterback and returned the interception for 37 yards to his offense deep in Dolphin territory. The INT set up a 9-yard pass reception from Santos to tight end Devin San Agustin to increase the Gecko lead to 18-0.
The Geckos added another insurance TD with Santos throwing for his season high fourth TD of the game to his favorite target Blas from 6-yards out to end the game at 25-0. Defensive MVP Damon Hocog anchored the Gecko defense to hold the Dolphins scoreless. Hocog and San Nicolas each recorded three tackles behind the line of scrimmage.
"We have been really thinking so much about FD, they have inspired us to work harder every practice," said San Nicolas. Blas said that there will be a battle next week, the team with the most desire will be crowned champions. "For the past three weeks we've been working hard to get ourselves ready. Saturday, whoever gives the most heart will take that championship," said Blas.
"We have to thank all our supporters for their encouragement and cheers. Many of them are former players and alumni; we are not only playing for ourselves, but for them as well," said Santos.
PHOTO GALLERY BROUGHT TO YOU BY:

Foody's Fun Facts
Foody's Fun Facts with Arren Yatar
UOG Tritons Pitcher Arren Yatar shares some of his fun facts and tells us about his favorite YouTube channel!
Foody's Fun Facts
Foody's Fun Facts with Arren Yatar
UOG Tritons Pitcher Arren Yatar shares some of his fun facts and tells us about his favorite YouTube channel!
Foody's Fun Facts
Foody's Fun Facts with Arren Yatar
UOG Tritons Pitcher Arren Yatar shares some of his fun facts and tells us about his favorite YouTube channel!
COMING SOON …
Asia Pacific Little League
National Triathlon Championships
GML Makeup Games
FD Alumni Basketball Tournament (ongoing)
QUICK HITS
UOG hired Tatiana Sablan as the new volleyball coach. Sablan served as the original volleyball coach for UOG back in 2016 and she has been rehired to lead the more "beach" oriented program in 2022-23.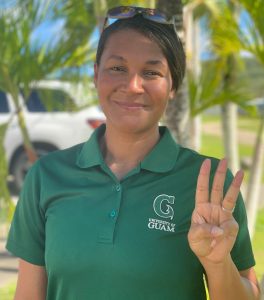 ———————————————–
Palau history: Outfielder Bligh Madris was called up by the Pittsburgh Pirates today to become the first Palauan to make it to the major leagues. The lefty Madris was batting .304 with five home runs and 20 RBI at Triple A before getting the Call Up!