[useful_banner_manager_banner_rotation banners=72,74,77 interval=10 width=120- height=600 orderby=rand]
By Jay Leon Guerrero
The home team GW Geckos defended their turf and held off a late rally by the 7th-seed Sanchez Sharks to advance to the IIAAG Football League semifinals with a huge 35-20 victory Saturday night at GW.
The 7-1 Geckos were the 2nd-seed and got a huge game on offense from All-Island 1st Team running back Ryan 'Hollywood' Quitugua and quarterback Brendan Santos to hold of the feisty and under-manned Sharks squad led by legendary coach Jimmy Nahalowaa.
Quitugua had one of his best games of the season rushing for 176 yards and three touchdowns. His final touchdown, a 49-yard highlight play on 3rd down with three minutes left in regulation, sealed the victory for the Geckos.
Jonathan Cepeda and Dan Cruz each rushed for over 100 yards to keep the Sharks in the game until Quitugua scored the final touchdown. The Sharks game plan was to run the ball and they opened up the contest with 16 straight rushing plays that was capped off by a 12-yard score by Cepeda to go up 6-0.
On the ensuing possession, Quitugua countered with a 32-yard run down the left sideline to tie the contest at 6-6 after the first period of play. Quitugua continued to rack up the yardage and scored again from two yards out to take the 14-6 advantage after J-One Weires added a two point conversion run in the 2nd quarter.
Defensive MVP Damon Hocog anchored the defense and forced the Sharks to punt before halftime. Santos later connected with tight end Devin San Agustin for a 21-yard score to go up 21-6 by the break.
The Geckos momentum continued in the third quarter with Quitugua gaining valuable yardage to set up another touchdown play, an 18-yard pass reception from Santos to wide receiver Noah Blas to go up comfortably by a score of 28-6.
4th quarter comeback
The Sharks were down going into the final period, but continued to fight until the end. Cepeda scored his second TD of the evening from two yards out to cut the deficit to 28-14 after a successful two-point conversion from Cruz.
The Shark defense stepped up on the ensuing possession with defensive tackle Kyle Igcasenza forcing and recovering a fumble to give possession back to the offense. Cepeda got a huge 22-yard gain that set up a two-yard touchdown from Cruz to trail just 28-20, which got the Sanchez sidelines cheering.
Cruz, an All-Island 1st Team running back, came up big on special teams recovering an onside kick to get the Sharks offense back on the field with hopes to tie the game. But this time, the Gecko defense held their ground and forced the Sharks to punt with four minutes remaining in regulation.
The Geckos then went to Quitugua, who had been consistent all evening. Quitugua collected one first down before rushing for the 49-yard insurance touchdown to end the Sharks' season. Despite the loss, the Shark fans applauded the efforts of their team and celebrated a great comeback effort. Great sportsmanship was shown after the game by both teams.
"When they were marching (in the fourth quarter), we were like 'Holy Cow'. Both of their running backs are really good and did an awesome job tonight," said Quitugua of the Sanchez comeback.
Cepeda had 112 rushing yards with two touchdowns, Cruz rushed for 112 yards with a touchdown and a two point conversion.
"The feeling is still stuck, it hurts after losing our first game last week to FD. We were undefeated last season so practice was tough this week," said Quitugua.
"During their comeback our coaches did a good job of keeping us in the game. I just new that we needed to make plays on the next series," said Santos. Santos threw for 95 yards and two touchdowns.
The Geckos take on the Southern Dolphins next week in a showdown. Gecko head coach Ryan Rios spoke with his team after the game and said that they will have to keep playing smart to accomplish their goal of repeating as champions.
The Guam High Panthers will take on the undefeated FD Friars in the the other playoff game.
Other Score
PHOTO GALLERY BROUGHT TO YOU BY:

Foody's Fun Facts
Foody's Fun Facts with Arren Yatar
UOG Tritons Pitcher Arren Yatar shares some of his fun facts and tells us about his favorite YouTube channel!
Foody's Fun Facts
Foody's Fun Facts with Arren Yatar
UOG Tritons Pitcher Arren Yatar shares some of his fun facts and tells us about his favorite YouTube channel!
Foody's Fun Facts
Foody's Fun Facts with Arren Yatar
UOG Tritons Pitcher Arren Yatar shares some of his fun facts and tells us about his favorite YouTube channel!
COMING SOON …
Asia Pacific Little League
National Triathlon Championships
GML Makeup Games
FD Alumni Basketball Tournament (ongoing)
QUICK HITS
UOG hired Tatiana Sablan as the new volleyball coach. Sablan served as the original volleyball coach for UOG back in 2016 and she has been rehired to lead the more "beach" oriented program in 2022-23.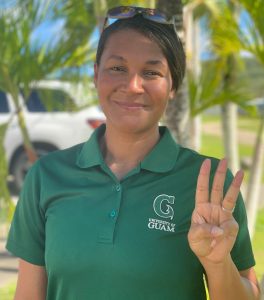 ———————————————–
Palau history: Outfielder Bligh Madris was called up by the Pittsburgh Pirates today to become the first Palauan to make it to the major leagues. The lefty Madris was batting .304 with five home runs and 20 RBI at Triple A before getting the Call Up!