By Robert Balajadia
It's been a long, emotional week for Team Legacy having lost one of their coaches Frank Rosario in preparation for the Guam Women's Tackle Football finals.  Despite the loss in their Team Legacy family, the ladies rallied on both fronts to defeat the hard fighting Lady Raiders 16-7 Saturday afternoon.
"This one was for coach Frank. I'm sure he's looking down on us holding that championship trophy," said Legacy head coach Kin Salas. "Coach Frank always said family is most important and that's what we are, Team Legacy, a family. I'm proud with how my girls played today when our backs were against the wall. We are trailblazers man, and we're not done yet!"
It wasn't an easy ride, but Salas expressed how proud he was of the team after persevering when things weren't going their way.
"You have to respect what the Raiders did today. They had a good game plan which forced us go back to the drawing board, but that's what great teams do, they figure out how to win," added Salas.
Martinez Anchors Defense
There were four big catches that aided in Legacy's championship win, three of which came at the defensive end off interceptions from cornerback Kalanie Martinez. Each interception came in the red zone, denying the Raiders a chance to put any more than seven points on the board.
"The last time we played they scored on me and maybe they thought they could do it again this time, but I just played my part and covered my area and made sure not to make the same mistakes I made last time," said Martinez on the games big defensive plays.
The other big catch came midway through the 4th quarter, courtesy of Legacy's quarterback Morgan Reyes and Iana Mariano. Legacy's offense had a tough time figuring out the rush from the Raiders front seven, but the score from Reyes to Mariano played out big.
From 13 yards out, Reyes had trouble handling the high snap, having to reach over her head and chase the ball after it took a single bounce. Reyes scooped up the ball and rolled to the left for five yards before finding Mariano wide open in the back of the end zone to go up 16-7.
The Raiders were trying to respond quickly after running backs Brandi Potter and Christine De Leon got them within striking distance.
Quarterback Jennifer Andrews had hooked up with receiver Gia Righetti for a 25 yard pass down the ride sideline earlier in the drive, and she attempt to go there once more for a possible late-game score. Instead, Martinez read the route perfectly and picked off Andrews for the third time to seal the win.
"I would watch the runner, but I always had an eye on the quarterback and I just had my area covered real well and came way with those interceptions. This is my first year with Legacy and I owe it all to my coaches, I wouldn't have been able to do anything if it wasn't for them," added Martinez.
The Raiders had one final drive that ended in a four and out to allow Legacy to kneel off the remaining seconds of the game.
Defensive Chess Match
Legacy got off to a quick start scoring on their first drive of the game on a 10-yard runout by Dana Benavente. The drive was highlighted by a 27-yard catch by Benevente from Reyes to set up the score, followed by a 2-point conversion from Olivia Flores to go up 8-0.
After their first successful drive, Legacy was forced into five empty offensive possesions before finally striking in midway through the 4th quarter for the big touchdown.
The Raider defense forced Reyes into two fumbles, one that nearly could have been returned for a touchdown late in the 1st quarter.
Reyes took a five step drop and tried to get rid of the ball, but not until Raiders Emiliana Cepeda unloaded for a big hit, knocking the ball loose at the Legacy 30 yard line before Reyes could get a throwing motion off.
The defense wasn't aware that they could've picked it up and ran with it until safety Claudia Guerrero tried to pick it up while on the ground, but the ref whistled the play dead as soon as Guerrero touched it while having her knee down.
The Raiders turned that turnover into points as Potter converted from three yards out, and a PAT made the game 8-7.
The ladies in black kept up the defensive pressure forcing a Reyes fumble for the second time, pushing the Legacy offense 20 yards behind the line of scrimmage.
After the punt, Martinez would make her first pick on Andrews after she tried to hit a streaking Kim Tupaz on the right side.
PHOTO GALLERY:

QUICK HITS
3rd place: Big ups to the Para Todu Rugby Club for finishing 3rd out of 16 teams in the Manila 10's Rugby Tournament today. Biba Guam Rugby!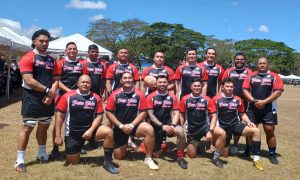 ——————————————
Guam MTB National Championship: Edward Oingerang and Jennifer Camacho are your 2023 MTB national champions. Oingerang finished the course in 1:13:24 while Camacho won her second straight title in 54:08.