By Patrick Lujan
MANILA – The taxi ride in the wee hours after UFC Manila summed up mixed martial arts' explosion in Asia.
"Boxing is dead," said cab driver Junetoy. Of course, knowing that I was at the fights at the Mall of Asia Arena, he quickly made reference to Manny Pacquiao's loss to Floyd Mayweather two weeks back.
As a boxing-crazed country for decades, the Philippines showed why MMA may very well be taking over boxing with a sold-out crowd at UFC Fight Night 66 – the first UFC event in the Philippines ever.
May 16, 2015 will also go down in the Guam sports history books as the best MMA day ever for our island. A much-appreciated turn of events for our island recovering from Typhoon Dolphin just the day before.
It all started stateside where Baby Joe Taimanglo did his part in dismantling Mexican Antonio Duarte with a one-shot right hand that floored his opponent in Bellator 137 in Temecula, California.
It was almost lunch time here in Manila and the buzz on social media about Baby Joe's win surely got the fans pumping heading into the night's events.
It was Jon Delos Reyes' turn, needing a UFC win badly after dropping his first two attempts last year. And what a battle it was. With the Guam flags waving throughout the Arena, JDR proved his worth with a second round rear-naked choke on Roldan Sangcha-an, one the Philippines' best. This despite getting cut badly over his right eye earlier in the round and blood was flowing profusely. Everyone around the press were talking 'Fight of the Night' – and it stood up as both fighters took home $50,000 bonuses. The bonus is a pretty penny for JDR, but imagine what it does to a fighter from the Philippines. He could be set for life with this one fight.
I'm sure Tuck felt the pressure at the back, knowing that Guam was 2-0 at that point. He received the second most crowd ovation in the night only behind the Filipino fighters. Being the golden boy of Guam MMA, he certainly had the huge backing from the Guam fans who flew out but he's also developed a P.I. following since his PXC days.
I remember my conversation with Tuck when he came home after his loss to Kevin Lee last year, which I thought was his best performance I've seen of him despite the loss.
We both agreed that he needed to "meet him in the middle", meaning beat his opponent to the middle and be the aggressor instead of retreating back.
Always a slow starter, Tuck did his usual feeling-out process and started meeting Tae Hyun Bang in the middle. And in a matter of seconds, Tuck turned on his "Super Saiyan Level II" and displayed his striking prowess and jiu-jitsu expertise to win 'Performance of the Night' and a $50,000 bonus as well.
All the hard work and sacrifice from these three elite athletes have been paying off.
The Big John Calvos and Manny Chongs and yes, Wenyu 'One Time' Bambas, are the pioneers of the sport, but these three took it to the next level(s) and are reaping the fruits of their labor today.
Yes, they had to leave the island to hone their skills. It's a numbers game. There's only so many other people to train and sacrifice with on Guam. Who likes to get punched in the face anyway?
Only time will tell if we will have a Bellator or UFC champion. We all cheer and hope so.
One thing's for sure. For one day, Guam stood proud for our island warriors.
Note: The arena experience during Mark Munoz's final fight in the UFC was magical. You just had to be there to experience it. Obviously a country favorite getting his dream to fight in front of his own people, Munoz turned back the clock and had the fairy tale ending against the much taller Luke Barnatt. The crowd exploded on every big right hand he struck and chanted 'Munoz, Munoz' on several occasions. He displayed his striking and wrestling once more and left his UFC gloves in the middle of the Octagon after victory. In the press row, we are prohibited to applaud, take pictures or videos, but I couldn't help but stand and applaud for him as he walked right in front after he left the cage.

QUICK HITS
3rd place: Big ups to the Para Todu Rugby Club for finishing 3rd out of 16 teams in the Manila 10's Rugby Tournament today. Biba Guam Rugby!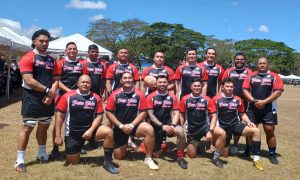 ——————————————
Guam MTB National Championship: Edward Oingerang and Jennifer Camacho are your 2023 MTB national champions. Oingerang finished the course in 1:13:24 while Camacho won her second straight title in 54:08.