By Robert Balajadia
The Lady Raiders' strong start gave them just enough leverage to hold off the Guam Women's Tackle Football League's top team in team Sindalu 14-12, despite a roaring comeback from the ladies in aqua and black.
The first half belonged to the Raiders on both fronts after jumping out to a 14-0 lead by halftime. Sindalu came no closer than 20 yards from the end zone as the defense held strong.
The Raiders were in complete control of the game midway through the 4th quarter with the offensive picking up consecutive first downs on carries from running backs Brandi Potter and Christine Deleon. With the ground game cooking, the Raiders elected to go through the air on 2nd down, but Sindalu's defensive star Vanity Palomo was ready to que a comeback.
Palomo cut off the pass from Raiders quarterback Jennifer Andrews at the 30-yard line and brought it back to the house for a pick-six of 70 yards. A stuffed two-point conversion by the Raider defense still had Sindalu trailing 14-6.
Potter then weaved her way through the Sindalu return team on the ensuing kick off, but a block in the back at the 25-yard line turned the Raiders 50-yard gain into a big loss by starting back at their own 10.
The penalty would turn out much bigger than anticipated for Sindalu as their defense forced the Raiders to punt on 3rd down. The punt was well short and Sindalu's Dana Tamayo quickly snatched the bad punt and returned it 25 yards for Sindalu's second score in two minutes.
Trailing 14-12, Sindalu had to go for the 2-point conversion for the tie and the Raiders were well aware. Palomo was in the backfield and received the snap out of the shotgun. She tried to bounce to the outside but the defense collapsed on her keeping her just short of the game-tying score.
"Our girls were tired and we're very thin in our defensive line. There's timing issues that we still need to work on, but we'll get there. We hope to carry a win like this through the playoffs, but we still have a tough team in the Tough Chicks, who are very well coached and have improved a lot since last year," commented Raiders head coach Fred Tupaz.
The Raiders ran out the final minute of the game to squash the impressive comeback effort.
Sindalu was playing without all-purpose player Deana Garcia-Fernandez. The offense was missing Garcia-Fernandez' playmaking ability with the Raiders defense shutting down their usual high scoring outputs.
"We've scouted this team heavily and we knew what they were going to be doing, even without their star players. We keyed in on their playmakers today and we did our best to shut them down," added Tupaz.
The Raiders found their points in the first quarter thanks to strong running from Deleon and Potter. Deleon punched in a goal-line try for an early 7-0 lead and Potter capped off a 30-yard catch by teammate Gia Righetti for a 14-0 lead.
The silver, black, and hot pink Raider defense didn't allow the Sindalu offense to develop any rhythm with both of Sindalu's scores coming from the defense and special teams.
PHOTO GALLERY:

Foody's 5 Fun Facts
World Champ Kaleb Cruz
DID U KNOW?
Kein Artero has a list of who's who of Artero uncles who've starred in Guam's gridiron: Andre Artero UOG Tritons & Hals Angels OL, Bubba Artero UOG Tritons & Hals Angels OL, Kenny Artero SSHS DB/Baseball Pitcher, Jesse Sablan FD & Hals Angels FB, Roland San Nicolas FD & Hals Angels OL, Chuck Ada SSHS & Hals Angels DB,  Ed "Rock" Artero SSHS & Hals Angels MLB, "Wild" Bill Ada FD & Hals Angels ML, Jared Ada FD & Hals Angels WR/Utility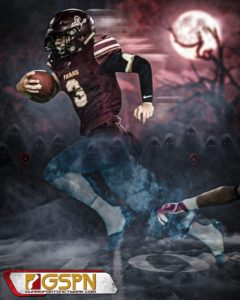 COMING SOON …
– 24th Marianas Fishing Derby
– NFL Week 3: Steelers at 49ers
QUICK HITS
UOG Athletics announced that head men's basketball coach Brent Tipton has stepped down due to personal reasons. UOG is now seeking for a replacement after Tipton's three years at the helm.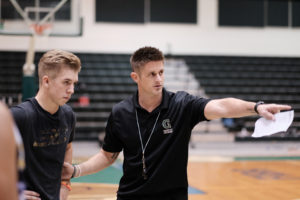 —————————————————-
Kyle Reyes brought the Boom to Russia and delivered a huge 1st round knockout in ACA 98.