By Michael Cruz
Here at GSPN, we're glad to include good news from the Marianas!
We catch up with starting defensive end Savali Talalemotu, a junior with the Portland State Vikings, a Division I team playing in the Big Sky Conference. He was also a pretty good basketball player who one day may represent the CNMI in international competition.
Village: Kagman, Saipan
High School: Beaverton
College: Portland State
Position: Starting Defensive End
Age: 20
Height: 6'3
Weight: 275
Bench: 350
Squat: 450
GSPN: How did you get involved in playing football?
ST: I moved to Beaverton, Oregon in 2011 for my senior year of high school. I played my first year of football there.
GSPN: How was the transition from high school football to college football?
ST: It wasn't too difficult. My coaches and teammates made the transition a lot easier. Kagman High and Beaverton High really prepared me for college. I get to choose my own schedule too which makes it easier for me to manage time.
GSPN: Please share with us your recruiting experience and the day you signed your National Letter of Intent to play college football.
ST: Three games into my senior season, my coach pulled me aside before the game. He told me that there were college coaches in the stands who were here to watch me play. I ended up having a really good game that night. After the game, the defensive line coach from Portland State came up to me. He told me that he really liked the way I played and wanted me to take an official visit to their campus. I went with it and from there on he kept visiting me at school, at home to check up with me, and until the summer of 2012 when I first arrived on campus.
GSPN: Were you aware that youth football was started again on Saipan and there is a movement to start a high school league?
ST: Yes, my dad told me about the youth football league. I had no idea that they are trying to get high school football going. I hope it all works out. I want everyone back home to be able to play the game of football and enjoy it the way I did. It could also be an opportunity for kids out there to play college football. That was my dream when I was in high school and it was the reason that I moved to Oregon in the first place.
GSPN: What are your goals in football and academics?
ST: My goal on the football field is to be the best football player that I can be. I want to be able to say, I gave it all I got when it's all over. And for school I just want to graduate and get my degree in criminal justice.
GSPN: If you had the opportunity to play for the Saipan Sharks or CNMI Basketball National Team would you do it?
ST: I would love to play for both teams. Because of my schedule I can't. We have football practice and workouts all year.
GSPN: Anyone you would to thank and advice to the youth athletes?
ST: I just want to thank my parents and my family and everyone else who believed in me. And my advice to the young athletes is to follow your dream. No matter what people say or think about you. Just go and don't give up.
Writer's Note: Thanks to John Blanco for telling me about Savali. Blanco plays for the Saipan Sharks and coached the Saipan Youth team that played in Guam recently. Savali used to watch his dad, uncle and John play in the Saipan league. Savali worked the chain crew.
http://www.goviks.com/roster.aspx?rp_id=1774

QUICK HITS
Guam MTB National Championship: Edward Oingerang and Jennifer Camacho are your 2023 MTB national champions. Oingerang finished the course in 1:13:24 while Camacho won her second straight title in 54:08.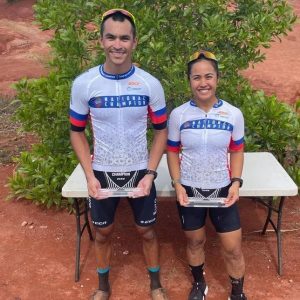 ——————————————
Kobe Miyashita, with St. John's coach Arvin Flores, was named the 2023 IIAAG Middle School Boys Volleyball MVP!