[useful_banner_manager_banner_rotation banners=72 interval=5 width=120- height=600 orderby=rand]
By Robert Balajadia
In a game that featured a combined 26 penalties, the FD Friars defended home field from the visiting Guam High Panthers in a 35-7 route Friday night.
Emotions ran high and fast for both teams, but the Friars ran faster amassing 381 yards on the ground where they scored all five touchdowns. Running back De'Aundre Cruz totalled 209 yards on 18 carries and three scores while teammate Jake Benito ran for 104 and two touchdowns on eight carries.
FD posted 436 rushing yards on the Panthers last year where Cruz also collected over 200+ yards. More importantly, the Friar offense has hit a groove after their struggling Week 1 performance.
"In practice we scrimmage against our defense, which is an awesome defense, and it always prepares us for what else might come our way. Our coaches are very strict on our carries, blocking assignments, and how our receivers perform and we are constantly running drills in practice," said Benito on the offensive revival.
The Panther offense took a massive hit literally and figuratively early in the 3rd quarter when Friars defensive tackle Jean-Pierre Aflague sacked Panther quarterback Jujuan King for a three-yard loss. King was expressing obvious pain in his lower body (leg) and had to be assisted off the field where he wouldn't return.
Trailing 21-0 and in need of quick offense, King was forced to step up in the pocket due to pressure from the Friar ends RJ Rokop and Noah Argalon where he then met Aflague. King left the game going 3-of-10 for 40 yards.
The Friar defense made it a long night for backup quarterback Keith 'Trip' Chauret, making him go 1-of-4 for (-28) yards, including two sacks, an interception, and a pair of hard licks from the 'Maroon Wall' defense.
Chauret moved from receiver to quarterback while also being taking out of the defensive rotation after King's fall.
Guam High's only points came in the 4th quarter after defender Xavier Jones intercepted Friars quarterback Daniel Phillips for a 70-yard return touchdown to pull within 21-7.
The Ugly Yellow
The Friars committed 14 penalties (seven offense, seven defense) while the Panthers committed 12 (five offense, seven defense). Both teams had penalties negate touchdowns in the run-and-gun 1st quarter, leaving exciting touchdowns on the table.
Guam High was first to get the offensive gears turning after King had connected with Charuet for a 31-yard bomb through the middle of the Friar defense. King then hit Chauret on a drag route, where Chauret gained 25 yards after the catch for a thunderous touchdown. A flag was thrown on the play for holding, negating the would-be score.
The Panthers then nearly scored off a fake field goal situation after kicker Nick Anderson attempted a lob pass to Chauret, who appeared to grab the ball in the corner of the end zone, but the Friar defense affected the catch causing a drop.
FD then marched down the field into Panther territory, setting up shop at their 30-yard line after big runs by Benito and Cruz. Halfback Leon Shimizu then took a handoff through the right blockers for a 30-yard touchdown, dodging tackles from three Panthers in the process.
A flag on the play for holding called back Shimizu's first score and two more penalties right after that play had the Friars back at midfield with the first down marker at the five yard line.
The Friar defense were tagged with five roughness penalties, four of which came on third-and-long that gave the Panther offense extra opportunities.
"We have to work on our aggression and be able to calm down during the game. We just have to play our game," said Rokop on fixing the defensive penalties.
Rokop led the team in tackles with six while, followed by Aflague's five and sack. The 'Maroon Wall' once again held their opponent under 100 yards of total offense for the third straight week with Guam High only accumulating 56 yards of total net offense.
Friar return man Bryton Cepeda had an 80-yard touchdown run called back on a kick-off, tagging FD for two would-have-been scores.
Running Away With It
The Friar offense is run heavy, but it was a reception that lit a fire for the FD offense in the 2nd quarter after receiver Devin Sudo turned a 22-yard catch in traffic into a 32 yarder after fighting off the Panthers safety hanging off of his back.  Sudo's efforts brought the Friars within two yards of the end zone.
The sidelines were roaring which allowed Cruz to punch in his second score from short distance to go up 14-0.
FD opened up the 3rd quarter with a game-breaker after Cruz took his second hand off for the toughest 68 yards of his young football career.
Cruz ran a power to the weak side and went a clean 10 yards untouched before the Panthers started to close in on him. He then broke two tackles in short distance whole trying to shake off a defender hanging on to his foot. He hopped out of the hold and had to juke his way to the right side of the field where he then fought off two more Panthers on a race to the end zone to go up 21-0 after Friar kicker Jerome Artero's extra point.
"I just wanted to get into the end zone so I did whatever I could to get there. My blockers made some key blocks on that run," said Cruz on the highlight reel run.
Benito had the crowd on their feet as well with his last touchdown of the contest in the 4th quarter after a handoff to the right side had him dead to rights by the Panther linebacking core. Benito instinctively ran behind the opportunistic head official John Benavente, who provided just enough cover for Benito to bounce to the opposite side of the field for a 4-yard touchdown.
"I knew he was there and I saw the Guam High defense coming at me. It was a nice situation to be in, and they don't want to hit the ref, but even if they did [Benavente] would be blocking for me anyways!" joked Benito.
The Friars improve to (3-0) while the Panthers fall to (2-1).
PHOTO GALLERY BROUGHT TO YOU BY:

QUICK HITS
3rd place: Big ups to the Para Todu Rugby Club for finishing 3rd out of 16 teams in the Manila 10's Rugby Tournament today. Biba Guam Rugby!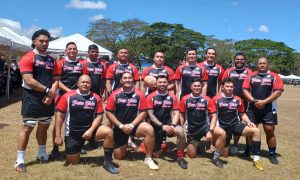 ——————————————
Guam MTB National Championship: Edward Oingerang and Jennifer Camacho are your 2023 MTB national champions. Oingerang finished the course in 1:13:24 while Camacho won her second straight title in 54:08.