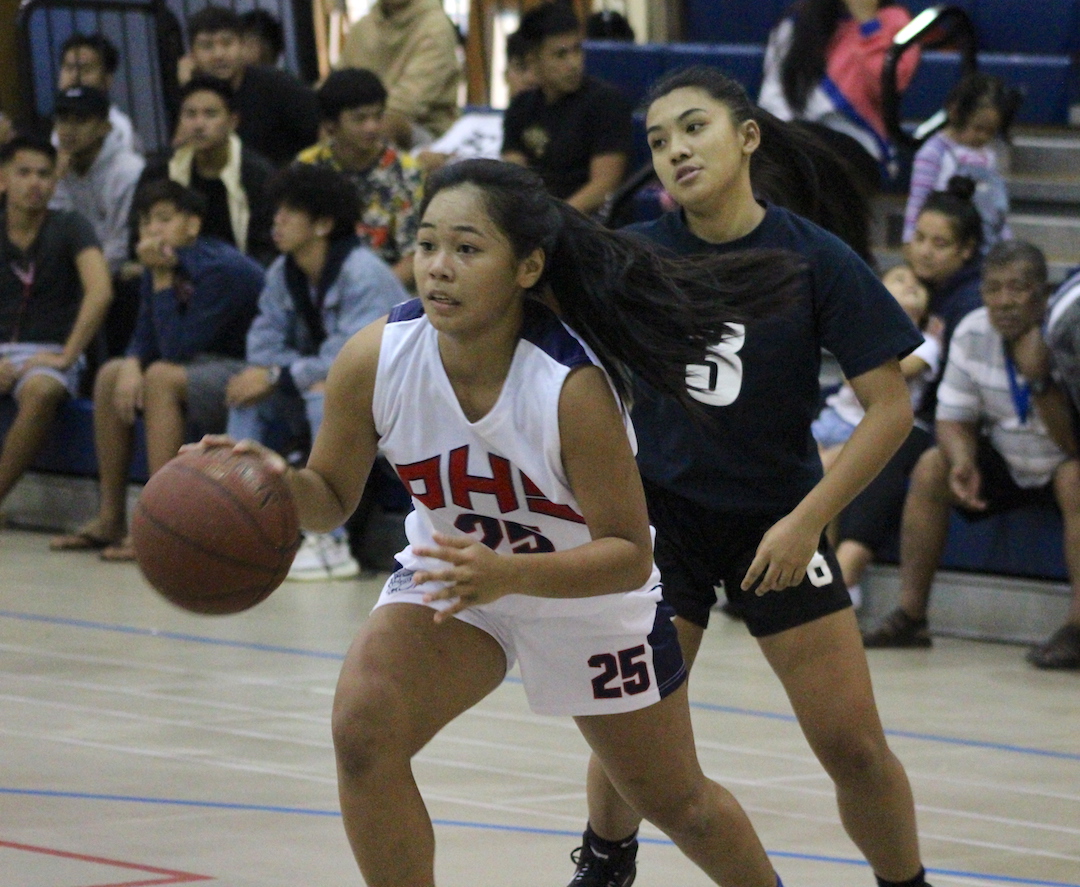 By Robert Balajadia
The defending champion Okkodo Bulldogs played host to the Tiyan Titans Tuesday as part of the league-wide tipoff of the 2017 IIAAG Girls Basketball Season. Okkodo controlled the action early and held off a late rally from the Titans to earn a 62-52 win on opening night.
Bulldog junior center Danica Cabrera led the way with 14 points for the new look Bulldogs, who didn't have many members from the championship winning team on the floor Tuesday night. Senior and MVP Shania Bulala has since left via graduation, guard Isa Quinata is suiting up for St. Paul and current guard Zaria Garrido hasn't accumulated enough practice dates to see game time.
Okkodo had to rely on a plethora of new faces against Tiyan and Cabrera, one of the few remaining members of the title wining team, feels their young players are headed in the right direction.
"The new girls did pretty well for their first ever varsity game. I feel the team did well for our first game of the season too," said Cabrera.
The new cast of the Bulldogs consists of forward Angeli Dacanay, who was right behind Cabrera, scoring 12 points as well as fellow teammate guard Raequel Camacho who added 11 points.
Tiyan guard Y'lisiah Jorda scored a game-high 22 points with the Titans turning an early blowout into an exciting finish.
Titans fight back
The first half was all Bulldogs as they bullied their way to a 35-20 halftime lead. Tiyan's Jorda caught fire in the 2nd period, scoring nine of the Titans points in the period, turning a 25-8 deficit into the favourable halftime score.
Cabrera carry her strong play into the 3rd, notching an and-one to talk a commanding 48-30 lead in the first few minutes of the second half. But the 4th quarter showed resolve from the Titans with guard Eryn Palconit sparking a mild comeback. Palconit scored five straight points to get the lead back to single digits, 50-41 after trailing by double digits from the 1st quarter on.
"We started to lose control down the stretch and our defense was lagging, but our benched really came in picked us up," said Cabrera.
Cabrera stepped in to squash the momentum with a fast break bucket with 3:12 remaining to reclaim the double-digit lead 57-45. Okkodo would get into heavy foul trouble down the stretch with the Titans Kayla Tellain cutting the lead 57-49 from the charity stripe with 1:51 to go.
Dacany would score her final bucket off a nifty post move down low inside the final minute to get up 61-50 with the Titans going empty from the field, aside from a last second layup from Jorda.
Okkodo's next test will be against the visiting JFK Islanders Friday while the Titans get to host their home opener against the St. John's Knights.
Other Scores
Academy 82 Harvest 4 (AOLG: Mia San Nicolas 20 pts/Meghan Cruz 19 pts)
GW 61, ND 42 (GW: Haley Banez 19 pts/Alana Salas 13 pts )
Southern 42, Guam High 32 (SHS: Daphne Manibusan/GH: Katrina Davis 14)
JFK 30, Sanchez 29
JV Scores
Academy 59, Harvest 6
JFK 27, Sanchez 20
PHOTO GALLERY BROUGHT TO YOU BY: