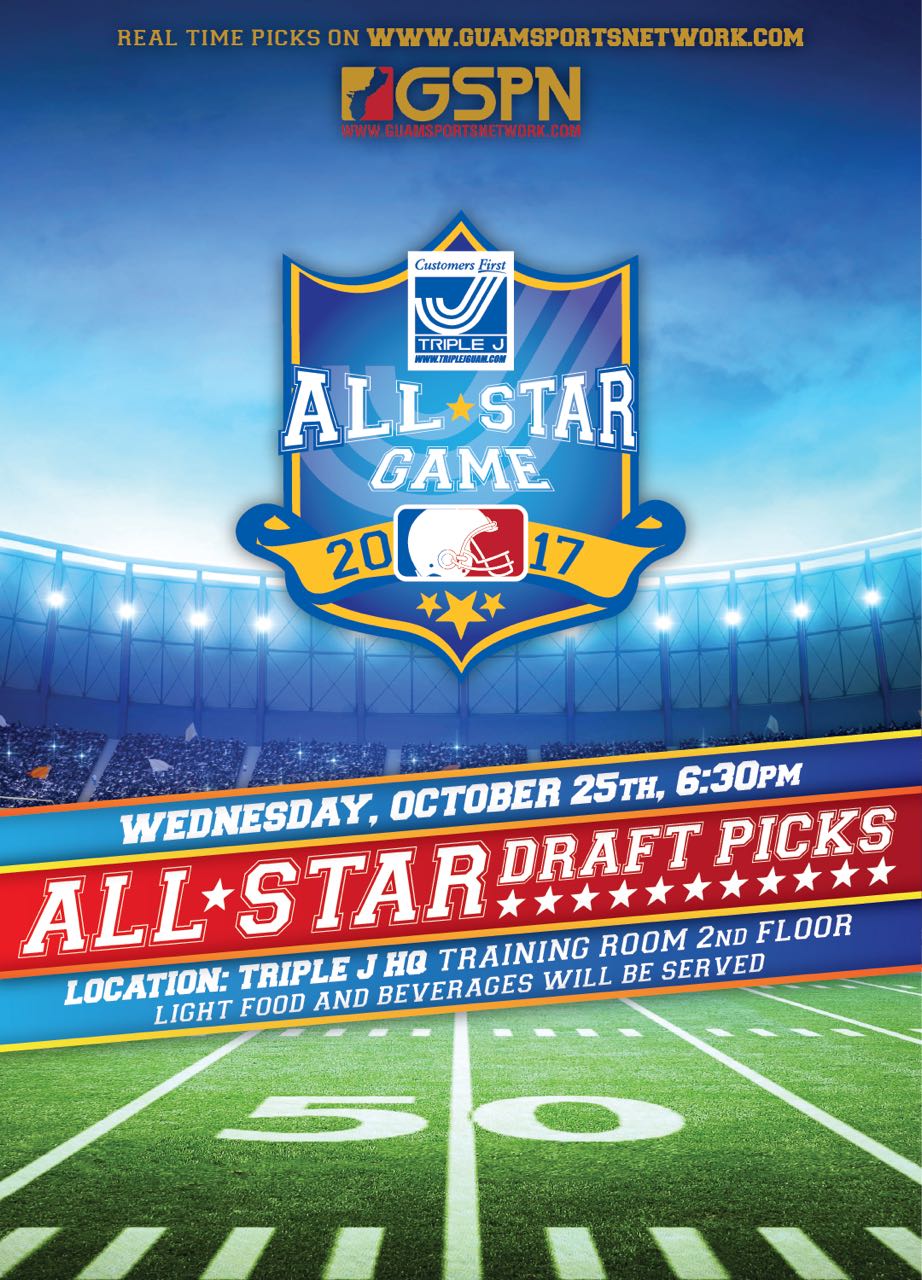 The 3rd Annual Triple J High School Football All-Star Game takes place on Saturday, Nov. 11th at the Hal's Angels Field.
The teams were selected Wednesday night via draft format with the coaching staffs of the Tiyan Titans and JFK Islanders making the picks.
To no one's surprise, the Offensive and Defensive MVPs were off the board first. Check out all the picks for the Mustangs and Raptors here as the teams filled out their 28-man rosters.
Mustangs (Titans coaching staff)
#1 pick – Xavier Naputi (WR/FD/12th)
—
#4 pick – Daniel Phillips (QB/FD/12th)
#5 pick – Aaron Jamanila (WR/GW/11th)
—
#8 pick – Giancarlo Abril (K/FD/12th)
#9 pick – Mark Laanan (CB/Tiyan/12th)
—
#12 pick – Kai Akimoto (FB/FD/12th)
#13 pick – Kobe Onedera (DL/FD/9th)
—
#16 pick – Kin Rivera (C/FD/11th)
#17 pick – Jimmy Green (OT/FD/12th)
—
#20 pick – Raven Santiago (LB/FD/12th)
#21 pick – Jaylen Dowdell (LB/Guam High/12th)
—
#24 pick – Jose San Miguel (OG/GW/11th)
#25 pick – Makoa Bamba (LB/Guam High/11th)
—
#28 pick – Jon Espino (LB/GW/11th)
#29 pick – Nick Akimoto (OG/FD/11th)
—
#32 pick – Christopher Parker (OL/DL/JFK/12th)
#33 pick – Andrew Blas (WR/Tiyan/11th)
—
#36 pick – Christian Cabrera (NG/U/GW/11th)
#37 pick – Resean Jacobs (U/Guam High/11th)
—
#40 pick – Nathaniel Pinaula (S/FD/11th)
#41 pick – Davin Benavente (DE/GW/10th)
—
#44 pick – Javier Lujan (RB/Tiyan/12th)
#45 pick – Jerome Quichocho (LB/GW/11th)
—
#48 pick – Keonu Salas (CB/GW/11th)
#49 pick – Rickey Macias (QB/GW/9th)
—
#52 pick – Joshua Sablan (U/Sanchez/10th)
#53 pick – Zavier Cruz (OG/Tiyan/11th)
—
#56 pick – Tatum Aflague (WR/FD/12th)
—END OF DRAFT—
Raptors (Islanders coaching staff)
#2 pick – Chase Spotanski (LB/JFK/12th)
#3 pick – De'Aundre Cruz (RB/FD/12th)
—
#6 pick – Kobe Quiambao (QB/Tiyan/12th)
#7 pick – Tyler Pangelinan (WR/Tiyan/12th)
—
#10 pick – Kamerin Toves (RB/Sanchez/10th)
#11 pick – Fred Lumagda (LB/Tiyan/12th)
—
#14 pick – Rylan Napoleon (DT/FD/11th)
#15 pick – Isaiah Reyes (DE/FD/12th)
—
#18 pick – Justin Camacho (RB/JFK/12th)
#19 pick – Joshua Relativo (C/Sanchez/10th)
—
#22 pick – Brandon Kinsella (S/FD/12th)
#23 pick – Noah Diaz (CB/FD/11th)
—
#26 pick – Jobe Guzman (OG/FD/12th)
#27 pick – Calvin Aguon (RB/GW/12th)
—
#30 pick – Kyle Mcintosh (OT/FD/12th)
#31 pick – Kyler Valencia (CB/FD/12th)
—
#34 pick – Jake Uncangco (OG/Sanchez/12th)
#35 pick – Hanson Ignacio (OT/Sanchez/11th)
—
#38 pick – William Rios (DE/GW/10th)
#39 pick – Jaylen Delgado (DT/FD/12th)
—
#42 pick – Daraven Perez (NG/FD/12th)
#43 pick – Jonah Hahn (TE/JFK/12th)
—
#46 pick – Evan Bejerana (CB/JFK/12th)
#47 pick – Austin Peredo (LB/FD/12th)
—
#50 pick – Kein Artero (RB/FD/10th)
#51 pick -Ethaniel Cali (OT/GW/11th)
—
#54 pick – Atdao Natividad (P/Southern/12th)
#55 pick – Kameo Toves (FB/Sanchez/10th)