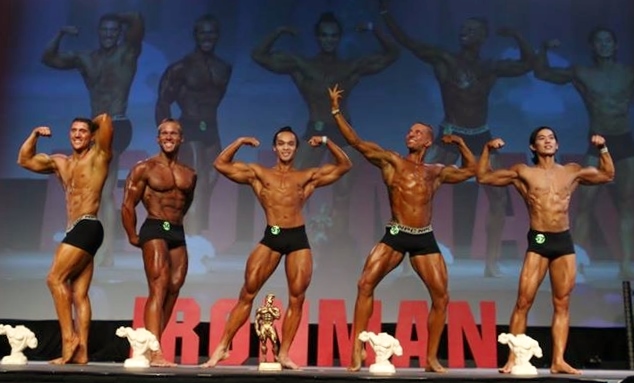 By John Wesley
Athletes can agree that the sport of bodybuilding takes a lot of hard work and dedication. Countless hours in the gym and a strict diet are just half the battle.
Besides the physical aspect of the sport, competitors must be able to balance the rigors of everyday life to make it to the top. Finding this balance requires having a solid support system, not just a solid body.  
For 29-year-old Yigo resident Russky Peru, also known in the gym as 'Super Natural', his support system is his family and coaches. Earlier this month, their encouragement and guidance paid off in his most recent show.  
Peru took home serious hardware at the 2017 National Physique Committee Washington Ironman Natural Bodybuilding Championships in Bothell, Washington. The event was held on October 7th and Russky took home 1st place in Lightweight Novice Bodybuilding and Overall Novice Bodybuilding, Open Middleweight Bodybuilding, Classic Physique Class A and Classic Physique Overall.
With all the challenges that come with prepping for a show, Russky said it wasn't the physical things that presented the biggest obstacle.
"Hardest part was when I left to Washington and my family wasn't able to go with me. For sure that was the hardest part of this prep. My girlfriend Brenda Dayson is my biggest motivator, she pushes me and encourages me to stay on track. I'm blessed to have her and my son Haven Zane Elias. When the diet gets a little hard, my son is all I can think of, after that everything gets easier."
It doesn't stop with his girlfriend and son though, Russky attributes a lot of his success to his parents and brothers, without their support, he wouldn't have been able to have the results he did. His mother helps watch his son while he's training and her support is endless. Older brother Starsky Peru has also always been there for Russky, even helping him financially because he believes one hundred percent that that his brother can make it in the sport and become a pro.
Russky and his coaches, Dr. Joseph Dimalanta & Summer Vu of Lohas Chiropractic, Nutrition and Health, set a goal to win multiple gold trophies and overall titles for the Ironman show.
The team hasn't decided on what competition is next, but it will be sometime in 2018 when Russky continues his pursuit for a pro card. Until then he is just going to trust the process and execute his game plan while staying dedicated and humble.
Additionally, Russky wants to thank JMI Edison, Brewed Awakenings, his brother Jamerico, sister-in-laws Brigette Valencia and Remeliza Oriondo and everyone else that has helped him on his journey.

QUICK HITS
The Figo Islanders 40s women's softball team took gold in the Senior Softball World Championship in Las Vegas. Figo came out of the loser's bracket and beat the Arizona Belles 17-3 in the AA division championship game Sunday afternoon.
Other Guam teams that played in the 40s tournament were: Team SOTTA (women's) and Bud Light Guam, Friars 671 and Sindalun Guahan (men's).
Sindalu finished a respectable 4th out of 24 AAA division teams.