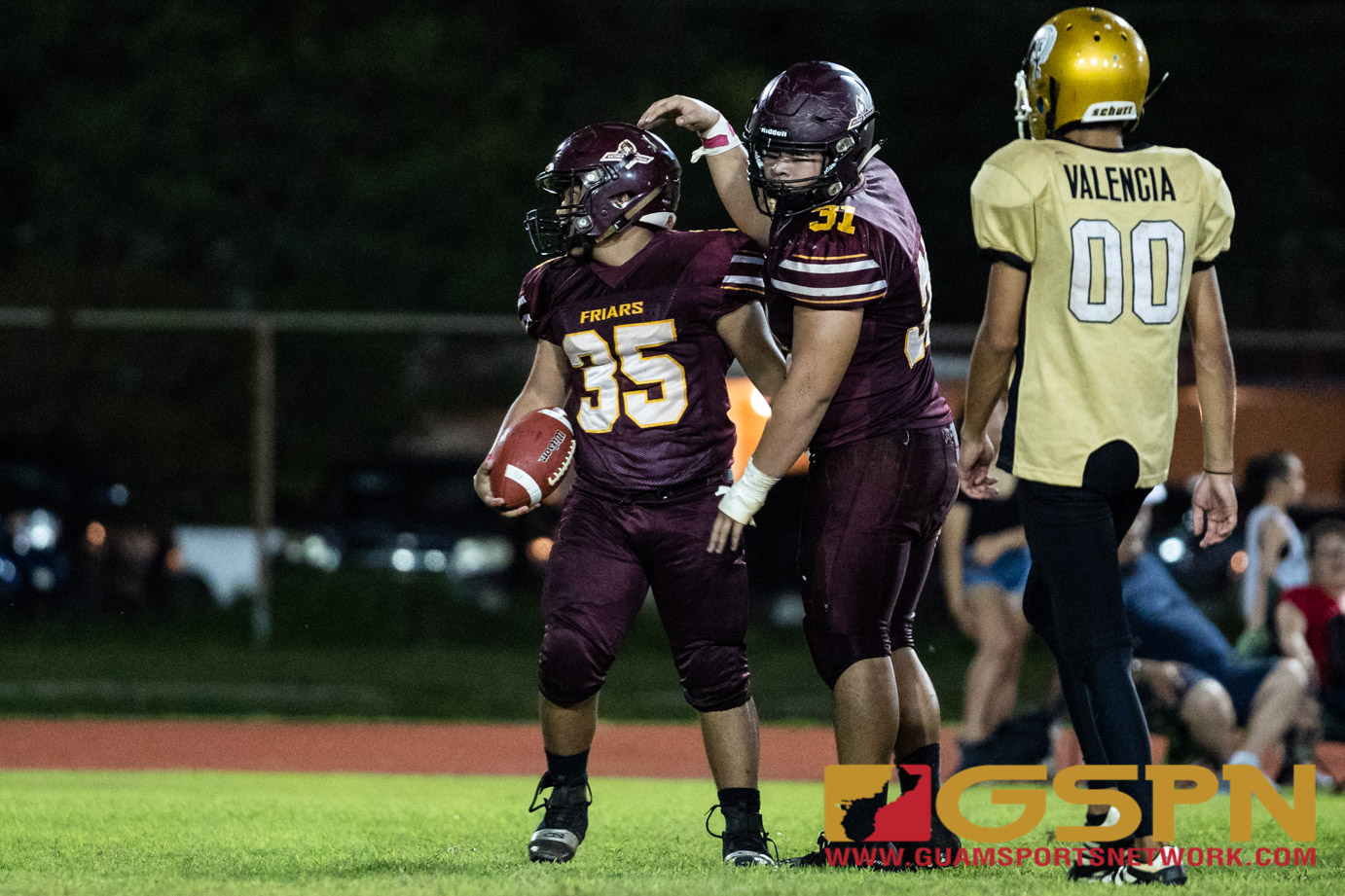 By Jay Leon Guerrero
It was a good homecoming for the maroon and gold Friday night after they ended their season with a perfect 7-0 record to secure the top seed heading into the IIAAG Football League playoffs for the fourth straight year. The Friars routed the young Tiyan Titans squad 63-0 with FD running back Kein Artero reaching a milestone.
Artero had just five carries and ran for 113 yards to join the 1000 yard club. In the meantime, the Friars record winning streak continues with their 37th victory in a row.
"Tonight and our season is dedicated to my FD brother Xavier (Akima) and our principal Tony Thompson. This all would not have been possible without the support of my teammates and the offensive line," said Artero.
Artero is the third Friar to surpass 1,000 yards for a season, finishing with a total of 1069 in just seven games. FD head coach Bruce Meno accomplished the feat in 1995 and former teammate DeAundre Cruz rushed for over 1000 yards in 2016. Other backs in the club include Erwin Flauta (JFK), Rob Rogers (JFK), and Corey Dunlap (Sanchez) just to name a few.
Artero used his first carry of the game to reach the 1K-mark, rushing for 54-yard score on the first play of the game. Artero added two more touchdowns (33 and 18 yards) before head coach Bruce Meno benched him in the second quarter to avoid injury. Despite the milestone accomplishment, Artero was more focused on the playoffs and improving as a team.
"Our team has to remain focused and continue to work hard in practice. We have to work on improving even the slightest mistakes," said Artero.
The Titans had a hard time moving the chains with four bad snaps that resulted in fumbles. Both Tiyan quarterback had trouble getting off passes with constant pressure from the defensive line that recorded 10 sacks for the game. The Friars kept the Titans behind the line of scrimmage and did not allow positive yardage.
Leading the way for FD was Rylan Napoleon with seven tackles (all tackles-for-losses) and three sacks. Kobe Onedera had 2.5 sacks and five tackles (four tackles-for-losses). Joining the sack committee were Sage Shinohara (1.5), Roy Chargualaf, Evan Brown and Isaiah Perez. Chargualaf also recorded a safety in the first quarter.
"We did good tonight but there's always room for improvement as we head into the playoffs. The team just needs to remain focused and listen to our coaches," said Napoleon. Napoleon, a senior, recorded his 10th sack for the season.
Onedera, also a senior, had a big night for FD and was also named homecoming king.
"I wasn't expecting to win homecoming king," said Onedera. "The support from our family and fellow Friar brothers tonight meant so much to us. Heading into the playoffs, our team needs to be disciplined. Our defense will remain humble and disciplined on the field."
The Friar secondary recorded three interceptions, two of which were returned for touchdowns. Linebacker Eugene Arriola had a pick-6 in his welcome back from injury game just before halftime and Luke Reyes recorded the other pick-6 in the third quarter. Kaleb Tennessen recorded the third INT of the game for FD which included a 42-yard return to give the offense good field position in the fourth quarter.
The Titans had trouble moving the chains, recording only one first down in the first half. Tiyan running back Kio Kaminanga recorded a first down after catching a pass from Tiyan quarterback Kaekoa Leon Guerrero.
Kaminanga had 24 total yards for the game to lead the Titans. Kaminanga caught two passes for 14 total yards and rushed for a hard 10 yards against FDs stingy defense.
Tiyans special teams had a good day on the field with 116 return yards and a fumble recovery. Davin Mojica from Tiyan had four returns for a total of 59 yards.
Friar stats
Freshman running back Caiyle Gogue had limited playing time but managed to rush for a touchdown and 40 yards on the ground. Michael Castro had a touchdown in the fourth quarter and rushed for 37 yards. Fd quarterback Nick Anderson completed four-of-five passes for 60 yards and a touchdown before sitting out the final quarter. Josh Calvo was the recipient of the lone Anderson touchdown pass for a 12-yard score.
They will enter the playoffs as a top seed and will host the lowest seed next week at the GW field. IIAAG all-island voting takes place at the conclusion of the regular season and expect more than a dozen Friars making that list.
PHOTO GALLERY BROUGHT TO YOU BY:

Foody's Fun Facts
Foody's Fun Facts with Arren Yatar
UOG Tritons Pitcher Arren Yatar shares some of his fun facts and tells us about his favorite YouTube channel!
Foody's Fun Facts
Foody's Fun Facts with Arren Yatar
UOG Tritons Pitcher Arren Yatar shares some of his fun facts and tells us about his favorite YouTube channel!
Foody's Fun Facts
Foody's Fun Facts with Arren Yatar
UOG Tritons Pitcher Arren Yatar shares some of his fun facts and tells us about his favorite YouTube channel!
COMING SOON …
Asia Pacific Little League
National Triathlon Championships
GML Makeup Games
FD Alumni Basketball Tournament (ongoing)