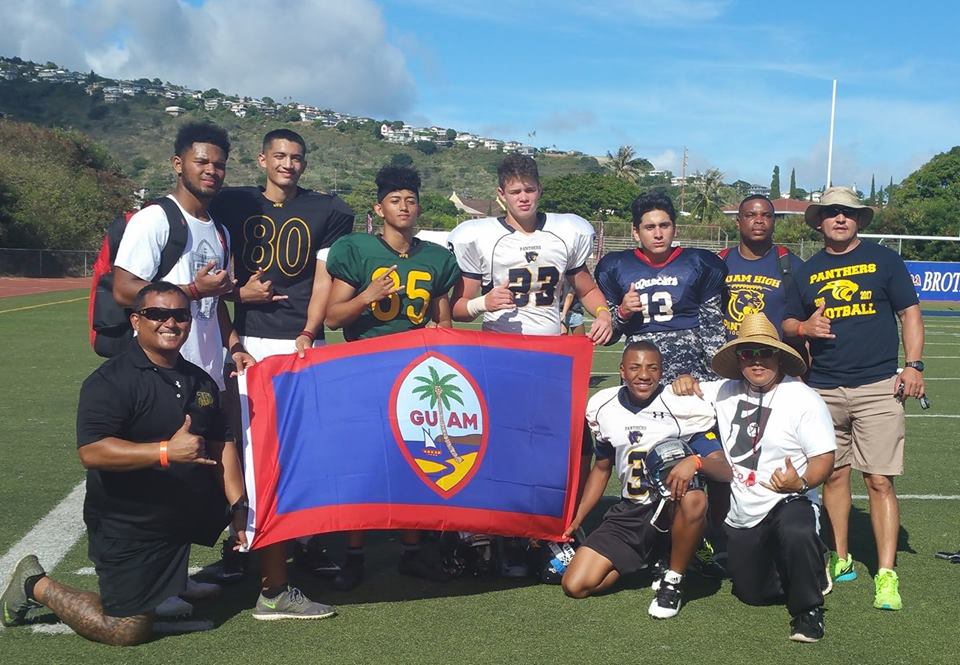 By Michael Cruz
Three football stars with Guam/Saipan roots have taken three different routes towards getting into college football. Saipan's Angel Terry, former Guam resident Colin Gourley and former JFK/Tiyan Titan Tyler Pangelinan, who relocated to Hawaii, will preparing for their college football journey.
Angel Terry
Terry is of Indonesian and Thai descent. He was born and raised in Saipan. Terry started playing youth football in middle school with the Southern Thunder. In high school, he suited up with the men's national team CNMI Sharks and played on the defensive line. Saipan does not have a high school football league. Terry left in 2016 to pursue his football dream.
He quickly adjusted and started for Hudson Bay High Eagles (Vancouver, WA) earning all-league 1st team defensive tackle as a junior. Terry was determined to make his senior year count. He trained in the offseason to get bigger, faster, and stronger. This past fall, he returned ready at 6'1 and 300 lbs. His coach decided to play him both ways on the line.
Terry had a stellar year making first team defense and offense. The Eagles made the playoffs for the first time in 15 years and finished with a record of 5-4. Terry was named Big School Lineman of the Year by Clark County. He received recruiting interest from Central Washington, Eastern Washington, Portland State, and Western Oregon. On January 28, Terry verbally committed to Central Washington.
https://twitter.com/AngelTerry25/status/957656051205136390
Colin Gourley
Gourley was born and raised on Guam. He won a youth title under Hal's Angels Coach Mike Pangelinan and Charlie Keone III. Colin started as a freshman playing offense for the JFK Islanders. He helped the team to a 4th place finish. Here is some footage of Colin playing on the line. He is the kid in the gold helmet.
The Gourley's relocated to the Houston suburb of Stratford. He played at Stratford High (Andrew Luck's alma mater). Colin made varsity as a sophomore. It was a tough adjustment, but Colin adapted to the style of play. He started his junior and senior years earning all district. Stratford High made playoffs all three years he played. On January 23, Gourley verbally committed to the D2 National Champions Texas A&M Commerce. Colin is 6'3 and 295 lbs.
https://twitter.com/coling99/status/955949692117975040
Tyler Pangelinan
The former Hal's Angels, JFK Islander, Southern Cowboys and Tiyan Titan player committed to Division 3 program North Park University in February 2. He is the son of Mike Pangelinan who coached him in youth and high school. Tyler first got noticed after attending the Maximum Exposure Camp in Hawaii this past summer. He transferred to Tiyan for his senior year.   
Tyler finished his senior year making All-Island wide receiver for three years straight. He was also All-Island at punter, kicker, and utility. Tyler played in the All-Star game before relocating to Hawaii to finish high school. He will graduate from Roosevelt High School this June (Bruno Mars alma mater).
Did you know?
Terry grew up with Jonah Hahn (JFK Senior), Donovin Ada (Pueblo East High Senior), and Zander Tkel (Grand Canyon University). All four knew one another through football on Saipan. Hahn will play college football. Ada won a state title football in Colorado twice and will play college baseball. Tkel is a freshman playing rugby collegiately.
Gourley played youth football with Tyler Pangelinan and high school football with Quintin Iriarte. Colin's older brother Forrest was a multi-sport athlete at FD.
Daniel Cruz who lives in Georgia helped the Pangelinans with their HUDL highlights.
Senior Highlights
https://www.hudl.com/video/3/5662177/59cfd9345cb43c23f4b577f6 (Gourley)
https://www.hudl.com/video/3/7832001/5a1c91f75ef76a0c082a83ba (Terry)
https://www.hudl.com/video/2/144302/5a16371d38634c0dac0c3a71 (Pangelinan)
Other aspiring college players for Class of 2018
Evan Bejerana – CB (JFK)
Fred Lumagda – LB (Tiyan)
Raven Santiago – LB (FD) 
Christopher Parker – DL/OL (JFK)
Daraven Perez – NG (FD)
Jimmy Green – OT (FD) 
Dillon Parke – QB (Southern)
Daniel Phillips – QB (FD)
Kai Akimoto – FB (FD)
De'Aundre Cruz – RB (FD) 
Jonah Hahn – TE (JFK)
Xavier Naputi – WR (FD)
Will Sanders – WR (Guam High)
Andrew Blas – WR (Tiyan)
Giancarlo Abril – K (FD)
Atdao Natividad – P (Southern) 
Makoa Bamba- TE/DE (Guam High)
Pierre O'mallan-DT (FD Class of 2017)

QUICK HITS
Guam MTB National Championship: Edward Oingerang and Jennifer Camacho are your 2023 MTB national champions. Oingerang finished the course in 1:13:24 while Camacho won her second straight title in 54:08.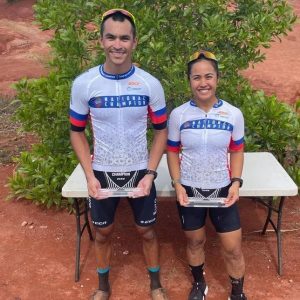 ——————————————
Kobe Miyashita, with St. John's coach Arvin Flores, was named the 2023 IIAAG Middle School Boys Volleyball MVP!