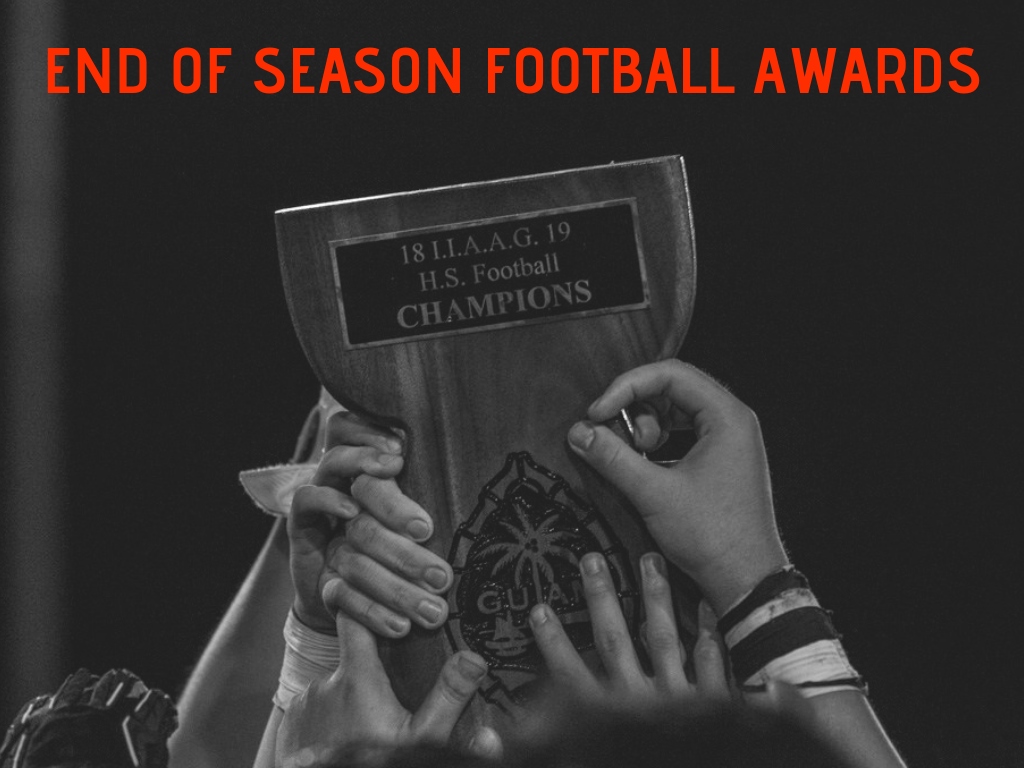 By Michael Cruz
The All-Island awards came out a few weeks back and with the six post season games in the books here is my year end awards as follows.
Watch Patrick Lujan video from 2011 for a Guam football history lesson.
Mr. Guam Football Year Award
Kein Artero – Athlete – Add this unofficial award to Artero who already has a Mr. Global Teen and Offensive MVP for 2017. Artero's numbers were video game like with 1543 yards and 19 touchdowns in just 9 games!
Daniel Phillips QB Award
Nicholas Anderson- Last year, Anderson was 3rd on the depth chart. His best game was in the semifinals as he passed for four touchdowns against JFK in 2018. Against GW, he struggled but remained composed to make a key TD pass. Has a lot of upside heading into senior year.
Kenny Lujan RB Award
See Mr. Guam Football Year Award above.
Matthew Eaton WR Award
Brian Anderson – He missed out on 1st team to Aaron Jaminila and ReSean Jacobs. In the playoffs his game elevated with four catches for 54 yards and two touchdowns.
Rodney Camacho TE Award
Brandon Soriano – three catches for two touchdowns and two-point conversion in playoffs. Provided run blocking and gave Friars another offensive weapon all season.
Art Rabon FB Award
Jose San Miguel – The Geckos FB/DT played both sides and was a four-year varsity member. A true ironman player and leader both on and off the field.
Jimmy Naholowaa Offensive Lineman Award
Nicholas Akimoto – Two-time offensive tackle all island and four-time champion enough said.
Ryan Rios Defensive Player Award
Jon Espino – LB – The most consistent player on defense during regular season. His stat line in the playoffs 13 tackles, 4 sacks, and one fumble recovery.
Bill Ada Linebacker Award
Chase Spotanski – LB – 4-year varsity career ended with another all island defensive MVP.
Kevin Okiyama DB Award
Noah Diaz – Diaz has proved the past two years as the league's shutdown corner. Returned for 8 tackles and 1 sack in finals.
Gavin West Safety Award
I know Gavin didn't play high school on Guam, but he does in the BFL. Anyway, GW's Aaron Jaminila is my pick here for the no-fly zone.
Best Defensive Lineman
Rylan Napoleon- The Samoan Chamorro standout had a stellar season finishing with 7 tackles and 1 fumble recovery in finals.
Honorable Mention Awards
FD- Kobe Onedara-DE, Shaun Sablan-K
GW-Jose Taitingfong-NG
JFK- Juan Sarimento-U
GH- Jeylyn Dowdell-U, Resean Jacobs-U
SH- John Topasna-U, Gabriel Stanley-U
Coaches of the Year
Bruce Meno and Ryan Rios. 40 straight wins, 4 titles, and 10 straight title appearances. Number of rings between them like Bill Russell.
Most Improved Team
Southern from 0 wins in two seasons to three wins and 5th seed.
Freshman of the Year- Roy Chargulaf-FD
Sophomore of the Year-Travon Jacobs-GH
Newcomer of the Year- Evan Brown-FD
Game of the Year
FD 21 GW 14 OT
Clutch Play of the Year
Ethan Cepeda- The FD corner made the hit that caused GW to fumble. Well you know what happened after that.
College Recruiting
The league has shown that Guam can send more players to the next level. My Top 20 seniors.
Noah Diaz-FD

Kobe Onedara-FD

Rylan Napoleon-FD

Brian Anderson-FD

Aaron Jaminila-GW

Jon Espino-GW

Jose San Miguel-GW

Chase Spotanski-JFK

Juan Sarmiento-JFK

Resean Jacobs-GH

Jeylyn Dowdell-GH

Andrew Lujan-JFK

Nicholas Akimoto-FD

Jose Taitingfong-GW

Shaun Sablan-FD

Nate Pinaula-FD

Joaquin Rivera-FD

Joseph Lujan-GW

Ethaniel Cali-GW

Justin Camacho-JFK