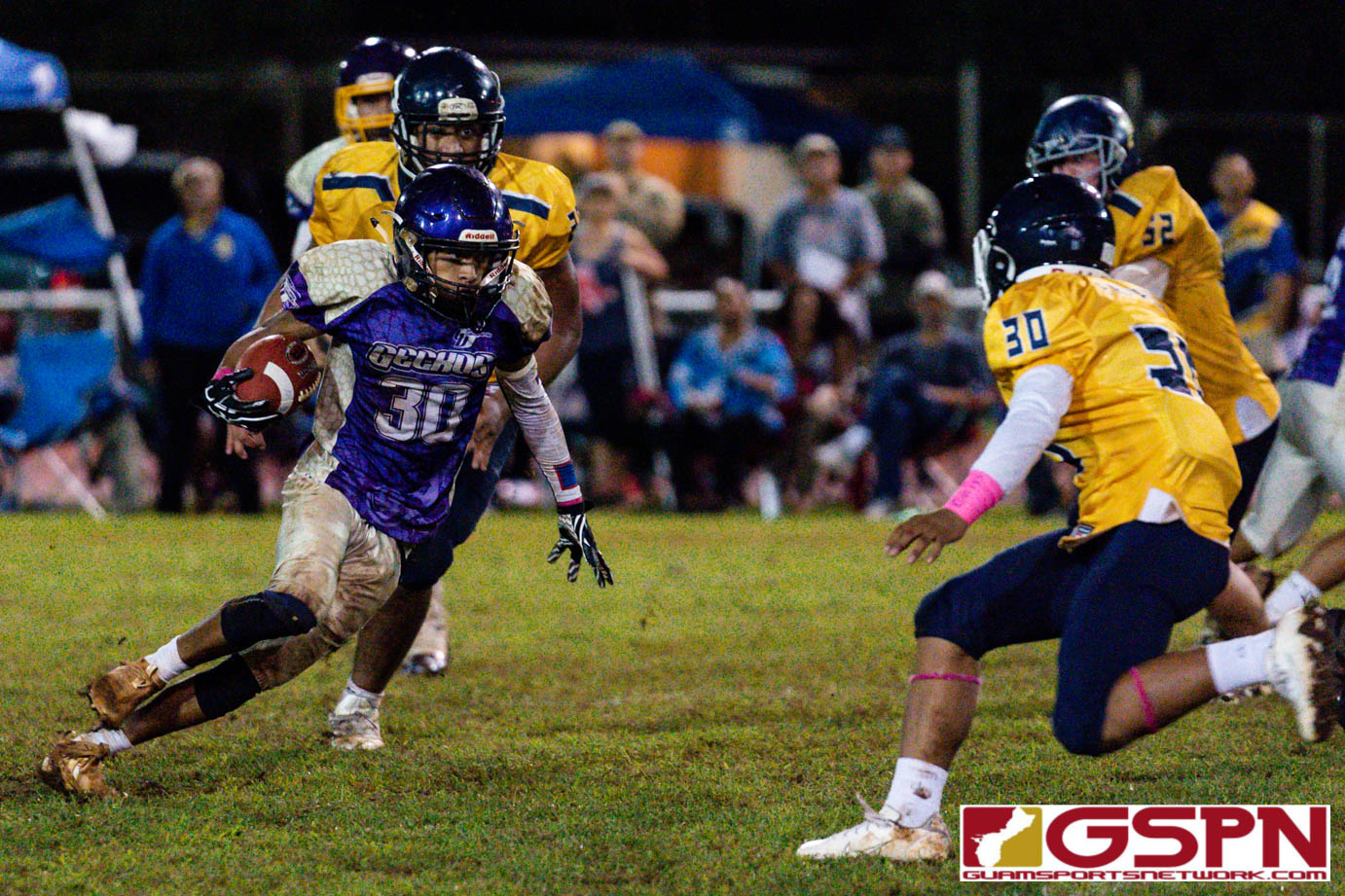 By Brandon Kinsella
The GW Geckos are headed back to the ship, with an opportunity for redemption against the same team that defeated them in last year's championship battle in the FD Friars. A 20-7 victory at home field against a pass-oriented Guam High team helped showcase what the GW secondary is capable of doing to opposing offenses.
GW picked off Guam High quarterback Travon Jacobs three times and held his stat line to 131 yards on a 12-of-27 completion rating.
It was a fumble recovery followed by a touchdown by sophomore linebacker Jonahs Gumabon that put the needle in the coffin, in what had already been a dominant display of defense by the Geckos.
At the beginning of the 3rd Quarter, Guam High was backed into their own end zone and a bad snap caused quarterback Jacobs to fumble. Gumabon was there to recover the ball and ran it in for a score, which gave GW a 20-0 lead. Gumabon described the moment.
"It was a great feeling. This was my first touchdown of my football career and I'm glad it contributed to the win," said Gumabon.
Guam High's lone score came in the closing minutes of the final quarter. A mix of offensive schemes got Guam High to the goal line. Jacobs began to connect with receivers for big yardage and several runs by an alternating backfield got them at the one-yard-line. Jacobs powered through on a QB-keeper to avoid a shutout, and kicker Alexandra Shimasaki converted on her PAT attempt.
Secondary Shutdown
The first interception of the game came in the 2nd Quarter. Jacobs looked to throw deep into a Cover 2 defense and Cason Jackson made the right read and jumped the ball at its highest point for the pick.
Defensive MVP in linebacker Noah Quichocho got the next interception after picking off Jacobs at the 45 yard-line and nearly taking it all the way in for a score but falling short after being tackled at the nine-yard-line. This was Quichocho's first INT of the season and described the feeling of this accomplishment which was one thing missing from his resume,
"It really brought my confidence up. An interception was the only thing I was missing from my stats. It felt good to have that ball in my hand and run it down the sideline. Didn't get the TD, but it was an awesome feeling."
At the beginning of the ballgame GW won the toss and elected to receive. They did not score on their first drive, but an offensive possession later a 50-yard rushing touchdown by running back Eian Naputi would put the first points on the board and quarterback/ kicker Ricky Macias converted on the PAT to make the game 7-0. 
With high stakes on the line, tempers flared in the 2nd Quarter of action after a Guam High player was called for unnecessary roughness for throwing a GW player to the ground after the whistle was blown. The play had GW parents angry and coaches also rushed to calm down players after the incident.
Macias would later connect with wide receiver Gabriel Arceo-Gilbert for a 30-yard TD. The PAT was no good, but the Geckos led 13-0 going into halftime. 
The senior Macias elaborated on what it means to make it to the Championship,
"It's a great feeling. We've come a long way; this team is really young. For us to grow and become better as a team throughout the season means a lot to the team."
As for the rematch against FD next weekend, Macias commented,
"We're gonna come out, we're gonna work hard. For all three years that I've played, we've been in the championship and we lost to this team. I'm sure our team and all our coaches are tired of losing, and we're going to give it everything we have next weekend."
PHOTO GALLERY BROUGHT TO YOU BY:

Foody's 5 Fun Facts
Harvest Eagle Trinity Terlaje
DID U KNOW?
FD senior Matt Fegurgur first dunked a basketball in his freshman year when he was 6'4″. The now 6'9″ center looks to dominate high school hoops.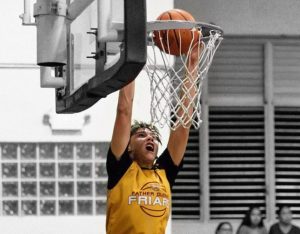 COMING SOON …
– FIBA Asia Cup: Guam vs. New Zealand, Feb 23
– Rizin 21: Aguon and Martinez
– Zach and Larry Return to Guam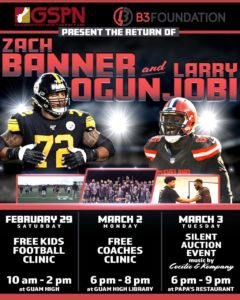 Brawl MMA March 13
QUICK HITS
190 runners took part in the 48th Hafa Marathon (half marathon).
Here are the top 5 finishers:
Ryan Matienzzo 1:13:17
Kris Lawrence 1:24:12
Taiga Sato 1:25:05
Chris Rasmussen 1:26:48
Carlos Leon Guerrero 1:28:46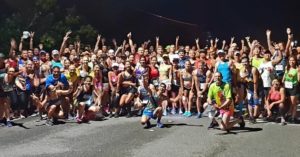 —————————————————-
Guam flags were waving in Clearwater, Florida in support of Bubba Nickles and Team USA in their Pre Olympics Softball Tour.