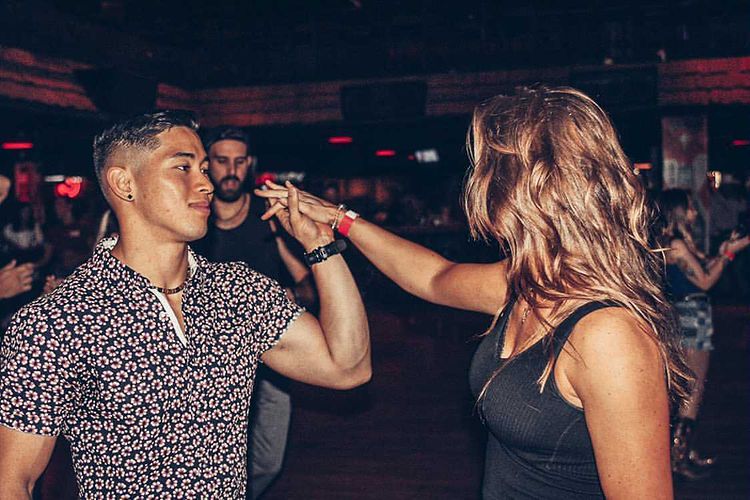 By Patrick Lujan
Athleticism comes in all forms and movements, from Strongman Competitions to Yoga to Country Dancing. Wait, what!?
Former high school volleyball MVP Jude Cruz has been as versatile in his athleticism as anyone you'd know, mixing his volleyball jumping abilities to his pure strength as an avid CrossFit athlete/weightlifter and now some good 'ol country bar dancing.
As an aerospace physiology technician for the U.S. Air Force, Cruz is stationed deep in the heart of Texas, so naturally he has drawn to liking country music and dance just this year.
"I started by going out with some guys on the weekends and occasionally found ourselves at Cowboys Dancehall in San Antonio," the 2018 Tiyan volleyball league MVP said. "I never really listened to country until I started to dance to it. I remember the first time I went to Cowboys and danced, not being good, but that didn't stop me from dancing. I started listening to more country music so that when I would go out and dance, I would be more familiar with the song."
The young Senior Airman has already distinguished the difference between club dancing and country ballroom dancing.
"I find it more formal. It's a formal way to partner dance than to go dance at a club. I prefer approaching women and asking them if they would like to dance rather then just try and dance on some girl or have some girl dance on me at the club."
And there's nothing complicated about what volleyball, CrossFit and country dancing brings to Cruz's life.
"I think all three are outlets for me to distress. It is also a great way to meet new people and make new friends."
RESEARCH AND PRACTICE: KEYS TO DANCING SUCCESS
Still in his early stages as a country dancer, Cruz works on his new extra curricular activity by doing some research.
"I would watch some YouTube videos to expand my dancing capabilities. I also follow a lot of people on Instagram who dance similarly and I take moves they do that I like and apply them. I have also tried to watch a lot of west coast swing videos and take certain things from that style as well."
Whether he's doing the Swing, the Square, the Line or the Two-Step, Cruz's new venture has had some mixed reactions from family and friends.
"Everyone has different taste in music and lifestyle. I have some friends who think it's cool and some who could never see themselves doing it. I say don't knock it till you try it. I think my family thinks it's cool. It's something different and they see I enjoy it so they support me."
After a stellar high school volleyball career on Guam, two years of CrossFit and weighlifting and now country dancing, who knows what's next for this Barrigada native who continues to Aim High!
Cool side note: Cruz's job in the Air Force has him working with aircrew members and pilots, teaching them how their bodies work in low pressure environments and how to protect themselves from altitude threats.
Weighlifting PRs
Clean and jerk: 320 lbs
Snatch: 265 lbs
Clean: 335 lbs
Front squat: 405 lbs
Back squat: 440 lbs
Deadlift: 450 lbs

COMING SOON …
High School Football starts Sept. 29
Brawl 3: Oct 13
Guam's Strongest Man and Woman Competition October 29
QUICK HITS
The Figo Islanders 40s women's softball team took gold in the Senior Softball World Championship in Las Vegas. Figo came out of the loser's bracket and beat the Arizona Belles 17-3 in the AA division championship game Sunday afternoon.
Other Guam teams that played in the 40s tournament were: Team SOTTA (women's) and Bud Light Guam, Friars 671 and Sindalun Guahan (men's).
Sindalu finished a respectable 4th out of 24 AAA division teams.