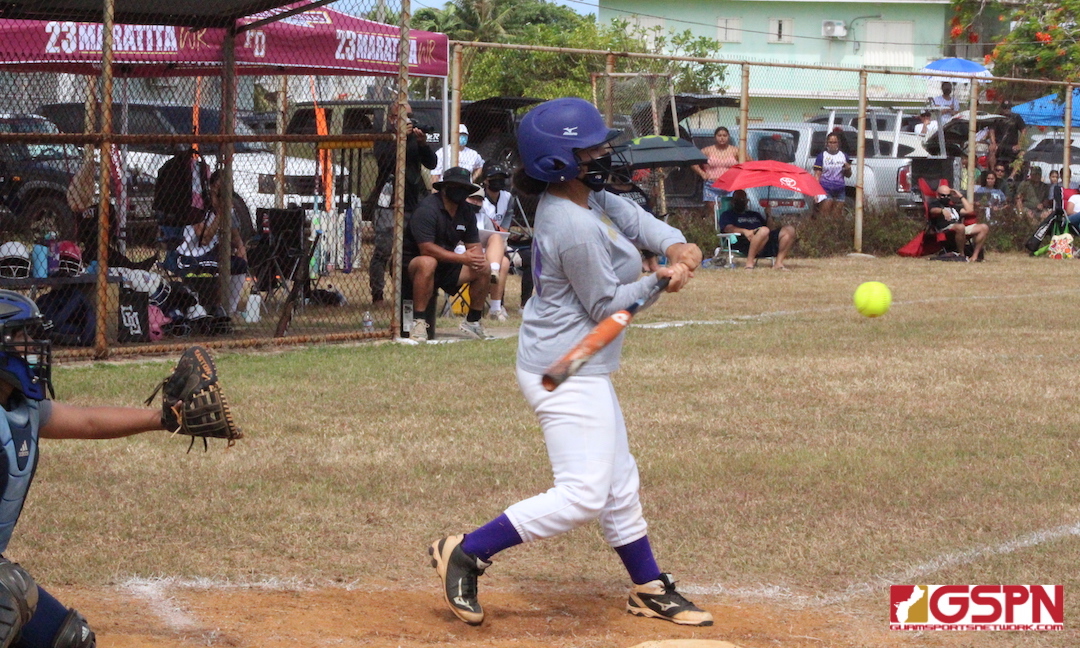 By Robert Balajadia
After a dominant outing against the Tiyan Titans in the opening game of the 2021 ISA Girls Softball sports season, the GW Geckos replicated success Saturday against the visiting Academy Cougars to the tune of a 16-4 game through six complete innings. The Geckos went down early, then ran off 16 straight runs to take control of the game for their first official win of the season.
Instrumental in the Geckos run was Sophia Cruz, who's early at bats provided momentum changing plays to turn the tide of the game. Down 4-1 in the 2nd inning with the bases loaded, Cruz got a clean hit that dropped in the dead of right field for an RBI single that quickly turned into a three-run play off errors to tie the game at four all.
"All eyes were on me and my teammates were counting on me to get it done so I had to come through for them," said Cruz on her 2nd inning at bat.
Cruz wasn't finished yet as she knocked another big single to bring in a go-head run for their first lead of the contest in the bottom of the 4th inning at 5-1.
GW rallied behind the strong play of Cruz in the 5th inning as senior star Savannah Grant smashed a triple deep center field. A errant throw to third allowed Grant to safely trot home for a big 11-4 lead.
Academy began to deploy their underclassmen group in the 6th inning with the game eventually ending on an runs score off errors for the 10-run mercy ruling.
The Cougars had their best innings early on when they jumped out to a 4-0 lead, highlighted by an RBI from senior center fielder Talon Topasna. Errors on the play allowed two Cougars to score to get up 3-0 before Topasna found her way home on an errant throw on the next play for the 4-0 lead.
After two strong outings in just their first week, the Geckos have emerged as a strong contender for the 2021 title. With winning a title always in perspective, Cruz is more than happy to just finally be out on the field again.
"We just have to continue to apply everything that we practice," said Cruz on the teams outlook after one week. "But it feels amazing to finally be out there with my favorite girls and get right back to it."
PHOTO GALLERY BROUGHT TO YOU BY:

QUICK HITS
The Okkodo Bulldogs secured third place at the Far East Division I Girls' Basketball Tournament in Camp Humphreys, South Korea. Jasmine Samson and Haley Cabrera were named All-Tournament selections in recognition of their hard work on the court. Vaysia Blas won the 3-point shooting contest. The Bulldogs played nine games in three days with a squad of eight:
Erin Moldez
Jasmine Samson
Haley Cabrera
Sharm Tauiwei
Hanna Meinik
Jordyn Zacarias
Jordin Hernandez
Vaysia Blas