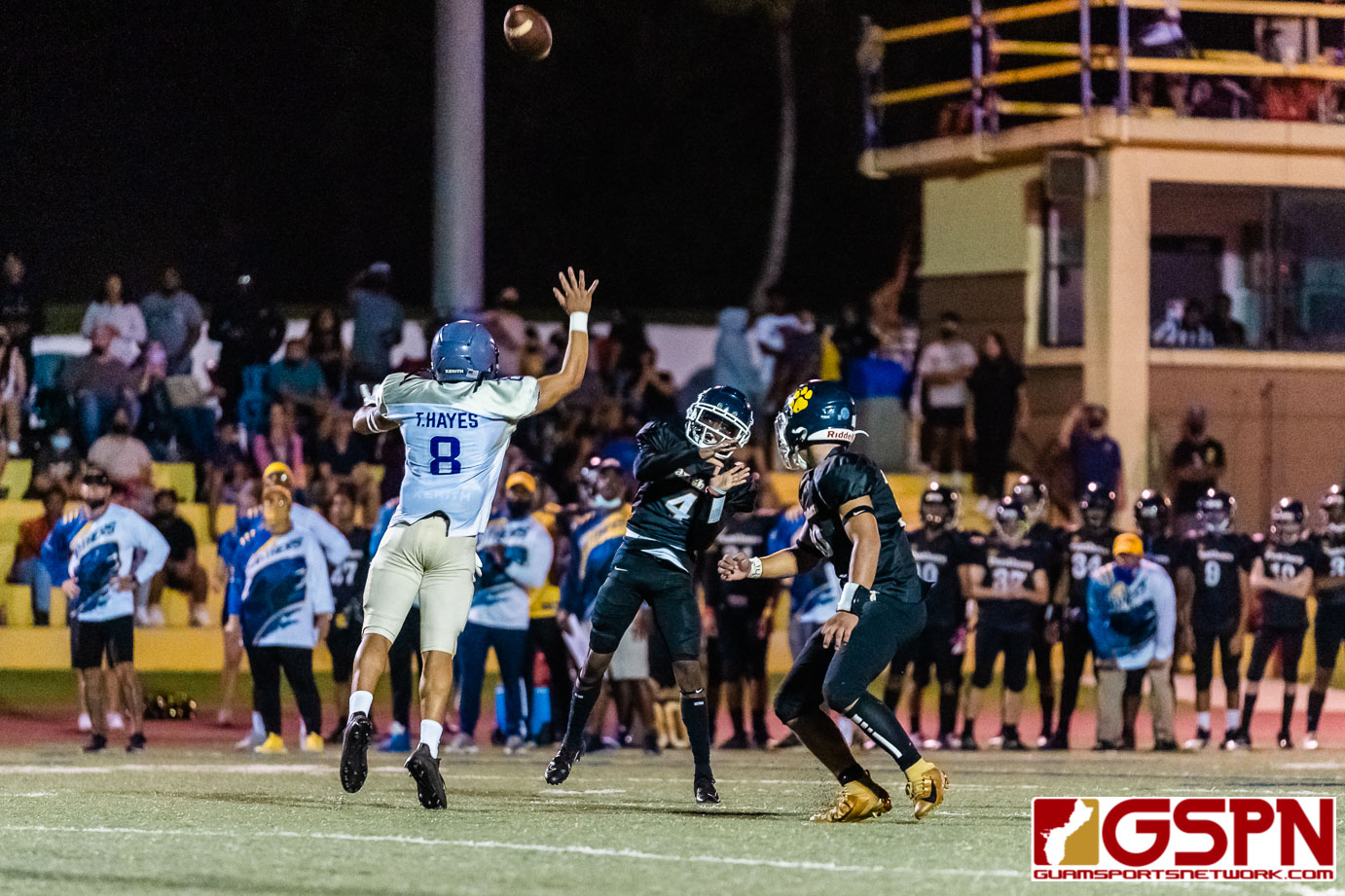 By Robert Balajadia
The Guam High Panthers and GW Geckos put on one wild semifinals game Saturday evening that provided plenty of late-game drama as Guam High emerged victorious in a 21-14 thriller to advance to their first Championship game since 2010. This will also be the first time in over a decade that the GW Geckos will not be playing for a football title.
Co-MVP in quarterback Aaron Johnson tossed two touchdowns, but also came away with the game sealing interception as the Geckos were threatening to tie the game on their final drive in the game's final minute. Johnson, who doesn't normally take snaps at defensive back, wanted to do everything he could to help the team.
"I didn't have to convince my coach at all, he trusts me enough to be poised and finish out the game. It feels good, it's a surreal moment, but job's not done. It's a nice little celebration, but we after we got to get right back to it," said Johnson on his series at defense.
With the game tied at 14 midway through the 4th quarter, the Geckos were controlling the clock and using a series of runs to march from the Panther 35 to a 1st-and-goal at the five-yard line. GW would have trouble holding on to the ball after two fumbles, which they recovered, but the mishaps kept them out of the end zone. GW line up at 4th-and-goal at the Panther one-yard line, but trouble on the snap resulted in a loss of yards and a turnover on downs.
From their own five, Guam High turned to Johnson, who completed two passes and ran for two first downs to get to the Geckos 23-yard line. A pass interference call would set up the Panthers at the eight-yard line, which set up a go-ahead touchdown run from sophomore Cameron Brantley to put Guam up with less than two minutes to play.
"That was the plan, big thanks to my head coach, best coach right now I swear," said Brantley on his shifty touchdown run.
With momentum on their side, the message was clear for Guam High: keep fighting.
"We just kept telling each other to continue fighting. It was all about talking and communicating," said Brantley on what was key on the Panther game-winning drive.
GW responded with strikes through the air in their two-minute offense, which was highlighted by a Ricardo Leon Guerrero toss to Jake Cruz for 19 yards to get into Panther territory. A pass interference call on Panther Jackson Ellis with 19 seconds to play set up GW inside the red zone. Leon Guerrero was looking for teammate Marcello Blas in the corner of the end zone, but Johnson made the break on the ball in the air for the interception.
"We were fighting for Joseph Gumabon, that was the mentality the whole time. We have to fight through adversity," said Johnson on where the extra motivation was coming from.
Gumabon, the grandfather of Panther Laethian Gumabon, passed away in November and Guam High has been playing inspired football with Gumabon in their hearts all season.
The confident Johnson knows that the Friars stand between them and a title, but they've adopted a different mindset and believe they're a different team from when they first met in the regular season.
"This is the time that Guam High gets our respect because we've been looked down on… We feel like a completely different team. We feel like we're going to go in there and whoop them, that's the bottom line. That 56-game win streak doesn't matter to us at all," stated Johnson on facing the Friars.
Geckos and Panthers go tit-for-tat
The Gecko offense came out strong on their opening series with Austin Aguon getting GW on the board with a 10-yard touchdown run in the 1st quarter.
Guam High responded in the 2nd quarter as Johnson hit receiver Robert Ellis from 14 yards out to knot the game at seven.
GW's defense came up big as LeGrande Malsol forced a fumble on Brantley which was recovered by Tristen Hayes. Hayes would run 15 yards in the opposite direction before realizing his blunder, but still managed to set up his offense at the Panther 35. The drive would end in a touchdown for Mykai Blas from six yards out to put the Geckos ahead 14-7.
Guam High responded on their ensuing drive as Harris hauled in a 30-yard pass from Johnson with a Gecko defender draped all over him that brought the Panthers inside the GW 30. Johnson and Harris would connect again, this time for a touchdown as Harris made another leaping catch over the Gecko defender for the eventual game-tying score.
The Geckos would force a Panther turnover on downs early in the 4th quarter that set up a long, run-filled drive, but Guam High's goal-line stand would prove to be the games turning point.
The Friars will host the Panthers on Saturday December 11th in the ISA Football Championship Game and the Geckos and Southern Dolphins will compete for 3rd place on Friday at GW. The Championship game will be streaming HERE on GSPN!
PHOTO GALLERY BROUGHT TO YOU BY:

QUICK HITS
Bishop Obispos beat Mt. Carmel for the IIAAG Middle School Girls Basketball championship 37-25.
—————————————-
The Benavente Roadrunners crushed the Agueda Pirates 17-1 to win the 76 PONY Middle School Baseball League. Rodney San Nicolas was a beat, striking out 13 batters in a complete game while going 4-for-4 at the plate, including a homer and 4 RBI.