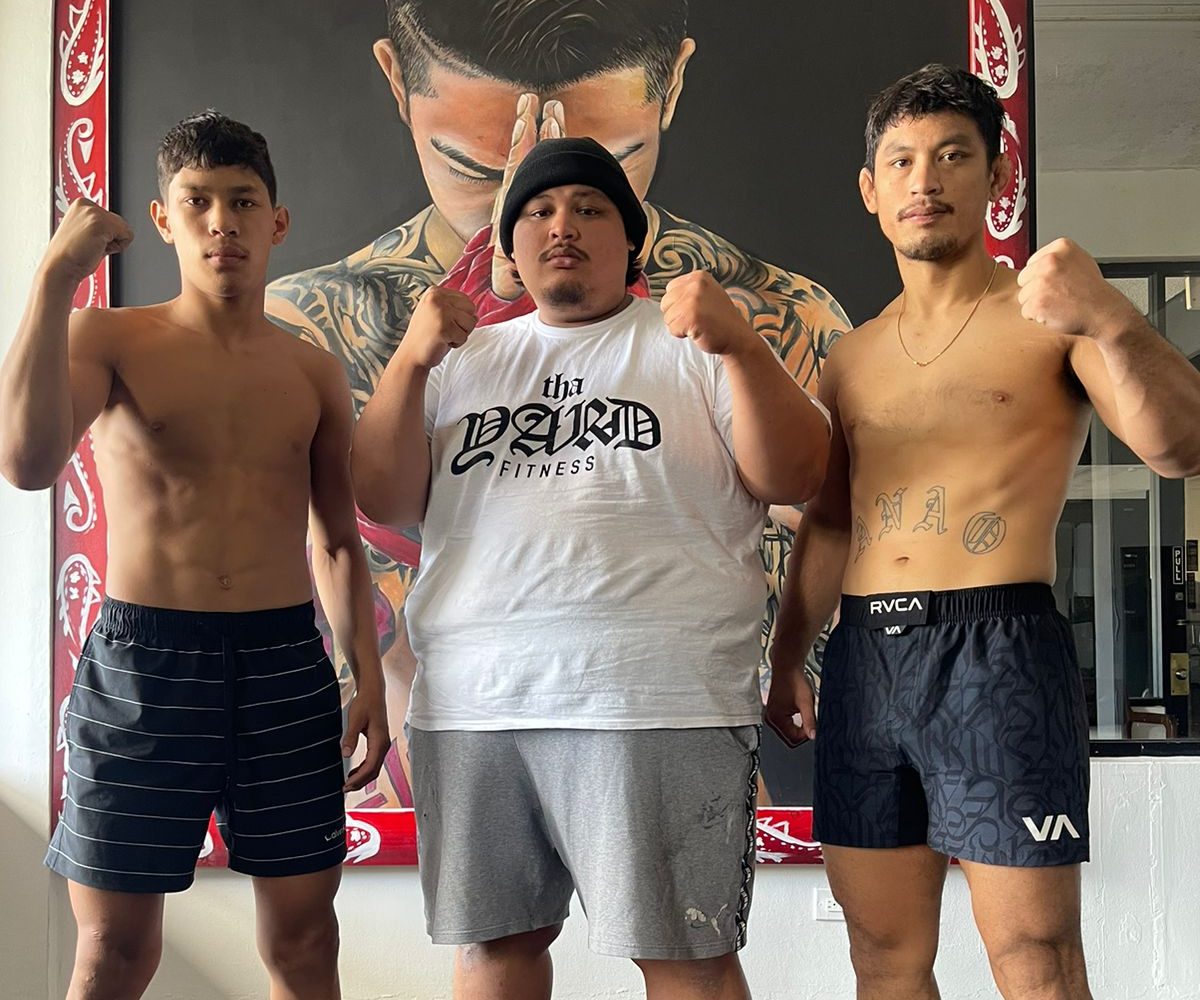 By Patrick Lujan
Behind every good striker, there's a pad holder who has helped sharpen those skills. With Guam's love for the fight game comes the hard work and dedication.
Twenty eight year old Benny Benavente is one of the main guys behind the scenes as he holds the pads for the combatants preparing for competition.
All padded up from waist to chest with hand mitts, Benavente helps fighters with their hand speed, agility and instincts in an old-time boxing training tradition.
Benavente and his brothers were hooked to unarmed combat since watching the early days of the UFC on videos and they've been training ever since. His brothers Peter (27) and Zach (30) have gone on to kick off their pro MMA careers in recent years.
"I started training since I was 11 and started mitting around 13," Benavente recollects growing up in Anao, Yigo.
Self-taught in the art of holding pads, Benavente has not only helped his brothers along the way but also for he likes of Alex Castro, Frank Camacho, Jon Tuck, Trev Jones and even Brandon Vera. "Of course, I'm always happy to add other fighters to the list."
If you watch videos of Benavente's pad work, you'll notice the smooth flow between him and the striker with the mental synchronicity required between trainee and trainer.
"It's pretty easy. Of course, every fighter is different so it's more so adjusting to their style and maybe cleaning up some of their basic fundamentals and working on any other detailed moves they want to work on…and I apply a little bit of my own personal style."
WHAT THEY SAY….
"He has massive skills and has the eye for striking. I really love the way he holds pads and you see how it translates with all his brothers too. Massive work ethic and dedication to the art. Huge fan of his brother and him and stoked to be able to work with him. He's constantly evolving and always open to share." – Frank 'The Crank' Camacho
"We have great chemistry… you need to have chemistry with your pad holder… timing is everything… I never had that issue issue with him." – Alex Castro
Check out Benny's Instagram page @benaventestriking to see his pad work for yourself.

QUICK HITS
Bishop Obispos beat Mt. Carmel for the IIAAG Middle School Girls Basketball championship 37-25.
—————————————-
The Benavente Roadrunners crushed the Agueda Pirates 17-1 to win the 76 PONY Middle School Baseball League. Rodney San Nicolas was a beat, striking out 13 batters in a complete game while going 4-for-4 at the plate, including a homer and 4 RBI.