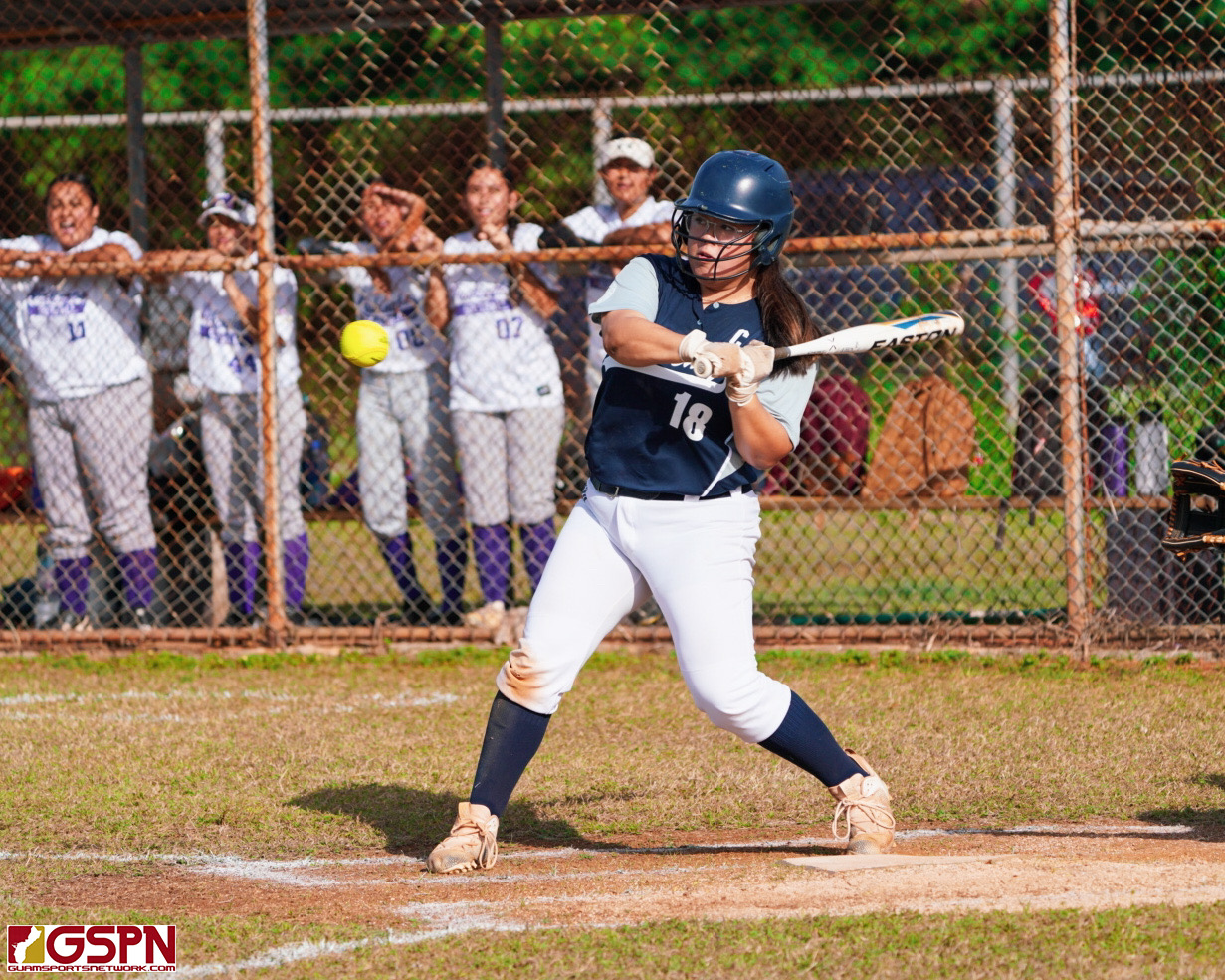 By Nick Akimoto
Despite a big 21-11 win, things were close in the Thursday afternoon ISA Softball League matchup between the Academy Cougars and the GW Geckos. It was thanks to the hitting contributions of Jeneva Guerrero and Branwen Saville that the Cougars were able to mount back-to-back five run innings and secure the victory.
Academy improves to 4-1 near the top of the standings while the Geckos are still looking to get their first win at 0-4.
Saville had a near-cycle, with a triple, double, and a single, while her teammate, Guerrero collected an in-the-park home run alongside five crucial RBI's throughout the night.
"I think we were holding down pretty well. We had a rough start with challenging Guam High, but we're picking ourselves up as the season goes along," said Saville on the day's victory and the Cougar's status at this point in the season.
Game Flow
While the Cougars mostly found success offensively throughout the game, the Geckos were able to take advantage of defensive Cougar errors by using gutsy base-running calls and limit Academy's offense thanks to the defensive play of Christine Bansil at shortstop. Going into the fifth, the Geckos were within one score of tying the game at 11-10.
"We just had to calm down. They were getting on themselves. I was getting on myself, so it was like a to-them-to-me situation," the Cougar's Guerrero said about the tight fifth inning.
After allowing costly mistakes to weigh on them, a crucial base-hit by Madisyn Cruz over second base lifted up the Cougars lineup, as she provided Saville the opportunity to make her way home and spark a Cougars run of five straight RBI's in five batters.
"We were harping on fighting and working towards the next pitch," said Cruz.
GW would score in the bottom of the fifth off of a steal to home by Elahna Gumataotao to bring things within five, but Academy would go on another five-run scoring spree, capped off by Guerrero's 2-run in-the-park home run.
"I never go up looking for a home run. I go up looking to bring runs in and get on base, so any time I get a home run; it just comes with it I guess. I'm not trying to get stats for myself."

– Academy's Jeneva Guerrero
With the loss, the Geckos find themselves on the wrong side of a tight matchup once again, but head coach Mike Perez remains undeterred despite GW's unfavorable record.
"We're still pushing. We're still trying to work out the kinks. [The team's potential] is there. They just need to get rid of the small mental mistakes that their making," said Perez.
GUAM HIGH
The unbeaten Panthers improve to 4-0 with an easy 19-2 win over JFK. Guam High is off to Korea for the Far East Softball Tournament next week and may have to forfeit both its scheduled games. One of them is against the 4-0 Tiyan Titans that is slated for Tuesday. Official notice has yet to be released.
The IIAAG top-ranked Guam High girls soccer team will also be going to the Far East Girls Soccer Tournament next week in Okinawa.
PHOTO GALLERY BROUGHT TO YOU BY:

COMING SOON …
GUAM SPORTS ON HOLD DUE TO SUPER TYPHOON MAWAR
QUICK HITS
Bishop Obispos beat Mt. Carmel for the IIAAG Middle School Girls Basketball championship 37-25.
—————————————-
The Benavente Roadrunners crushed the Agueda Pirates 17-1 to win the 76 PONY Middle School Baseball League. Rodney San Nicolas was a beat, striking out 13 batters in a complete game while going 4-for-4 at the plate, including a homer and 4 RBI.