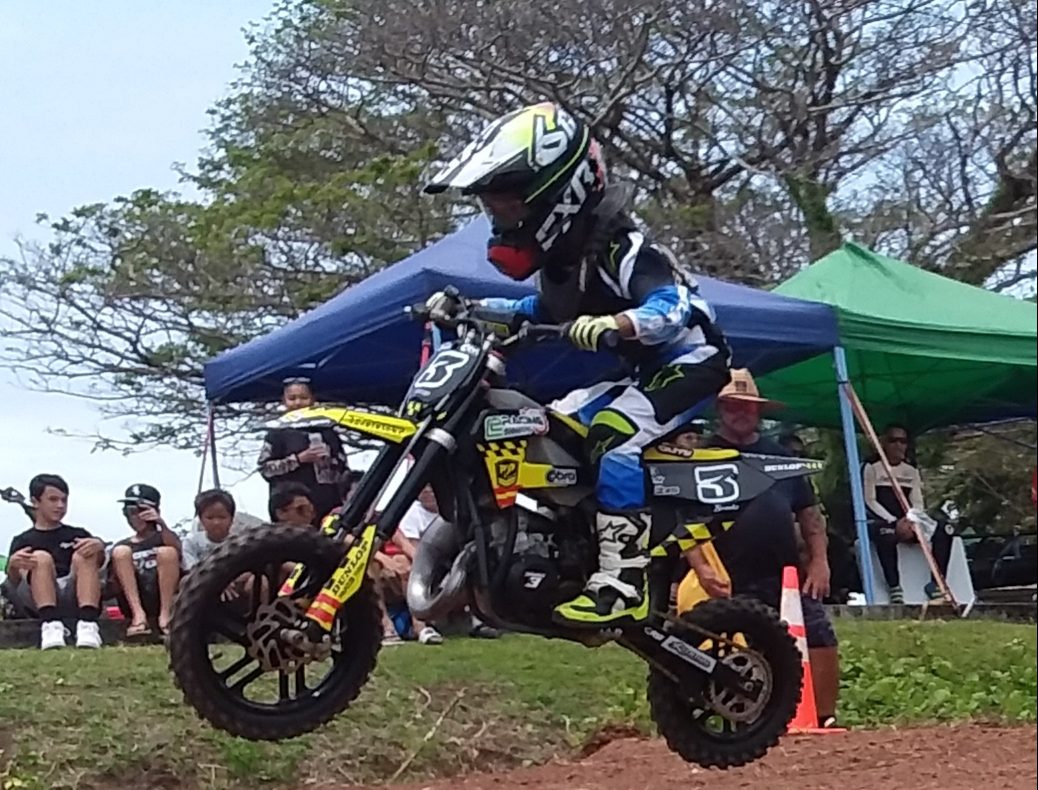 PRESS RELEASE – This past Sunday the beautiful southern village of Humatak was after a several year absence because of the COVID restrictions once again a welcoming host to the Guam History and Chamoru Heritage Day Motocross. A dirt course with support from Pacific Trucking and Rocky Mountain was prepared and laid out next to the iconic Humatak bridge located in the heart of the on going festivities. The course included several jumps and switch back turns to challenge the competitors as they went wheel to wheel in what was a great fun day of racing. Racers of all ages competed in respective classes and received trophies courtesy of Southern Mountain Gear up on the main stage that afternoon after the event. Special thank you for the support of the Humatak Mayors Office along with their Mayor John Quinata.
Highlights and results
In the Open Motorcycle class #18 Little Jon Aguon aboard the Cycles Plus Kawasaki was untouchable as he roared off the start and laid waste to the rest of the field in both the ten lap heats to take the overall win. #31 Tim Wenden aboard a Ktm took second while #85 Blaze Aiken aboard a team Cycles Plus Kawasaki took third. #77 Gorio Perez on a Yamaha took fourth with #20 Zack Cruz finished fifth on his Yamaha.
In the Open Atv class #27 James Lujan on a Yamaha swept both the ten lap heats to dominate the field and take the overall win. #11 John Gilman also aboard a Yamaha took second while #71 Matt Sandlin on his Honda placed third. #24 Alan Blaz on a Yamaha took fourth with Daryle Camacho on his Honda took fifth.
OTHER RESULTS
450cc Motorcycle
1st #1 Little John Aguon
2nd #77 Gorio Perez
3rd #96 Jude Sandlin
250cc Motorcycle
1st #31 Tim Wenden
2nd #85 Blaze Aiken
3rd #20 Zak Cruz
Over 40 Vet Motorcycle
1st #33 Tim Wenden
2nd #51 Frank Rios
3rd #75 Jeff Rios
Over 55 Legends Motorcycle
1st #51 Frank Rios
2nd #8 Jake Blaz
3rd #85 Kim Aiken
Intermediate Open Motorcycle
1st #8 Kanen Arceo
2nd #203 Jacob Kendal
3rd #530 Wes Lane
Novice Open Motorcycle
1st #31 Mariana Wenden
2nd #10 Johnny Sablan
3rd #193 Franklin Fujihara
School boy/girl
1st #74 Damian Manibusan
2nd #8 Kanen Arceo
3rd #31 Mariana Wenden
Womens Open
1st #31 Mariana Wenden
85cc Kids Minibike
1st #8 Jonathan Aguon
2nd #21 Chris Leon Guerrero
3rd #10 Tekoa Camacho
65cc Kids Minibike
1st #38 Traevin Blaz
2nd #100 Cannen Brooks
3rd #11 Jreythan Pano
4th #18 Jeriah Guzman
#67 Chaene Aperocho
5th #94 Skylar Santos
6th #12 Daryan Camacho
7th #28 Julian Lane
50cc SR Kids Minibike
#3 Cason Brooks
50cc Kids Minibike
1st #6 Owen Harris
2nd #7 Liam Ries
3rd #100 Kyan Mayo
4th #27 Cainen Gumabon
5th #23 Gianna Lane
Kids Mini Atv SR 1
1st #40 Tayden Blaz
2nd #18 Austin Quinata
Kids Mini Atv SR2
1st #24 Rogen Nauta
2nd #4 Kyan Mayo
Kids Mini Atv Intro
1st #17 Samantha Ross
UP NEXT on 2023 GIRMAC motocross schedule will be Round 3 of the Monster Energy Guam Motocross Championships on Sunday March 12th at the Guam International Raceways Jose and Herminia Calvo Memorial Offroad Park. Gates open at 7am and races set to start before lunch. The Guam International Raceway Motorcycle and Atv Corporation expressed their gratitude to have had such a great facility as the Jose and Herminia Calvo Memorial Offroad Park at the Guam International Raceway Yigo to be able to enjoy quality time with family and friends throughout these past 20 years. They ask all their friends and families to please continue to support their goal of safety, sportsmanship and the family. Those interested in getting involved or are looking for more information can visit www.GIRMAC.Teamapp.com or contact Robert Bucek at 671-727-5381 on Guam.

QUICK HITS
Guam MTB National Championship: Edward Oingerang and Jennifer Camacho are your 2023 MTB national champions. Oingerang finished the course in 1:13:24 while Camacho won her second straight title in 54:08.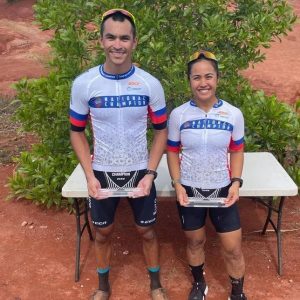 ——————————————
Kobe Miyashita, with St. John's coach Arvin Flores, was named the 2023 IIAAG Middle School Boys Volleyball MVP!