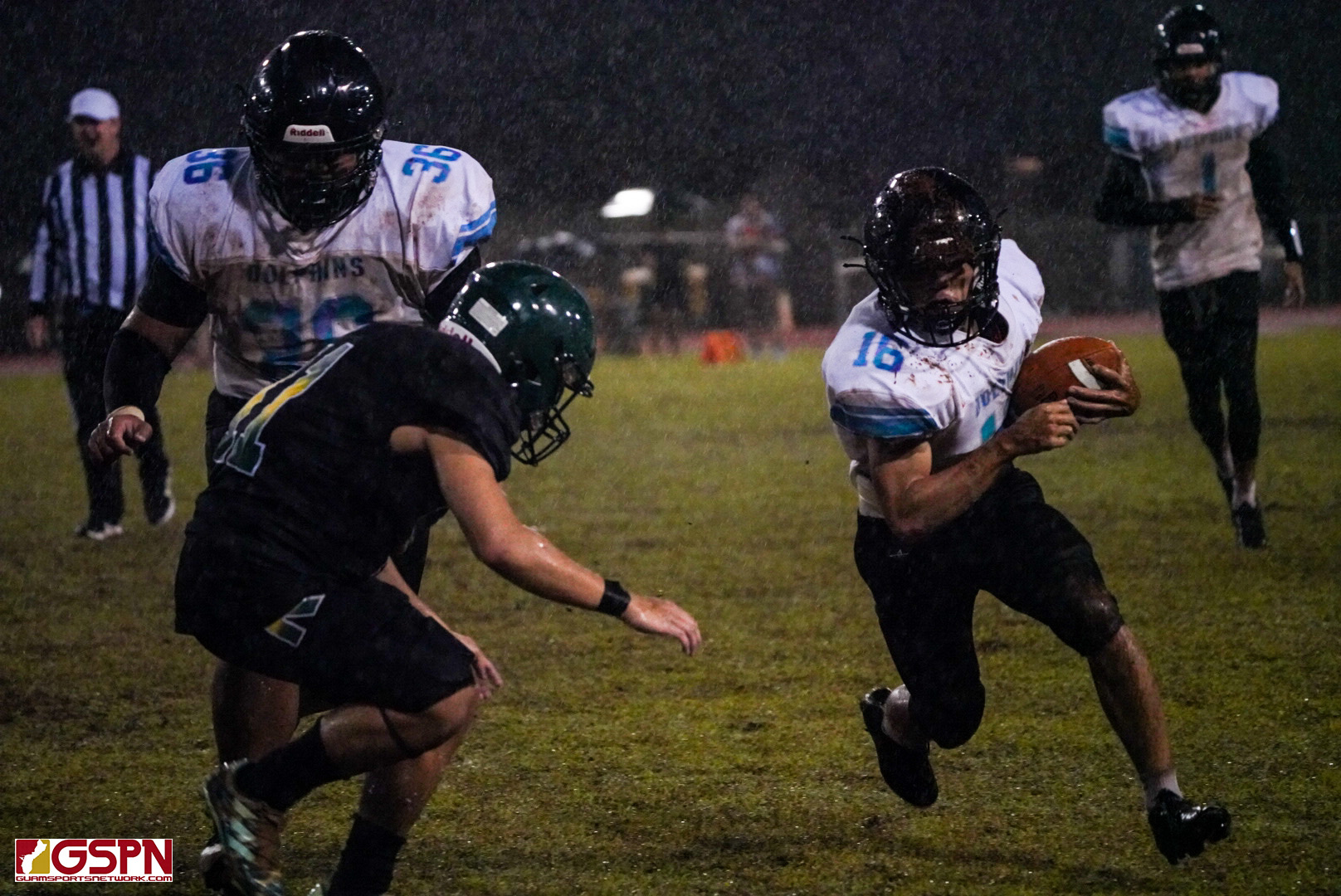 By Jay Leon Guerrero
The JFK Islanders improved to 2-0 in the ISA Football League after defeating the Southern Dolphins 29-0 on a wet and wild Thursday night game.
From start to finish, rain blessed players at Ramsey Field on a rare game played on Holy Thursday.
Both teams kept their offensive plays on the ground, with wind gusts nearly reaching 20 miles per hour in the first half. Fans with pop-up tents had to hold on and umbrellas were bent backward with unexpected winds during the game.
RB1 Benavente eclipses century mark
JFK running back Josh Benavente had a career high game with 133 rushing yards and two touchdowns to help the Islanders stay undefeated.
"We knew it was going to be a rainy day, so the coaches told us to make sure we secure the ball and stay our ground so we don't slip as much," said Benavente.
The game had six fumbles, most of which were on handoffs or lateral pitches committed by both teams. Of the six fumbles, three were turnovers, with Southern committing two turnovers.
JFK initially had trouble moving the chains with the Dolphins making tackles behind the line of scrimmage. Southern's Anthony Bonarrigo forced the Islanders to punt on a third-and-short play with a tackle-for-loss.
The Dolphins were able to move the chains on the ensuing possession with running back Donte Salas bulldozing his way to a pair first downs. The Islander defense made adjustments and was able to stop the run, forcing the Dolphins to punt.
Benavente had a 52-yard punt return called back for an illegal block in the back, which would have been the first score of the game in the first quarter. The special teams penalty drove JFK back into their own territory, leaving the score at a scoreless tie.
Benavente scored in the second quarter on a 10-yard run and also scored the two-point conversion to go into the locker rooms up 8-0.
Second half
The Islanders added another touchdown in the third quarter with quarterback Noah Medler finding Jermaine Molo open for a nine-yard touchdown. Medler scored on a sneak play to put the Islanders up 16-0.
The Dolphins marched into Islander territory with Michael Jesus rushing for a first down and Salas nearly scoring on a 31-yard gain. The drive ended with Islander defensive back Gavin-Ty Calpatura making a play in the secondary to deny a completion on fourth down.
Benavente added an insurance touchdown in the fourth quarter on a 57-yard score (two-point conversion failed) to go ahead 22-0.
The JFK defense scored late in the fourth quarter with Molo scoring on a 27-yard strip-fumble to go up 29-0 after a good extra point kick from Brian Nakame.
"I was playing linebacker, and I saw one of my teammates attempting to bring down the running back. I saw the ball on the outside, so I decided to go for the strip," said Molo. After scooping up the football and dodging two tackles, Molo ran down the right sideline for the score.
"Last season, we had a rough start, so it feels good to be 2-0. The team is feeling confident, but as a leader on this team, I'm going to keep everyone humble and help the team prepare for FD next week."

– JFK leader Jermaine Molo
Molo had the nine yard reception touchdown and also ran the ball for 35 yards. Benavente was the leading ball carrier for the Islanders with 13 carries for 133 yards and two touchdowns.
"We still have a lot of work to do," said Benavente. Benavente said his team would look to learn and get better with each game. "We have to capitalize on mistakes and just continue working hard in practice to get better."
JFK's Taiyo Kanekatsu recorded a sack, and Jayden Tomagan had four tackles and a fumble recovery for the Islander defense.
Salas had 52 rushing yards for the Dolphins. On defense, Bonarrigo had a game-high eight tackles, two were for losses. Koda Nangauta contributed six tackles for Dolphins.
FD and JFK will meet on Saturday, April 15th, at GW Field in a battle of undefeated teams. The Friars picked up a forfeit win against the Okkodo Bulldogs, which was supposed to be played Thursday night as well.
The Dolphins next game will be on Friday, April 14th, against the GW Geckos at GW Field. All games will be at 7 pm.
PHOTO GALLERY BROUGHT TO YOU BY:

COMING SOON …
GUAM SPORTS ON HOLD DUE TO SUPER TYPHOON MAWAR
QUICK HITS
Bishop Obispos beat Mt. Carmel for the IIAAG Middle School Girls Basketball championship 37-25.
—————————————-
The Benavente Roadrunners crushed the Agueda Pirates 17-1 to win the 76 PONY Middle School Baseball League. Rodney San Nicolas was a beat, striking out 13 batters in a complete game while going 4-for-4 at the plate, including a homer and 4 RBI.